Roneth Hansaja takes first place in Karate
View(s):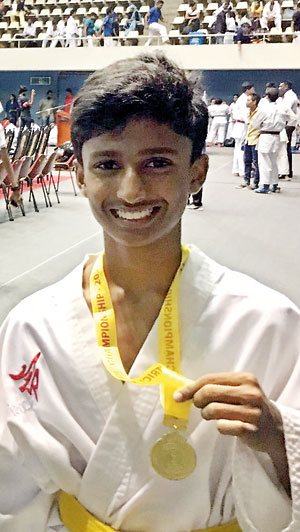 Sir John Kothalawala Defence University claimed the Overall Runners-up position at the Inter-University Badminton Tournament 2017, held in Rajasthan, India recently. University of Sri Venthakeshwara defended their title for yet another year despite the challenges from the shuttlers of Sir John Kotalawala Defence University (KDU), who also emerged Group 'A' team champions after the first round.
In the final, where two Singles and a Doubles matches were played, the Lankans were able to secure one win and lost the battle by 2-1 to the defending champions. In the first Singles KDU's D.G. Kaluarachchi lost his game by 15-21 and 14-21 while Pamodha Hettiarachchi gave a good fight in the second Singles before falling 14-21, 22-7 and 16-21. KDU secured the win of the Doubles match when Pamodha Hettiarachchi and Chamantha Jinadasa battled it out to record a win in straight sets, 21-18 and 23-21.
The KDU was represented by D.G. Kaluarachchi, Pamodha Hettiarachchi, Chamantha Jinadasa, Evidu Moragoda, Divantha Gamage, Heshitha Paranavitharana, Dineth Oshan Dassanayake and Shanka Rathnasekara. The four-day tournament was organised by India Pilani Rajasthan University of Beerala and had the participation of 30 university teams, from September 23 to 26.