Appreciations
View(s):

I will miss those corridor conversations  with this humble journalist

Ranjith Bandara Attanayaka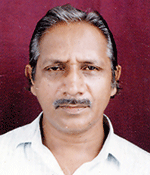 Ranjith Bandara Attanayaka, 69, couldn't hurt a fly, literally. He was among a breed of journalists, who I think, took to the media profession after dabbling in other pursuits.
I came to know Ranjith when he worked at the Lankadeepa and did a few translations for the Business Times. His English was good and he was constantly learning new terms, referring to the Oxford Dictionary, a rarity among today's journalists.
I enjoyed the chats in the Business Times Editorial and occasionally in the corridors of Wijeya Newspapers Ltd. Unlike today's hurly-burly business of journalism where we journalists think we know everything, are above the rest and think we can change the world, Ranjith was a simple man, unassuming, soft-spoken and had a preference for the word 'Ah!' when acknowledging some new development in a conversation. Coming from Wellamboda, Gampola (Kandy district), he lived in simple surroundings near the Lankadipa office on Colombo and was often concerned about his family and their well-being back in the village.
When Ranjith returned to the village, I missed the occasional conversations in the corridors or in the office lift. But as time goes by, busy in our own lives, we move onto other things and forget sometimes, the most important things in our lives. That realization dawned when I read on Tuesday, Ranjith's obituary and felt I should have inquired about his wellbeing earlier.
Ranjith had all the good qualities of a human being, including the most important of it all – not chasing after money. He was content with a modest income and never for a moment, complained of not getting enough, even though life was a struggle.
I never met his family but I am sure their father's decency, good manners and good nature would have rubbed off on them. Ranjith was a simple, unassuming person in the profession of journalism and won't be missed like the Mervyn de Silva's of yesteryear.
But I will never forget his humility and humbleness. He couldn't hurt a fly!
Feizal
---
He achieved much in his  personal and professional life
 Upali Mahanama
I first met Upali Mahanama in 1991 at the "Rakshana Mandiraya"- Insurance Corporation of Sri Lanka as it was then known. Although Mr. Mahanama and his wife Swarna were past employees of ICSL, I had not known him as he had already left the Corporation at the time I joined way back in 1964.
Mr. Mahanama made his comeback to the ICSL as a Marketing Consultant in March 1991. At the request of the Board of Directors, he had accepted a challenging assignment to make a study and report suitable recommendations, for the enhancement of the insurance business,in the face of fiercely growing competition, despite ICSL being a 'giant' in the industry.
For this onerous task (in his own words), "I made it clear to the General Manager, that I would need one of their best English stenographers to assist me in crystallizing the thoughts based on the numerous discussions that I would have to hold and the preparation of the final report of recommendation."
Wasn't he exhilarated! He had left the corporation as a young employee, and now as an international marketing consultant, he was re-entering the portals of his former workplace, to study, advise, and rectify shortcomings in the institution. It was a delightful feeling. "Very nostalgic," he later confided in me.
I was indeed fortunate to be assigned to function as Confidential Secretary to Mr.Mahanama for his consultation period of 18 months. Initially, I was reluctant to move out of my comfort zone, but once in the saddle, I had absolutely no regrets whatsoever. I had lots of job satisfaction, work was interesting, and Upali was a model boss.
Here was a colossus of a man, highly knowledgeable, well accomplished in most fields, with impeccable English. (I offered a silent "Thank You Allah" for making me competent enough to keep pace with Upali's standards). He was a thorough gentleman, and a unique human being. Working with this outstanding personality was a complete learning curve for me. In the discharge of my duties, he instilled absolute confidence in me, and I picked up fast. My latent talents were getting a huge boost.
There were numerous meetings, discussions, and seminars conducted among Life and General Insurance Departmental Heads, to ferret out weak and dormant areas that could be improved. I had to follow up thereafter and keep him abreast of the outcome. Mr.Mahanama authorized me to sign meeting minutes and normal correspondence on his behalf. This gave a fillip to my ego, to give my very best to the task at hand.
When his contract was nearing completion I had to work under a lot of pressure. Many were the times I sacrificed my personal comforts including working during the lunch break. It was, in reality, a rigorous training session for me, which proved amply beneficial when, after my retirement, I was offered a secretarial post to work for a member of the ICSL Board, in his business establishment.
On completion of his tenure,Mr.Mahanama commended me to the board and recommended an ex-gratia payment. His personal "Thank You" note and the testimonials regarding my competency, moistens my eyes whenever I read them, aware that he is no more amongst us.
Mr.Mahanama's life was one of fulfillment, leaving behind his lovely wife Swarna, well-nurtured sons Devaka and Roshan and their wonderful families. He may have breathed his last utterly content with the knowledge, he had achieved much in his personal and professional life. May he attain the supreme bliss of Nirvana.
Binthari Zackaria
---
'File is life' and many were the lessons  we learnt from this unorthodox auditor
 Muthiah Thamotharan
"To live in the hearts we leave behind is not to die." Thomas Campbell
As Articled Clerks in our late teens and early twenties, those of us working at Manoharan and Sangakkara Chartered Accountants got a solid dose of life lessons from Mr.Thamotharan. We did not quite realise the value of it then as we were not looking beyond the happy days of Articleship. Decades later, we understand how much we learnt from being around persons like him.
Thamo was the Senior Audit Manager – Corporations Audit Division at Manoharan and Sangakkara Chartered Accountants. All audits allocated by the Auditor General Department and other major audits were handled by him. Outstation audits were occasions of hard work and merriment as our audit team was larger than a cricket team.
Though small in stature he commanded total respect from all of his staff and clients. He was an experienced Audit Manager with intensive knowledge in the manufacturing process thanks to his Chemistry Degree, often carefully questioning factory managers about manufacturing processes and raw materials.
An unorthodox and astute Auditor, his comments and observations were both from checking and challenging, compiling information through rigorous inquiry. When he planned a surprise cash count, even the team would not know about it until we reached the location – it would be a surprise for us as well.
While we would scrutinize files for weeks, Thamo had an uncanny knack for identifying issues within minutes. From him, we learned quite a few auditing tricks that Spicer & Pegler did not have. One of his sayings which we carry forward today is "file is life" – meaning do not misplace your files. Though we have moved from paper files to electronic files, even today we find that 'file is life' in our profession.
He had a good sense of humour and appreciated the simple things in life. We have many memories of his anecdotes and our personal experiences at M&S are intertwined closely with him. Blessed with a loyal and hospitable wife and son, Prabath, everyone would have had at least one meal at his house.
He respected people for who they were, not for what they had or the positions they held. If he saw something wrong, he did not hesitate to blast us (most of us were generally scared to be near him whenever he exploded). But when we made mistakes, he would staunchly defend us.
The late Mr.Manoharan, late Mr.Sangakkara and late Thamo were the three founders and shapers of this great Sri Lankan firm which developed and produced so many Chartered Accountants who are spread all across every continent. Many of our behaviours and achievements were shaped by their advice and style. We are forever grateful and will always remember them.
 M. Basheer Ismail, J. Ravi Jesubatham and former staff at Manahoran and Sangakkara Chartered Accountants from 1974 to 1990
---
Mother of mine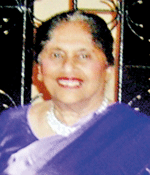 Rukmani Eheliyagoda
The world was richer the day you were born
91 years ago on that 26th March morn
Filled with sunshine in your soul
Putting a smile on each face being your goal
Love, kindness and concern cascading
Giving and sharing without hesitating
To God all glory at all times bestowing
Mother of mine, so amazing
When rushing to her in despair
Confident of her warm embrace
Reassures me of the Heavenly Father's faithfulness
Mother of mine, I thank you for your marvellousness
Charmaine Madurasinghe
---
You have gone from my sight but not from my heart
VICTOREEN HASSAN
It is nine years since God called Victoreen to eternal rest. Victoreen passed away peacefully on August 25, 2008. God's fingers touched her and she took her last breath and slipped away to the land of no more pain. Victoreen was loving, caring and the greatest blessing in my life. We loved each other dearly and it broke my heart to lose her.
Vicky, the day I first held you and kissed your sweet face are precious memories time cannot erase. You're gone so far away leaving me alone, my days and nights have turned so lonely since you've been gone. I recall your tender smile and the lovely things you said when we were partners in life. I still remember what Victoreen told me when we decided to get married. "Kamil marriages are made in heaven and if God wants our marriage to take place, no one can stop our marriage even if anyone tries, and that would be the day God unites us and we will be one," she said.
With God's blessings we got married and spent almost 40 happy years together. We thanked our lucky stars we had found each other.
What we shared together will not be forgotten and it lives in my heart. Although I am sad that Victoreen is no longer here, her influence still guides me every minute, every hour, and every day.
It broke my heart to walk beside you on that fateful day, the day you were laid to rest. You gave me years of happiness then came sorrow and tears. For as long as my love and my memories live, my sadness will live on. You have gone from my sight but not from my heart.
Finally, thank you Victoreen for the wonderful and generous sacrifices you made for me, our children, and all the loving care and affection you showered on us.
Till we meet again,sadly missed by your loving husband
-M. Kamil A. Hassan