Another Segar steps out with her canvas
By Tarini Pilapitiya
The daughter of Raja Segar to hold her maiden exhibition
View(s):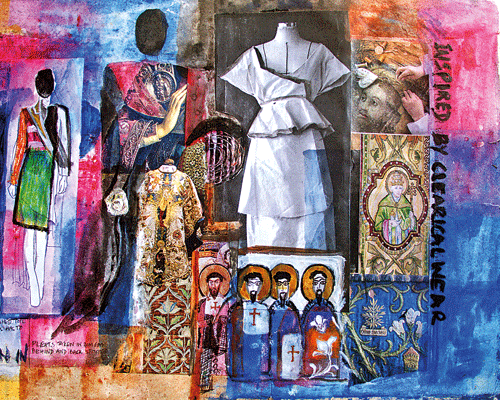 The stubby fingers of a two-year-old dipped into the captivating colour palates, smearing streaks of colour onto her father's canvas. Without reprimanding his young daughter, D. Raja Segar too started painting alongside her on the same canvas.
Twenty three years later the abstract painting hangs in the living room of the toddler finger painter turned artist, Spindonna Segar's home in Ja-Ela.
Now 25, Spindonna has come a long way from her toddler finger painting days as she prepares for her maiden exhibition "Collages with the scrap book of a Fashion Designer" at the Lionel Wendt Gallery on September 16 and 17.
Spindonna is no stranger to the world of art. Having lived in her own version of a gallery surrounded by her father's canvases and paint, this sophisticated young artist is used to selling her work at the "Segar Gallery"in Colombo 2. She sold her first piece when she was only 18.
Her calm sophistication and contemporary chic, are reflected in the laid back cardigan she wears and the tiny gold hoop nose ring.
As a child, Spindonna spent many years dabbing in various art styles and mixed media. The collection she will exhibit features work she has undertaken in art production with the technique of collages being put to good use. They include pictures of textiles, prints, structures and also pictures of paintings by artists such as India's Francis Newton Souza, M. F. Husain and her father.
Spindonna spent her teens and early 20s on a path of self- discovery dipping her fingers in photography, web designing, make-up, fashion and "even  hair dressing"," she says with a chuckle.
Studying fashion design at the Academy of Design (AOD), she is also interested in architecture and interior design.
Speaking on the similarity of her work to her father's, she replies matter of factly that "people will always compare me to him," adding "I will never be able to live up to their expectations." But the expectations do not weigh too heavy on her. "Even if my father wasn't an artist I would have most likely entered a creative field largely due to the fact that everything inspires me," she laughs.
Spindonna describes her pieces as "more abstract" than that of her father's which are "more figurative". Her textile-inspired art, as the young artist describes it, is largely related to her working as a designer in the corporate field.
A vein of Cubism similar to that of her father's who is well known for his work of abstract and figurative cubism is seen in her work and she confesses her love for Pablo Picasso and Georges Braque. Her love of fashion emerges through the textile patterns and designs seen in her work.
She showed us one of her collages where the highlight is the prominent white clerical dress, a design from her second year project at AOD, which almost eerily stands out amidst the splashes of abstract colour that surround it.
Her father Segar's influence on his children's lives is only natural. Having lost their mother when she was a toddler, Spindonna and her brother were raised by him.
A simple line drawing her father had done of her when she was a baby traced in crayon, has a sentimental place for both the painter and his subject. The painting is seen in Segar's Autobiography.
The creative element seems to swim deep in the family gene pool, Spindonna's 23 -year-old brother, expresses his creativity by demolishing and restoring cars, to newer more unique models.
Spindonna reveals that she and her father constantly butt heads in the creative process. Her father guides her in choices but the overall vision is her own.
As Segar is around during our conversation, we inquire what his favourite piece among her work is. Much like his daughter's previous response, Segar's is equally unexpected but similarly heartwarming. He recalls his daughter's painting of the Church of St. Michael and All Angels in Polwatte in crayon. These simple drawings hold much meaning and value to this tightly knit family.
Seated side by side as the discussion draws to a close, the father and daughter duo are a blend of two distinctive yet complementary colours: A proud father supporting his protege – who is well on her way to establishing herself as an independent entity  in Colombo's art scene.
Spindonna Segar's maiden exhibition "Collages with the scrap book of a fashion designer" will be on at the Lionel Wendt Gallery on September 16 and 17 from 10 a.m. to 8 p.m. The exhibition will open with a private viewing on September 15.