Standard stroke care needs unmet yet
By Kumudini Hettiarachchi
Launch of the much-needed Sri Lanka Stroke Clinical Registry - Senior Neurologist gives voice to voiceless stroke victims - Dedicated beds in Stroke Units a must for patients
View(s):
The message was loud and clear, not being shouted from the rooftops but from the 8th floor of a building of the National Hospital of Sri Lanka (NHSL).
Giving voice to the voiceless stroke victims was Senior Consultant Neurologist Dr. Padma Gunaratne who is also NHSL's Head of the Institute of Neurology.
For, stroke is a killer as well as a major harbinger of disability – it is the leading cause of death and disability second only to heart (cardiovascular) disease. Stroke is also the 3rd leading cause of hospital deaths, on par with cancer.
Dr. Gunaratne was urging and pleading for more facilities including multidisciplinary care for those afflicted by stroke, on the afternoon of August 15 at the NHSL's National Epilepsy Centre auditorium in the presence of a distinguished gathering including Health Minister Dr. Rajitha Senaratne.
Creating a powerful image of the devastation of 'brain attacks', she had in hand, facts and data, for along with several hospitals and very supportive Consultant Neurologists, everything is now online.
The occasion was the launching of the much-needed Sri Lanka Stroke Clinical Registry (SLSCR).
It was the analysis of data from five hospitals, the NHSL and the Colombo South, Kandy, Jaffna and Karapitiya Teaching Hospitals, for the six-month period from November 1, 2016 to April 30, 2017 that was presented covering 2,735 stroke patients. (See box)
The data collection had begun at the NHSL initially, with other hospitals joining in.
"This has helped us to highlight the fact that we are falling short of the ideal standard of care for stroke patients," Dr. Gunaratne pointed out, stressing that there is room for improvement. "Much has been done, but much more needs to be done."
Detailing Sri Lanka's progress in stroke care, she said that the country introduced clot-busting medication (thrombolization) at the NHSL in 2008 and several more major hospitals later, for patients who had suffered ischaemic strokes if they arrived at the hospital within 4.5 hours of onset. Each dose of rtPA (re-combinant tissue Plasminogen Activator) costing Rs. 100,000 has been provided by the government without interruption, helping many patients.
What is also crucial in stroke treatment and management, according to this Neurologist, is multidisciplinary care in dedicated Stroke Units with doctors, nurses, physiotherapists, occupational therapists, speech therapists, counsellors and social workers in attendance.
Can we be happy with what we have, asked Dr. Gunaratne. "We have a long way to go and in general, stroke patients do not have adequate facilities, as currently what is needed are dedicated beds allocated for them in Stroke Units."
Her lament was that it is not a problem of budgets or allocations, but a seeming sluggishness in the delivery of service. "It's occurring at snail's pace."
The SLSCR, a web-based platform, is a joint initiative of the Health Ministry, the World Federation of Neurology and the World Stroke Organization and will not only help to share but also disseminate crucial information on stroke within Sri Lanka. It has collected and will continue to document information on hospitalized stroke patients to enable better decision-making at all levels of care, the Sunday Times learns.
While the project was implemented under an Advisory Committee chaired by Health Ministry Director-General Dr. Jayasundara Bandara and the close watch of Dr. Gunaratne and Consultant Neurologist Dr. Senaka Bandusena attached to the Colombo South Teaching Hospital, the nitty-gritty was deftly handled by Dr. Vijayabala Jeevagan.
It was under the ministry's Second Health Sector Development Project that the Directorate of Non-Communicable Diseases (NCDs) headed by Dr. Champika Wickramasinghe provided funding for it.
Walking the audience through the SLSCR, it is Dr. Bandusena who explains that the data collection was carried out at the point of care – registration of patients, admission and discharge, with a three-month follow-up through a telephone call — by research assistants using Tablet PCs.
The second phase will see nurses being mobilized as research assistants to maintain the registry. The need of the hour is to ensure that the SLSCR continues feeding vital data on strokes in Sri Lanka to enable stroke treatment and management to be taken to a higher level.
Thrombectomies to be launched at NHSL

 

Thrombectomies (removal of clots from blood vessels) for large anterior occlusions (blocks) in the brain will be launched at the NHSL in a few months, announced Dr. Padma Gunaratne, appreciating the support provided by the Health Ministry and NHSL Director Dr. Anil Jasinghe for the arrangements being put in place and the provision of devices.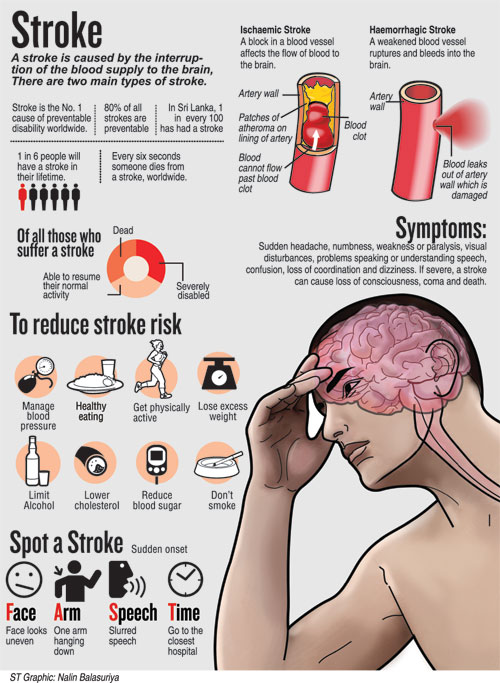 SLSCR an eye-opener regarding stroke-care
The findings of the Sri Lanka Stroke Clinical Registry (SLSCR) which looked at 2,735 stroke-patient admissions to the NHSL and the Colombo South (Kalubowila), Kandy, Jaffna and Karapitiya Teaching Hospitals are an eye-opener, showing clearly the direction in which Sri Lanka should head with regard to stroke-care.The male:female ratio of the patients was 57%:43%

Of the total number, 72% suffered ischaemic strokes; 19% intra-cerebral haemorrhagic strokes; and 9% transient ischaemic attacks (TIAs)
Weakness and speech impairment were the most common clinical presentations
As expected an age-dependent rise in stroke numbers was noted; 33% of stroke patients were less than 60 years of age; young strokes (people <45 years of age) accounted for 7% of strokes; 18% had a past history of stroke
When considering the risk factors overall, 69% of the stroke patients had hypertension (high blood pressure) and 36% had diabetes. Of these, 6% were newly-diagnosed with hypertension and 2% newly-diagnosed with diabetes, following the stroke. Among the male stroke-sufferers, 30% were smokers.
A total of 53 patients were thrombolyzed during this period, accounting for 3% of ischaemic strokes.
16% of the patients had been admitted within three hours of the onset of symptoms.
Overall, the average hospital stay in medical wards for stroke-sufferers was five days, while in Stroke Units it was 21 days. This clearly indicates that many stroke patients are prematurely discharged which could result in a poor outcome.
Outcomes:
9% of stroke patients died while in the wards.
Of those who were discharged from hospital, another 16% died in the three-month follow-up period.
This indicates that around 25% of stroke sufferers face death within the first three months, underlining the catastrophic nature of this disease.
Of those who survived the three months, 2% had another stroke or TIA.
At three months, 45% had a good outcome, while the rest were dependent.