French cinema at AF Kandy
By Susitha R. Fernando
View(s):
Alliance Francaise de Kandy presents an opportunity to experience some French cinematic venture at its Cineclub film screening on September 20 and 22.
The movie screenings are organised in partnership with the French Embassy, the Rotary Club Kandy and the Interact club of Trinity College.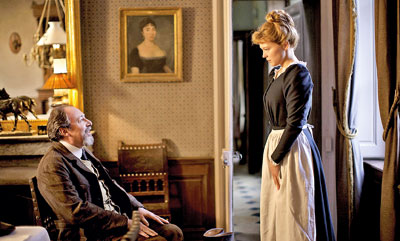 2015 Franco – Belgian co-production 'Le journal d'une femme de chamber' (Journal of a chambermaid) directed by by Benoit Jacquot will be screened at 10.00 am and 12 noon On September 20 at Alliance Française Kandy 640/2 Peradeniya Rd, Kandy.
Having adapted three times to the cinema earlier 'Le journal d'une femme de chamber' is the newest adaptation of the eponymous novel by Octave Mirbeau.
In the early 1900s, in the French provinces. Célestine a beautiful and libertarian young woman, who has been hired as a chambermaid by the Lanlaires, arrives from Paris at the train station. Joseph, her masters' gruff gardener takes her to the house where she is to work. She is "welcomed" by Mr. Lanlaire who immediately starts fondling her. She then meets Mrs. Lanlaire, an unpleasant woman with a class superiority. All this bodes ill for the future…
French documentary with English subtitles 'Demain' (Tomorrow), a cinematic venture focusing on the people suggesting solutions and their actions to the climate change instead of showing all the worst that can happen will be screened at 5 pm and 7 pm on September 22 at Trinity College Kandy, 262 D. S. Senanayake Veediya, Kandy
Directed by C. Dion and M. Laurent, 'Demain' won the 2016 César Award for Best Documentary Film and was distributed in 27 countries and exceeded a million entries in France.
Today, we sometimes feel powerless in front of the various crises of our times.
'Demain' or 'Tomorrow' is not just a film, it is the beginning of a movement seeking to encourage local communities around the world to change the ways they live for the sake of our planet.