During the early 1980s, a journalist colleague of mine at the old Daily Mirror editorial office in Fort was adept at 'lifting' important files from the desks of senior government officials, quietly sneaking them into his black briefcase.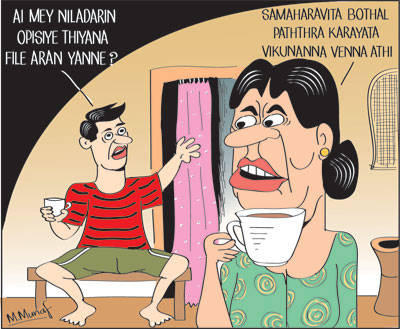 This senior, pint-sized, tie-wearing journalist was affectionately known as 'file hora' and loved it, often breezing into office, loudly claiming, "I got another one". The result, some great exclusive stories that whacked the opposition (media) out of sight and in the process either raised important issues or revealed some serious misdoings of the then Government. Stealing for a good cause, colleagues would say!
Some years later, another enterprising colleague at the Island newspaper, again a pint-sized dynamo, would call up the IGP, butter-up his aide (probably a constable or a sergeant) who answered the phone, address him with a respectful "Sir", putting the man not only at ease but lifting his dignity (here was a senior reporter who provided the same courtesy he extended to the IGP, to his simple aide, too), and get some story or other from this "source". Again, ingenious ways to get a story.
Journalists used devious ways to get a story. Briefcases are dinosaurs in today's world. Miniature mobile phones are today's briefcases, to anybody for that matter. Politicians beware … don't keep 'spill-the-beans' files lying around; they won't be snatched, only photographed!
I was reminded of this when I overheard Kussi Amma Sera trying to provide an explanation to her son Panduka while the duo was having their morning tea in the kitchen.
"Amme, office eke files gedara arang yan-da puluwang da? Eka thahanam nevei-da?" the young lad, a day before returning to the village at the end of the August school vacation, asked.
"Putha, mehema …." Kussi Amma Sera's reply drifted away as I moved out of sight and earshot while realising that what the young chap was referring to was a recent newspaper report with a picture showing files being removed from the office of a sacked minister.

Can a minister or officials from a government office remove files on their departure (resignation, retirement or sacking)? While there are rules that cover official files in the case of officials, there doesn't appear to be such rules governing the conduct of ministers … at least as far as the public is concerned. Otherwise, how can ministers, on their departure, openly remove files under the glare of nosy media photographers or is that permissible in today's 'don't care' culture?
In recent times, the hurried removal of 'important' files from a government office by departing officials has been noticed more and more. While this may have been happening in a small way earlier, it is happening, blatantly to a point, to a larger degree in the present context. This is particularly since transparency, governance and accountability are scoring high points for the present regime. A case in point being the Treasury Bond Commission, where some revelations triggered a public outcry and resulted in the resignation of a powerful minister, even before the commission could submit a report.
While there is a public outcry for more concrete action against the corrupt of the past – politician, officials and their lackeys — the unwavering commitment of the Attorney General's Office to ascertain the truth (irrespective of whether these are governing politicians, business friends or henchmen) behind the tainted Treasury bond issues implicating former Central Bank Governor Arjuna Mahendran and his son-in-law Arjun Aloysius, speaks volumes not only of freedom and judicial independence, but also of the common man's right to objective criticism without fear. That is a huge plus for the regime in the midst of rumblings of discontent in many other areas.
Now back to the 'file horas' scenario. When Ravi Karunanayake took over as Finance Minister in the first quarter of 2015, he publicly announced at a media briefing that around 2,600 important files had disappeared from the ministry "making it difficult to investigate alleged financial misappropriation, corrupt practices and misuse of public property and funds of top level officials during the Rajapaksa regime".
In a February 15, 2015 report, the Business Times quoted the Minister as saying that these missing files include some that contain information on alleged shady and questionable deals.
This matter was then referred to the Criminal Investigation Department (CID). While Karunanayake went through many ups and downs in a chequered career as Finance Minister, the result of that probe is yet to be released to the public. It was noted at the time that these files belonged to top officials of the ministry who were removed subsequent to the change of Government.
Then there was an instance reported in a newspaper where a Central Bank official, whose name figured prominently in the bond scam, had surreptitiously removed files from the office, one evening. What these files were no one knows or the report didn't imply but most likely would have contained incriminating evidence of wrongdoing vis-à-vis the bond scam.
The maintenance of files, its authority and processes that follow in a government department or ministry is governed by rules set under the Public Service Commission.
"On receipt of the written approval to release a Public Officer to a post outside the Government Service it shall be the responsibility of the Public Officer to duly hand over government documents, files, computer passwords, any government property, keys and official identity card, etc in his charge, to another Public Officer designated by the Head of the Department or Head of the Institution. Similarly it shall be the responsibility of the Head of the Department or the Head of the Institution to make necessary arrangements to take over the said items and to release the Public Officer when the items are duly handed," says one of the regulations.
Interestingly, this also applies to computers and data stored in computers (read 'computer' password). However, how much of important data have been erased in recent years in government offices to conceal a fraud or dubious decision is anybody's guess, though modern technology is able to retrieve 'erased' data as evidence led before the Treasury Bond Commission shows. Our data security columnist Sujit Christy on Page 6 also shows how 'erased' data could be retrieved in a complex forensics examination.
Information in government offices still deals with a lot of files in addition to data and office correspondence stored in computers.
While modern science and technology show that white collar fraud cannot go unnoticed as erased data pertaining to these transactions can be retrieved, missing files on such deals make it more difficult to catch the culprits.
"Amme, aei meygollo allanne-naththey," I hear Panduka asking his mother. Kussi Amma Sera doesn't respond, pondering on whether powerful people ever get caught.
In the meantime, my late 'file hora' larger-than-life colleague at the old Daily Mirror must be happily at rest, knowing that he wouldn't have survived this less-files-more-invisible data generation!