Whisking up a storm
By Tarini Pilapitiya
The Mirror Magazine catches up with Mihara Jayalath the soul behind the simple and beautiful creations at Miss Whisk
View(s):
If you enjoy the flood of pictures from creative foodies on social media then "Miss Whisk" is the one to follow! With over 1000 followers Instagram and Facebook Miss Whisk is known for delivering aesthetically pleasing cakes which taste just as good as they look!
Mihara Jayalath the extraordinary baker behind the brand is the heart and soul of the operation – bringing back genius into the local dessert scene.
The 25 year old home baker is currently working full time as an Architect at DDN Design (Pvt) Ltd which Mihara laughingly adds is her official "9 to 5 job". Yet, baking beckons to her allowing her to put her creativity and artistry into her passion when she established Miss Whisk in March 2015.
Mihara specializes in semi- naked/ minimalistic cakes – her simple buttercream beauties topped off with her signature floral arrangements. She also handles a variety of other confectionaries –cakes, cupcakes, cookies (Chocolate chip, butter, and red velvet), Pavlova, Meringue kisses and even strawberry tarts!
Over the years the orders seem to pile up in Mihara's oven and currently the home baker is busy executing a range of wedding cakes – in simple, elegant designs guaranteed to leave you temporarily mesmerized before devouring it.
Mihara enjoys experimenting with whatever she can get her hands on – the very foundation of her business built on a base of trial and error.
However, many factors do go against this home baker. "Climate plays a huge deal" Mihara says exasperatedly. Apparently when it rains it pours, with Mihara adding that balmy weather doesn't allow fondant to hold its shape. (The frank baker even questioned why people like fondant in the first place? She agrees that although it makes beautiful results she personally peels fondant off before consuming cakes.)
Time is another challenge for Mihara who takes a maximum of two to three orders a day (depending on the complexity of the order). She asks her clients to give her a minimum of two days advance notice for an order.
"I love doing two tiered cakes" Mihara says, adding that they are the perfect size and embody the ideal aesthetic for any occasion. Her two tiered cakes are also famous in the wedding scene with Mihara jovially adding "Forcouples they want one tier chocolate and one tier coffee or some other flavor," making it the ultimate newlywed test – a compromise with cake.
Mihara's enterprise stems from her honesty to her business saying "I don't like to complicate my cakes," the baker carefully listens to what her customers want before advising them on what she thinks is fit for their wedding, "I need to be in my comfort zone to give them what they want," she says. In terms of design Mihara always advises her clients to go for a white themed cake firmly stating "white is the classiest."
The aesthetic appeal is high for these cakes with Mihara admitting that her wedding cake collections are what give the business the most amount of publicity. She says that out of a crowd of 200 guest at least 4 to 5 people will inquire about the cake for their own weddings, the positive word of mouth from customers is "like a ripple effect" Mihara says.
Majority of her clientele are of the 'to-be wedded' variety, making Mihara who has now been catering to a gamut of weddings over the years, "very picky about the whole picture" this includes not only the finished cake design but also the table in which the cake is placed on.
"It's not only about the cake," Mihara says "it's the flowers, the tablecloth everything matters." She adds "A cake shouldn't look out of place from the theme and it most definitely shouldn't stick out for the wrong reasons".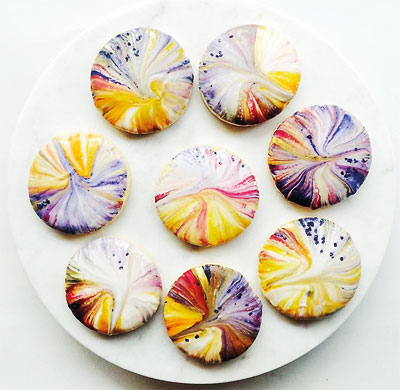 "I love flowers," Mihara enthusiastically states her floral arrangements are the ultimate wow factor on the very simple, minimalistic cake designs. Mihara works closely with a couple of flower suppliers allowing her to personally pick out her arrangements as well.
In terms of delivering the very best for her customers Mihara says "Each bride should have a different and unique cake," not one of her cakes are similar in their presentation,each have a distinct feature. Mihara's fresh approach to cake designing is a result of the thought and effort she puts into getting to know her clients. She strongly believes that a cake is "a representation of you – of your 'taste' and preferences"
Her eye popping semi naked cakes are always catered to what the customer needs and wants with minimum wastage. Mihara keeps up to date with her research on desserts making sure that she does not miss the latest trends. "You have to be open to learning and especially open to criticism," the humble baker takes her mistakes as progress in her education of the industry.
The new, fresh approach to cake comes from a sentimental place for the baker who confesses "I love simplicity". The simplicity also stems from adapting to a more figure conscious society Mihara says who no longer enjoy devouring chock loads of icing off of cakes.
Over the years the home baker seems to have become somewhat of a professional with manipulating buttercream – with Ombre and Marble designs on her cookies and cakes Mihara states "It's nice way in incorporating a touch of colour without overwhelming the whole design"
"If you love baking as much as you should, it doesn't become a burden it's more something I look forward to," Mihara says wistfully. Her family and friends – the guinea pigs of her baking genius – are her biggest critics and her best support. Her giant black Labrador – Sadie – who gazes adoringly at her surroundings is also Mihara laughs "a big contributor to Miss Whisk"
Her personal favourites from her menu are the chocolate and coffee cake flavors – just two out of the other available options of Ribbon, Salted Caramel Vanilla cake, Carrot, Lemon Loaf, Rainbow Swiss roll and Victoria sponge to name a few. Her prices can be sought upon inquiry but the cupcake and sweet range are of the average price range of around Rs. 80 to 150 (with minimum 6 pieces a flavour)
Follow Mihara on Instagram@miss.whisk or on her Facebook pagefacebook.com/misswhisk/