HERITAGE OF SONG BOOK 2 released in Sri Lanka
View(s):

The second book in the series was launched at a very simple ceremony at the Margarita Blue on the 17th of July 2017. This book too features a compendium of the "musical journeys of musicians with Sri Lankan roots who performed mainly in English".

A Heritage of Song Book 2, follows on the first volume released in 2015 and has 125 accounts of musicians telling their personal stories.Compiled and produced by Beat Boy Extraordinaire of the 60s, Ishan Bahar of Jetliner fame it really turned out to be an extraordinary night at the Margarita Blue.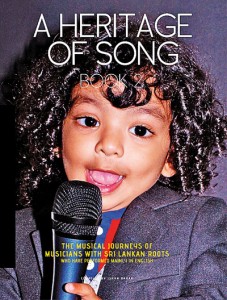 It was a refreshing experience to an opening, the proceedings commencing with a prayer by Rev. Father Tony Martyn, the host Ishan's close friend and spiritual guide of over twenty five years. This was followed by the imparting of God's blessing on Ishan and the guests, all of them popular Sri Lankan musicians.
Music was by the re-launched band of the 70s, The Esquire Set of which Ishan is a part. The Esquire Set concluded their first set with a dedication to three great musicians who passed away in 2017, Harris Jurangpathy (Drummer – Jetliners), Estelle de Neise from the early years and late Nihal Samarasinghe, better known as Sam the Man, with a pleasant rendition of one of Sam's favourites when performing with the Jet 8 an extension of the Jetliners in the 60s, the 1965 Charlie Rich hit 'Mohair Sam'.
As Andrew David commented after the show..'This was one of the best presentations I have attended with Mary Anne, where we could listen to the music and also listen to my neighbour talk to me.' He continued saying,'the music was extremely well balanced and so soothing to my ears. We just loved it.'
Then came the distribution of complimentary copies of A Heritage of Song Book 2 to all those who had contributed their time, energy and effort to the beautiful production of this work of love.
The finale was the perennial favourite "May the Good Lord Bless and keep you" which brought the curtain down on a great launch of a great book.
In the foreword written by singer Mignonne Fernando said, 'This book is an amazing way to let music lovers of today discover the stories behind our talented artistes who in the early years, paved the way to introduce and sustain their styles of music in the Western idiom in Sri Lanka'.
A large number of the Books have left our shores for the launch in Melbourne as the majority of the musicians with Sri Lankan roots featured there-in are domiciled in Australia.