Return of most popular Marvel's Crown Jewel
Spider-Man-Homecoming
View(s):
Getting the Marvel Comics characters back to the theatre, 'Spider-Man: Homecoming', the second Spider-Man film reboot is now being screened in Colombo and the outstation theatres.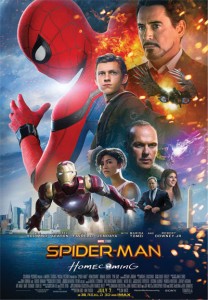 Directred by Jon Watts, the film brings back Peter Parker who with the help of his mentor Tony Stark, tries to balance his life as an ordinary high school student in New York City while fighting crime as his superhero alter ego Spider-Man when a new threat emerges.
In Spider-Man: Homecoming, Peter Parker strives to join the Avengers as the most popular character in comic book history taking his rightful place as part of the Marvel Cinematic Universe. Marvel's crown jewel, Spider-Man made a cameo debut in the MCU in Captain America: Civil War last summer; the overwhelming positive reaction by both the critics and fans to the new vision for the character that has whetted the appetite as now, Sony Pictures and Marvel Studios team for this new adventure.
Thrilled by his experience with the Avengers, Peter returns home, where he lives with his Aunt May, under the watchful eye of his new mentor Tony Stark, Peter tries to fall back into his normal daily routine – distracted by thoughts of proving himself to be more than just your friendly neighbourhood Spider-Man – but when the Vulture emerges as a new villain, everything that Peter holds most important will be threatened.
Tom Holland stars as Spider-Man, alongside Michael Keaton, Jon Favreau, Zendaya, Donald Glover, Tyne Daly, Marisa Tomei, and Robert Downey Jr.
Having made his directorial debut in 2014 with the independent film Clown, filmmaker Jon Watts followed the film by writing and directing the critically acclaimed independent film 'Cop Car' for Focus Features. The film starred Kevin Bacon and followed a small-town sheriff who set out to find the two kids who had taken his car on a joyride.