Remake of Malayalam movie in cinema
By Susitha R. Fernando
'Drishyam' as "Dharmayuddhaya"
View(s):
"Dharmayuddhaya", the Sinhala version of the box office recorded Malayalam thriller film, 'Drishyam' (Visual), is now being screened in cinemas around the country. Originally written and directed by by Jeethu Joseph as a Malayalam movie, the film which was released in 2013 remained the highest-grossing Malayalam film of all time until 'Pulimurugan' was released in 2016. Not only financial success, the film also won a number of accolades such as the Best Popular Film at the Kerala State Film Award and the Filmfare Award for Best Film – Malayalam. It was also screened at the 45th International Film Festival of India and the 8th Asian Film Festival.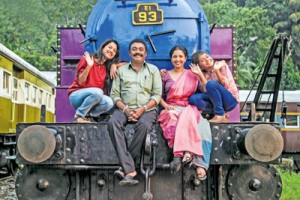 The remakes of 'Drishyam' came in Telugu, Tamil, Kannada and Hindi, in which Ajay Devgan, Shriya Saran and Tabu played in the lead roles.
'Dharmayuddaya' is the fifth remake of 'Drishyam' and it was directed by Cheyyar Ravi and produced by the Capital Maharaja Organisation Limited.
The film stars Jackson Anthony and Dilhani Ashokamala, Thisuri Yuwanika, Vinumi Vansadhi, Kumara Thirimadura, Kusum Renu, Douglas Ranasinghe, Ananda Athukolara, Ariyasena Gamage, Awanthi Aponsu, Wasantha Kumarasiri, Nirukshan Ekanayake and Tharanga Bandara in the main cast.
The story of "Dharmayuddhaya" revolves around Harishchandra, a self-made businessman who is loved and respected by all in the area. A dedicated family man, for Harishchandra his wife and two children are his most valued treasures of his life.
But with an unexpected sequence of events, the happy and peaceful family is devastated. Due to a stranger who enters their lives, his life along with the lives of his wife and daughters' change unexpectedly.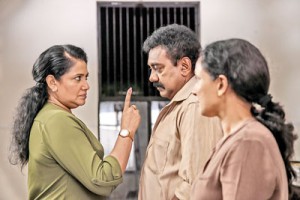 Vishaka, an influential politician takes the law into her own hands in her attempt to find her missing son. She is supported by the corrupt and crooked police.
Together with these series of events, 'Dharmayuddhaya' takes a dramatic turn making the lives of Harishchandra's family topsy-turvy.
Behind the screen K. S. Chammanthraj is the creative executive producer, Shanmugam Saravanan- director of photography, Prageeth S. Rathnayake-dialogue, S.P R. Raja Sethupathi-editor, Gibran-background score, Priyantha Kaluarachchi-dubbing engineer, Sachith Peiris-song music director, Prof. Sunil Ariyaratne- lyricst, Manjula Ayagama- art director, Priyantha S. Wanninayake-make-up, Shyamila Fonseka-costumes designer, and Suren Chandran- production manager.