'Pyramids' to rock the scene
By Sanath Weerasuriya
View(s):
'Pyramids', the newest band to rock the scene in Colombo, has completed with their maiden song "Pyramid Song', a hit in the air.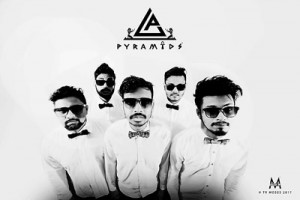 Though the band 'Pyramids' is a new name in the industry, four of their member were with a band called 'Majesty' for a couple of years. Isitha, Kasun, Eshan and Pramuk were the live wire of Majesty but decided to move out for creative work, from performing same old cover versions daily.
'We wanted to create our original work, write songs on day to day incidents what's happening around us, basically about the hot topics, dress sense of the young generation etc. We thought we were dragging behind our fellow musician friends from the same generations such as Daddy, Doctor and Sanuka. We wanted a new platform to open out so we formed this new outfit' explained Pramuk Elica.
The band's current line-up consists of Pramuk Elica (Elica) / vocals,  Isitha Fernando (Isi) on guitar,  Eshan De Jackline Senaviratna (Jacky) on keyboards, Yasith Kodithuwakku (Yasi) on Bass and Kasun Shamira (Kitty) on Drums.
As a band they felt they needed a change but at the same time they point out that they are respectful of everyone's ideas. A fun loving group, their preferred genre is alternative music with an eye towards humour and baila to send a bigger message across.
'I think we have come to a different level with the transformation from Majesty to Pyramids. It is a successful re-branding in a very short time period. We didn't split from Majesty it's the same guys. We have found Yasith, our brilliant bassist, that's the only change. I think Sri Lankan cover band scene needs quite a lot of systematical improvements or they have to move towards creating their own originals in any language' Pramuk added.
With plans to put out more music videos this year, the members seemed gearing to go compose more originals for the Lankan Scene. According to Pramuk, they have already started on their second music project and working hard to complete by next October.
Apart from performing with the Pyramids, Pramuk works as a Database Marketing team leader in a Netherlands IT company called ISM. Isitha is a Sound Engineer at his recording label 'Chill House'. Kasun, Yasith and Eshan are full time musicians.