A loveable take on a Shakespeare classic
By Joshua Surendraraj
The Combined Theatre Company's latest production 'Taming Of The Shrew' will go on the boards of the Lionel Wendt this month
View(s):
The Combined Theatre Company's latest production, 'Taming of The Shrew' — a Shakespearean classic, comes packed with humour and also a message to those who look closely. Directed by Vinodh Senadeera and Delon Weerasinghe, it is set to take stage at the Lionel Wendt from July 21- 23.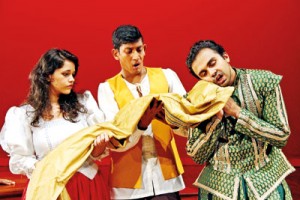 This week the Mirror spoke to the lead roles in the production, who gave us a sneak peek into the work that goes on behind the curtains.
A stroll through one of their practice sessions would seem to take one back in time to when the men strutted about in their doublets and breeches and the women in their fitted bodices and long skirts. Rahantha Abayakoon sits down for a chat with us. Rahantha plays 'Petruchio', the male protagonist in the play, also known as the tamer of the shrew.
Despite his background in school productions back in, S. Thomas' College (STC), Rahantha is a new face to public productions. He tells us, he feels connected to 'Petruchio', as he played the same role back in school. This was the same year STC won the Shakespeare Drama Competition.
However as opposed to school productions, he says, the role is more complex this time and comprises different elements. "You can't be just one straightforward person. You have to become different characters in different scenes," he explains. He adds that it all boils down to portraying the character a lot more maturely.
Rahantha's 'Petruchio' is arrogant, proud and an opportunist, but he tells us the character builds up as the play progresses. "My job is to hopefully portray that." When it came to performing the role, Rahantha's biggest challenge was to act with a woman. "I hope I'm not judged for this" he chuckles, explaining that back in a boys school they never got the chance to act with girls. "I had to get used to it very quickly."
Aside from the tamer, the play would not be complete if not for the important role of 'Katherine'. "Everyone seems to like calling her the shrew but we both hate that. We prefer 'Katherine', Tasmin Anthonisz, who plays the role, tells us.
Having worked in theatre for the past ten years, Tasmin breathes new life into her character. Our conversation with Tasmin, gives us a different perspective into 'Katherine'.
"I like her because she doesn't put up with any nonsense. She prefers to be straight up honest about things and she's smart, so she can see when someone is trying to trigger or manipulate her," Tasmin shares.
She explains her character ends up being surprised by 'Petruchio' and the story is pretty much a love story from that point on. But this is not your typical love story though, rather it's more subtle and complex than that. The "more they have to deal with each other,the more they respect each other and recognize each other as equals," she says.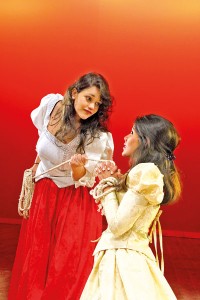 Aside from the rich language of a Shakespearean play another feature of his work is the complexity of his characters. Just so, in this production 'Bianca', Katherine's sister and the sweetheart of the play, is not really who she seems to be.
Inaya Bongso, who portrays 'Bianca', tells us in the end, it is she who really ends up being the shrew. It's the gradual change in her character, which Inaya finds interesting and feels that its the twist.
We find that this is Inaya's second Shakespearean play performed in public. Just last year, she appeared as 'Jessica' in 'The Merchant of Venice'. This time, she feels that her "sweet element and being able to convince people with that sweet charm," works for her in person, so she tries to bring that side of her to the character.
However, she adds that the hardest thing, she had to do was to look snooty.
Also appearing in the production are Danu Innasithamby (Grumio), Mevantha De Silva (Lucentio), Biman Wimalaratne (Tranio) and Kovindu De Seram (Hortensio).
Aside from the laughter however, the cast also acknowledged the production does include a few touchy topics, but it is all part of being true to its script.
Tickets are priced at Rs. 2000, Rs1500, Rs1000 and Rs.600 (Unreserved). They are available at the Lionel Wendt Box office. For Online Purchases & Cash on Delivery visit www.lionelwendt.org