STC wins Regatta overcoming Royal
4th annual Royal-Thomian Sailing Regatta 2017
View(s):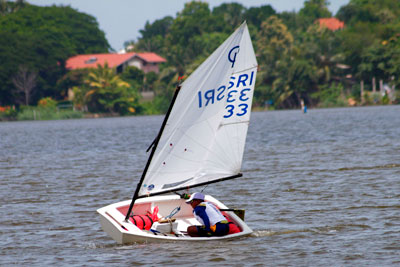 The S. Thomas' College sailing team won the 4th annual Royal-Thomian Sailing Regatta held at the Bolgoda Lake, beating Royal College by 9 points to 1. The Individual Optimist event winners were Jehan de Silva, who won the Gold medal while the Silver medal was claimed by Zai Pestonjee, both Thomians. At the Individual Laser event Akil Ismail won the Silver medal while the Bronze medal was claimed by Armand Flamer Caldera.
S. Thomas', led by Deshevka Fernando, won the Optimist 'B' Team Race event. The winning team also comprised Sashenka Fernando, Dimithri Witharana and Niveyn Nanayakkara.
The Optimist 'A' Team Race event was won by S. Thomas', which had Jordan Bolling as skipper, Haresh Goonewardena, Zai Pestonjee and Jehan de Silva. The Thomians also won the Laser 'A' Team Race event. The winning team was led by Rehan de Silva and had Kethaka Weerasuriya, Armand Flamer Caldera and Akil Ismail.
- NA; Pix Priyantha Wickramaarachchi