Export growth must escalate for higher economic growth in 2017
View(s):

There is widespread disappointment with the country's economic performance. Economic growth declined since 2015 and grew by only 3.8 percent in the first quarter of this year. The economy is expected to perform better in the second half of the year, if export growth gains momentum to stimulate the economy.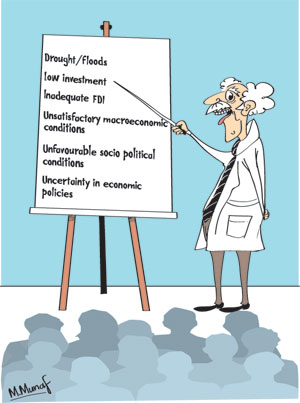 Growth
In contrast to growth of 5.3 percent in the first quarter of 2016, the economy grew by only 3.8 percent in the first quarter of this year. While Industry grew by 6.3 percent and services grew by 3.5 percent, agricultural production fell by 3.2 percent. There was continued expansion in construction but growth of manufacturing was inadequate.
The second quarter's economic growth is likely to be similar to that of the first quarter with only a marginal difference either way. Agricultural production fell owing to drought conditions, floods in one part of the country and drought in others. Paddy production is estimated to have fallen by 40 percent.
Longer impact
These adverse climatic conditions would continue to impact on agricultural production in the months ahead. Drought in the coconut triangle will reduce next year's coconut crop and drought in dry zone areas would reduce the yala crop significantly. Consequently the poor performance in agriculture would drag down economic growth.
Other sectors
However the slow growth of the economy this year cannot be attributed to the fall in agricultural production alone. Agriculture's contribution to GDP has been less than 10 percent for some time. In 2016 agriculture contributed only 7.1 percent of GDP.
The inadequate performance of manufacturing was a prime cause for the low GDP growth. Industrial sector growth in recent years has been driven by a robust growth in the construction subsector rather than in manufacturing. This has been so this year as well. The inadequate growth in manufacturing is a serious weakness in the economy.
While growth in construction is dependent on imports, export led manufacturing could contribute to export growth. Since this is not the growth pattern in Sri Lanka, the country incurs large trade deficits that lead to balance of payments difficulties. It is not only the slow rate of growth but the nature, composition and quality of growth that has been inadequate.
Multiple causes
Much of the disappointing economic performance in the first half of this year has been put on adverse weather conditions. The drought of last year and the floods and drought in the first half of this year are undoubtedly one of the reasons for the economy's slowdown. However, the economy lacked momentum owing to many other factors: lack of certainty and clear direction in economic policies, political instability and confusion, obstructionist actions of the opposition, preoccupation with controversial political and constitutional issues rather than needed economic reforms and health hazards. External factors have also impinged adversely on the performance of the economy, especially exports and inward remittances.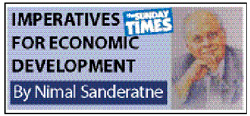 Constraints waning
Hopefully these constraints are waning and the global environment would be more conducive to the country's exports, earnings from tourism and remittances from abroad. The improvement in the country's export earnings since March this year is a significant silver lining. A boost in exports would not only improve the trade balance and balance of payments, but also enhance economic growth by expansion of manufacturing.
Favourable factors
The improvement in export earnings since March this year, adequate rainfall enabling much higher generation of hydroelectricity and resurgence of tourism could improve the economic performance in the second half of the year and continue into the next year. There is a glimmer of hope owing to an improvement in the country's export earnings since March this year. If this boost in exports gains momentum it could enhance economic growth by expansion of manufacturing.
Export Performance
Export earnings during the first four months of 2017 grew by 3.5 percent owing to higher earnings from tea, spices, machinery and mechanical appliances, petroleum products and seafood exports. However, export earnings from textiles and garments, gems, diamonds and jewellery and food, beverages and tobacco declined during the four months of this year compared to that of the same period last year.
The growth in exports in March and April this year has been in both agricultural and manufactured exports. Export earnings increased by 11.9 percent in April 2017 compared with that of April 2016. Earnings from industrial exports, which account for about 75 per cent of total exports, grew by 8.6 per cent in April 2017.Textile and garment exports increase by 3.0 per cent in April 2017 in comparison to April 2016.
Earnings from machinery and mechanical appliances, printing industry products and wood and paper product exports also showed an improved performance in comparison to April 2016. However, export earnings from several other exports such as gems, diamonds and jewellery, leather, travel goods and footwear declined in April 2017 compared to a year ago.
Agricultural exports
Earnings from agricultural exports grew by 22.7 percent in April 2017. Earnings from tea exports increased by 17.1 per cent due to higher prices, despite the decline in volume exported. Earnings from seafood exports increased by 59.7 percent in April 2017 due to a 251 percent growth recorded in seafood exports to the EU, following the removal of the ban on fisheries products. There is a prospect that these improvements in exports would continue.
Concluding reflections
Natural disasters, drought and floods had a severe toll on the livelihoods of thousands of people that cannot be estimated in economic terms. However the slow economic growth of recent years and this year is not due to unfavourable weather conditions alone.
The impact of decreased agricultural output on economic growth was not substantial as agriculture contributes only a small proportion of national output. The tardy growth of the economy was due to slow growth in the manufacturing sector. Rapid economic growth cannot be achieved without a significant growth in manufacturing. Inadequate investment, especially foreign direct investment, has been a key factor in the country's poor export performance. The investment climate has not been conducive for investment owing to weak macroeconomic conditions, policy uncertainty and the socio-political environment that is hostile to foreign investment. The opposition to Chinese investment in Hambantota is clear evidence of it.
Since these unfavourable conditions and lack of economic reforms are likely to continue, a spurt in economic growth cannot be expected. However if the recent growth in exports gains momentum, the economy could grow somewhat faster during the second half of this year and in 2018.