Pants for pay: Running cricket Sri Lanka style
View(s):

Hardly a day passes without more proof being added to that much touted advertising blurb which has misled thousands of tourists over the years. True, Sri Lanka is the "Wonder of Asia" but not for the reasons that brought them rushing to our shores. Time, they thought, was running out to savour them, most of which exist only in the world of make-believe conjured up by tourism promoters and others after foreign moola.

The real wonders are often hidden from foreign eyes, found in fleeting moments of Sri Lankan reality or take time to unearth. How many tanning themselves by the seaside or dodging dengue- carrying mosquitoes would have read, for instance of the hilarious (not for the victims though) story emanating last week from the deep South.
It was after the last game at Sooriyawewa's cricket grounds where Sri Lanka's cricket reputation dipped lower than the temperature in the Antarctic and the country's captain did the honourable thing and committed hara kiri, metaphorically speaking of course.
Then without any ado two others who have now and then worn the mantle of the departed skipper were quickly rustled up and paraded. When these two will turn into sacrificial lambs to be presented to the chopping block, one never knows.
If more cricketing tragedies lie ahead do not be surprised if they go the way of some other captains and coaches. In the meantime officials will soon clear their throats and polish their vocabulary before falling back on traditional rounds of bluster and blunder before taking wing to more salubrious climes where mosquitoes, flies and rotting and uncollected garbage do not besmirch their upper crust life styles.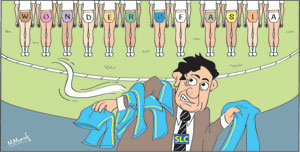 When the last game ended at the Mahinda Rajapaksa International Cricket Stadium and Sri Lanka's self-glorified cricket administrators and selectors (already graciously provided another six-months of oxygen) left Hambantota some think with tails between the legs, another comic opera was being played out in the now deserted stadium.
A dozen or more of temporarily-hired ground staff were told to take off their pants which were probably presented to them with ceremony if not with pomp to be worn for the duration of the ODI matches to be played there. No mention is made of a two-piece uniform. It seems that trousers were the centrepiece of this story. Quite understandably, people running around without their pants do attract enough attention.
So after six days of wear and apparently no tear the youthful staff went to collect their wages from the officials who by this time had come up with a slogan of their own, reminiscent of the 'wonder' nonsense that brought misguided tourists scampering to get here before the lights went out, so to say.
As the public is well aware the cricket authorities of recent years whether they went under the institutional name of Sri Lanka Cricket Board or Sri Lanka Cricket are collectively of great intellectual worth. They are deserving subjects for the great portrait artists of our time. They should be hung (the portraits, that is, not the officials) in the ICC's Hall of Fame (critics might be inclined to add a two-letter prefix to the last word) if such a structure exists or wherever public attention is most focused such as police stations.
But then, they are critics no as Sri Lankans say, and are bound to make unkind remarks which are however several degrees more civilised than the utterances of that apology for Buddhist thought and teachings called Galgoda (or whatever) Gnanasara whose conduct qualifies him for attire that should certainly not be saffron coloured.
Our pants for your pay! That was the message that went out from the custodians of the Sooriyawewa stadium. Whether these are permanent guardians or not of the little-used sports ground where cricket is played only at night by teams drawn from the nearby elephant sanctuary, is not clear.
Whatever it is the poor lads minus the worthy pants that carried the Sri Lanka Cricket logo were seen frolicking in the Indian Ocean waters while the pants collectors were probably counting the trousers to see nothing so valuable as a garment with a cricket logo had gone missing.
When the story of the pants for pay deal hit the news outlets the ho-ha (or is it ha-ho) that followed prompted our great administrators to issue a statement that they thought would say finis to this unsavoury episode and modulate the criticism that our cricket administrators open themselves to, judging by media reports and comments.
But the individual who drafted the statement was either in a terrible hurry to wash their official hands of what had happened or was not particularly choosy of how he wanted to say it, reminding one of gaffes that so-called diplomats are also prone to make as this column has pointed out before.
This is what Sri Lanka Cricket had to say in its brief statement:
"The President and the Executive Committee of Sri Lanka Cricket are perturbed by the reported incident that had occurred with the causal (sic!) workers engaged as ground laborers (???) at the Mahinda Rajapaksa International Cricket Stadium in Sooriyawewa last evening (11th)."
"An inquiry has been initiated into the matter and whilst stern action will be taken against those responsible, Sri Lanka Cricket wishes to apologize to those subjected to this ignominy, and will take steps to ensure they are compensated."
One wonders whether there is a causal connection between the Committee's desire to apologise for the "ignominy" and the reference to the youth as "laborers" instead of workers or ground staff. It sure seems that somebody wants to heap further ignominy on the staff who had already lost their trousers not to mention their self-respect, however poor they may be.
How are these "laborers" going to be compensated? Please don't tell us that it would be by returning to the wearers the logo-carrying trousers presented on a platter so that they could traverse the length and breadth of Hambantota displaying the booty and their elevated status.
So a "perturbed" cricket committee is holding an inquiry. This country has held so many inquiries in the last two and a half years-some called commissions and others simple committees — that it certainly qualifies to be called the "Wonder of Asia."
What has happened to the myriad of inquiry reports? Some have been available to the public. Others have remained hidden from public gaze. What happens after the reports are handed over to the relevant authority remains a matter of conjecture.
Since the national airline is so much in the news (so what's new some might ask) consider the case of the report of the Weliamuna Committee. It was appointed by the yahapalanaya government to inquire into the never-ending shenanigans in SriLankan Airlines over which so-much was said at election-time over two years ago. The committee was appointed apparently by the very persons who appointed the airline's board of directors.
The result: the great minds of SriLankan Airlines headed by Dias the Pious dumped the report in the trash bin as their own meagre contribution to the garbage problem, probably because some of those named in the report against whom action was prescribed were still nicely ensconced in the hierarchical seats as decision-makers and still others had some useful connections.
The President, perturbed like our cricket authorities, summoned the airline board for a telling off that has resulted in one member throwing in the towel while the head honcho took flight to London, it is said, perhaps to contemplate his navel and the future.
If you need more evidence of Sri Lanka's cornucopia of wonders take that strike-crazy collection of stethoscope wearers. Those interested in collective nouns will know that a collection of baboons is called a parliament. What caused them to earn this appellation seems quite obvious. They are noisy, abrasive, viciously aggressive and the least intelligent of all primates.
Perhaps somebody will come up with an appropriate collective noun for the GMOA which is surely the only body of doctors which is constantly on strike without a care in the world for the sick and infirm unless they treat them in private hospitals where they can earn additional fees.
Have you ever heard of a collection of doctors threatening to contact foreign diplomatic missions to complain about the Health Ministry or convey their own woes?
Before long these medicine men will ask for diplomatic passports and immunity along with duty-free vehicles to travel to their places of private practice, special places in leading schools for their children and a weekly meal for the whole family at a five-star hotel and an annual family holiday abroad.
Where would you find such soap operas but in this "Wonder of Asia".
If the government has any intention of cleaning up sports bodies, especially Sri Lankan Cricket where money flows like the flood waters of the Kelani River, politicians should be banned from holding office in them. That should be the starting point for cleaning up this environmental pollution.