President claims UNP delaying major probes to save Rajapaksas
By Our Political Editor
View(s):
Cabinet meeting bombshell exposes widening crack in National Unity Government; SLFP and UNP at crossroads amid reports
of PC polls this year Sirisena wants to bring the Rajapaksas to book; but questions about how far he could go; Police say some important arrests are on the cards
Survey in Sinhala-speaking areas show Rajapaksa popularity intact while Sirisena faction's standing is plunging
The first real sign that the two and half year old coalition — once dubbed harmoniously as the 'National Unity Government' — is cracking emerged last Tuesday.It surfaced at the weekly Cabinet meeting at the Presidential Secretariat. In a no-holds-barred speech, an angry President Maithripala Sirisena did not mince his words. He pointedly accused his partner in governance, the United National Party (UNP), of stalling investigations into allegations of bribery, corruption and other acts of fraud allegedly committed by former President Mahinda Rajapaksa, his family members, close associates and top officials. Mama dannawa mewa patharawala pala wei kiyala. Ekata kamak nehe (I know this will appear in the newspapers. That does not matter), he asserted.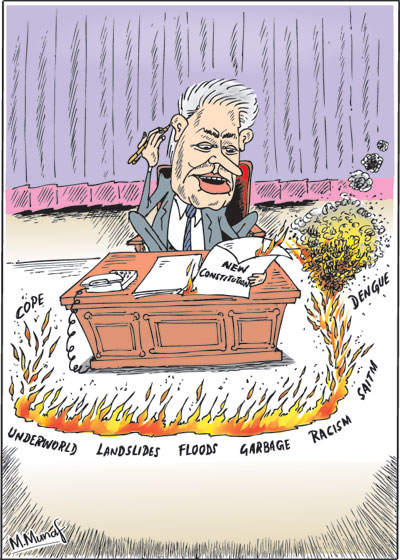 Sirisena, who is also leader of the Sri Lanka Freedom Party (SLFP), declared that if he were given the Police and the Attorney General's Department, he would have produced results within three months (finding previous Government leaders who are guilty of bribery and corruption). Those remarks were clearly a lament that those two subjects were assigned to UNP ministers and he had no direct role. But that remark did raise many issues. Within hours of Sirisena's admonishment, what he said became the talking point among both the SLFP and the UNP, particularly their respective parliamentarians. Apart from the bouquets and brickbats, questions were also being posed on whether Sirisena himself is under tremendous pressure or feels cornered under various mounting issues.
The occasion for his verbal assault on the UNP, almost putting it on notice, arose from a rather non-committal 'Note to Cabinet' which Prime Minister Ranil Wickremesinghe presented. He sought "an appropriate decision" by his ministerial colleagues on the future of the Anti-Corruption Committee Secretariat (ACCS) whose term ended on June 30. More on the ACCS later.
First to Premier Wickremesinghe's note dated June 27, 2017.
Titled the "Continuation of the Anti-Corruption Secretariat," the note said:
"The Anti-Corruption Committee Secretariat (ACCS) was established on 20.2.2015 by Cabinet decision no. 15/066/602/002-1 dated 11.02.2015 to accept complaints regarding serious frauds and corruption and to facilitate the related investigations.
"Subsequently, by the Cabinet decision no 16/2403/702/047-1 dated 22.11.2016, approval was granted to continue the operations of the ACCS and to extend the services of the staff attached to the ACCS until 30.6.2017.
"ACCS was established to service the Cabinet-Sub Committee on Anti-Corruption. Further, the ACCS has been forwarding the complaints received by them to the agencies such as Police/Financial Crimes Investigation Division, Commission to Investigate Allegations of Bribery or Corruption etc.
"Now that the Financial Crimes Investigation Division of Police is fully functional, a decision has to be taken on the future operations of the ACCS be continued or not. "Submitted for an appropriate decision by the Cabinet of Ministers."
This note came up for discussion when ministers had finished most items listed on the day's agenda. Speaking in Sinhala, President Sirisena asked what the purpose was in extending the tenure of ACCS. What has it done? he asked. Wickremesinghe was to respond saying it had been functioning as a 'post office' channelling public complaints it received to the relevant state investigative agencies.
Understanding with the Rajapaksas
Sirisena was visibly angry. As he spoke, one source at the meeting said, he looked in the face of some UNP ministers including Premier Wickremesinghe. He said if Mahinda Rajapaksa came back to power, none of the UNPers was going to be touched. "You have an understanding with Rajapaksa's people." Recently the former President said that if he were to come to power again, he would not give up. He would continue to govern. There has been no cases against Mahinda Rajapaksa or members of his family. Even the ones that are probed or action taken are watered-down versions. This was because those in the UNP had brought pressure on the investigators periodically to slow down or not to proceed. The thoughts Sisirsena had been entertaining privately finally came out in the open.
Sirisena lamented that it was only persons who have been identified with him who were being dealt with. One was State Minister A.H. M. Fowzie for misusing a vehicle (that was donated by a foreign government for tsunami related work). The other was former Aviation Minister Priyankara Jayaratne who has been accused of providing a job in his Ministry to his own daughter. These were the "small" cases they were going after, Sirisena said.
It is pertinent to note that the cases against Fowzie and Jayaratne were filed by the Commission to Investigate Allegations of Bribery or Corruption (CIABOC) after complaints were made directly to it. What about the Rajapaksas or others associated with them? asked Sirisena. At this stage Premier Wickremesinghe intervened to say 76 files had been sent to the Attorney General's Department after the State's investigative arms — the Criminal Investigation Department and the Financial Crimes Investigation Division mostly — had concluded their probes.
Sirisena replied that senior Police officers who were linked to the investigations had met him and confessed they could not proceed with probes into Rajapaksa and his associates because there was a "lot of pressure from the top." A somewhat irritated Prime Minister Wickremesinghe asked President Sirisena to name the persons who had interfered but the President did not respond. The President named Gamini Senarath, the former Chief of Staff of President Rajapaksa as one of those against whom investigations have been virtually stalled. Elaborating on what he said about the Attorney General's Department, Sirisena pointed out to the case that is going on now against Lalith Weeratunga, former Presidential Secretary, for procuring sil cloth with monies from the Telecom Regulatory Commission, as an example. He said Weeratunga had said in his statement that he carried out the act on the instructions of the then President Rajapaksa. Yet, he noted that the AG's Department had failed to initiate action to question Rajapaksa on his response to Weeratunga's statement.
In what was clearly an assertion to elaborate on a nexus between the UNP and the Rajapaksas, Sirisena referred to an incident on January 9, 2015 when the results of the presidential election were declared. He said Minister Malik Samarawickrema (also Chairman of the UNP) and the Prime Minister had together arranged for an Air Force helicopter for Rajapaksa and his immediate family to fly from the Army Grounds to their ancestral home in Medamulana. Though he named Samarawickrema, he only referred to Wickremesinghe as Prime Minister. Sirisena asked what would have happened to him if he lost the presidential election.
Sirisena had declared in a newspaper interview after he was elected President that he had been hiding at an estate in Dodangaslanda on polls night. He said if he had lost, he and his family would have gone six feet under. After the Cabinet meeting ended, Samarawickrema was at Sirisena's office on other business. He was heard by officials to murmur "Sirta oney nam, magey amathyansaya ganna" or Sir, if you wish you can take over my Ministry, but the subdued voice seems not to have fallen on Sirisena's ears.
Fonseka hits out at Rajapakshe
At the ministerial meeting, President Sirisena asked again why there was no action on the high profile cases. He said that the current situation was not acceptable. He said if the Attorney General's Department and the Police were given to him, he would catch all the culprits within three months. Health Minister Rajitha Senaratne was to allege that Law and Order Minister Sagala Ratnayake, under whom the Police function, had been seen having dinner at a restaurant with Gamini Senarath on occasions – an accusation the young minister vehemently denied.
Regional Development Minister Sarath Fonseka jumped into the discussion to accuse Justice Minister Wijeyadasa Rajapakshe of allegedly interfering into cases when they reached the Attorney General's Department. He said he was not casting any aspersions on the AG who is a "very good man." Minister Rajapakshe denied the accusation and said there were one or two instances where he had asked for some details for official purposes but the AG's office had not responded. Though the AG's Department came under him, he said he had no control over it. He said it was not he but the Constitutional Council that appointed the AG. That saw Foreign Minister Ravi Karunanayake intervening to ask "what about the cases involving Avant Garde Maritime Services Ltd., the former Central Bank Governor Ajit Nivard Cabral and Gamini Senarath? Did you not intervene on their behalf?" Karunanayake said there was great wisdom in the remarks that President Sirisena had made and noted that public discontent was on the rise over the inaction of the Government in high profile corruption cases.
Finance and Mass Media Minister Mangala Samaraweera who defended the long delays in investigations said there were complex issues and it took time to nail the culprits. He pointed to the corruption allegations against then Egyptian President Hosni Mubarak. It took years and the probe was still continuing to determine corrupt activity by hm. It drew a response from Megapolis and Western Development Minister Patali Champika Ranawaka. He said the Mubarak probe had gone on when Mohamed Morsi was President but later with General Abdel Fattah el Sisi taking over, it had slowed down or stopped. Sports Minister Dayasiri Jayasekera, not to be left out, also supported President Sirisena's assertions. He endorsed the President's remarks and asked how, under these circumstances the ruling parties could go for local government or provincial council elections.
Premier Wickremesinghe has been the principal architect of the Anti-Corruption Committee Secretariat. He forwarded a Cabinet Memorandum on June 2, 2015 to "establish a dedicated Secretariat for the Committee to co-ordinate and direct the investigations of the allegations on serious frauds, financial crimes and corruption." It functioned under the umbrella of a National Executive Council chaired by President Sirisena. Under that a Cabinet Subcommittee was chaired by Wickremesinghe. It also served as a Progress Review Committee. Janatha Vimukthi Peramuna (JVP) leader Anura Kumara Dissanayake, who was a member pulled out of it later. Over many months the workings of this subcommittee slowed down.
It must be said in fairness to the personnel at the Anti-Corruption Committee Secretariat that their co-ordination work helped the investigative agencies. It comprised experts in different fields and was assisted by a Deputy Solicitor General (Thusitha Mudalige). It is only after they perused the public complaints that they were directed to the appropriate investigative agency.
Though the staff there became targets for different groups, they functioned with few or no allegations being levelled against them. Relations between the Secretariat and Temple Trees, where the office of the Prime Minister is now located, soured. The administration of the secretariat was being carried out from Temple Trees. This was after allegations, later found to be unfounded, that Secretariat personnel used state vehicles from the PM's office to carry out surveillance. The Secretariat was a channelling agency and did not engage in any other activity. Most of the complaints it received went to the Financial Crimes Investigation Division (FCID) which is tasked with a fivefold objective. They are:
To conduct inquiries on public complaints on corruption and on serious financial crimes and unsolicited mega projects.
To conduct investigations into financial crimes committed against public funds and properties.
To conduct investigations in to financial frauds affecting the national economy, national security, health and environment.
To conduct investigations into unlawful enrichment and abuse of power.
To conduct investigations with regard to money laundering, terrorist financing and large scale illegal financial transactions.
When the meeting of the Cabinet of Ministers ended last Tuesday, it had left behind some bitter if not harsh realities for the ruling coalition. What was widely spoken among most Sri Lankans that different groups were slowing down investigations against the Rajapaksa clan and his political allies is now confirmed by none other than the President. Proof of such slowing down of investigations, he has made clear, came in the form of confessions from top investigators about pressure on them to slow down or halt investigations. One high ranking source familiar with the goings on claimed that even those who gave the 'order' to go slow or halt probes were identified.
Rajitha backs President's position
Importantly, for the first time no decision has been taken on a routine Note to the Cabinet from Premier Wickremesinghe. This is in the aftermath of a lengthy discussion where President Sirisena and his ministers — with the only exception of Mangala Samaraweera — spoke out and endorsed the view that the UNP had stalled or halted investigations against Mahinda Rajapaksa, his family, friends and officials. In the course of discussion the identity of UNP Ministers allegedly responsible for the slowing down of investigations have surfaced though in a veiled way. Minister Senaratne, one of the three official Cabinet spokespersons, made a public announcement at Thursday's news briefing further concretising President Sirisena's position. The relevant Q & A explains:
Q: Did the President say that, if he takes over the Police and AG's Department, he could complete investigations regarding cor ruption in three months?
A: The President said all investigative units like the police like CID, FCID are under the Law and Order Ministry. If he was given the task he would produce results in three months.
Q: So what was your response?
A: I said the President should take them over. All protest on the streets will stop. Everything regarding crime is known publicly.
Q: Do you say the investigations have been partial as the main investigations were conducted only in the cases relating to Minister Fowzie and former Minister Priyankara Jayaratne?
A: The Anti-Corruption Committee Secretariat was appointed to investigate large scale corruption. Not small scale corruption.
Q: The investigations have been against SLFP members.
A: Yes, in most cases.
Q: The Anti-Corruption Committee Secretariat has looked into many cases. But we have not heard about any pro gress such as filing action.
A: It usually hands the cases over to the FCID or to the Bribery (Commission). I also want to say there has been not enough coverage for the Committee's activities.
Q: Is it correct that the President questioned as to why former President's Chief of Staff Gamini Senarath had not been arrested?
A: Yes. Even we questioned that. His driver has confessed how sack loads of money were deposited by him during the election campaign.
The Sunday Times (Political Commentary) as far back as December 4 and 11 2016 commented on this disturbing situation. The first was headlined "Delays in high profile probes: Questions about nexus between VIPs of rival parties. The other said "Delays in big corruption probes raise major questions." The first report noted among other matters, "….The current leadership vowed during the presidential and parliamentary elections to bring them to book. It is now clear that there are strong exceptions too and that raises the all-important question of the much talked of nexus between the ruling political elements and those in the opposition. Little wonder, top investigators complain that contents of "interim reports" sought by some ruling politicos ended up in the hands of those under investigation and those looking after their interests. Such documents have been produced at legal consultations…"
Sirisena's dilemma
Sirisena's remarks that he would have caught the culprits if he had both the Police and the Attorney General's Department under his charge came in for heavy criticism in the social media. The argument was that he was the Executive President and wielded all the powers to take over or appoint anyone else to ministries. Thus their remarks underscored his not wanting to assert his authority even on promises made when he was voted to power. Though the argument is sound, on the other hand, Sirisena has exposed his dilemma. That he cannot do so because he does not want to be seen as "meddling" with portfolios assigned to the UNP by prior arrangement with its leader Wickremesinghe. This stance has earned for Sirisena the displeasure of the SLFPers who support him. They have perceived it as "going soft on the UNP" because Sirisena had become "too dependent" on the them. This is one of the reasons why a few SLFPers among them are gearing themselves and leaking reports to the media that they would quit later this year.
The same dilemma was the cause for a protracted delay over a Cabinet re-shuffle. It is now known that Sirisena wanted changes to be made to four different portfolios held by UNPers since early this year. Such changes were negotiated on behalf of their leader by Ministers Malik Samarawickrema and Kabir Hashim. The move only saw a change in portfolios of Ravi Karunanayake (to Foreign Affairs) and Mangala Samaraweera (to Finance and Mass Media). The other two ministries where Sirisena sought a change, it can now be revealed, are the Ministry of Law and Order and the Ministry of Highways and Higher Education. However, they did not materialise much to the surprise of some senior SLFPers supporting Sirisena.
Like the proverbial last straw that broke the camel's back, what prompted Sirisena to go on the offensive against the UNP? According to some who are familiar with the developments, it came hard on the heels of a survey that had been conducted in Sinhala speaking areas. It has bared that the popularity of former President Mahinda Rajapaksa was intact whilst the SLFP that was supporting Maithripala Sirisena was growingly unpopular. Of course, there were many reasons for it. One was the soaring cost of living. Adding to it now is the garbage issue, regular strike action by trade unions, the fast spread of dengue and the rapidly deteriorating law and order situation. Unemployment and economic stagnation were also issues. A new controversy, that the Government was going to bring in a new Constitution that was going to replace Buddhism as the principle state religion and to compromise the unitary nature of the country was also a bogey being put forward against the Government. The Government's inaction to meet these challenges is conversely making Rajapaksa and his allies popular with the oft repeated complaint that there was hardly any governance.
This scenario posed a serious question for Sirisena and his allies. How would they face the upcoming local government and provincial council (PC) elections? Though the local government polls are not likely soon, the prospects of holding provincial council elections have been engaging the active consideration of the Government. At a top level conference recently, a suggestion was made that existing laws be amended to ensure all PC elections are held on the same day. Though it was pointed out that senior officials in the Elections Commission had opined that such an amendment would require a Referendum, coalition leaders feel amending legislation should still be presented in Parliament.
To make matters worse, corruption at present is known to be at higher levels, say senior SLFPers backing Sirisena. They are worried that the promises made at presidential and parliamentary elections in this regard have not been fulfilled though they were listed as items of top priority. Here are just two samples of what the ruling party leaders said then:
Maithripala Sirisena, soon after being announced as common candidate for the presidential election, at a news conference on November 21, 2014: "The entire socio economic and political systems of this country have been taken over by one family. They have ruined this country. It is now engulfed in corruption and blatant abuse of power. It is against this that I am coming forward as the common candidate of the Opposition."
Ranil Wickremesinghe, UNP leader during a meeting with editors and propreitors of media on March 27, 2015: "…..There has been widespread corruption, with some charges levelled by the UNP as well as others. More time is needed to take proper action. We are committed to ensure the rule of law rather than rushing to lock up people. Some of the cases need expert forensic skills and we have sought them from the United States, the United Kingdom and India. I am asking the country and the people to give us time."
Though somewhat belatedly, it has dawned on Sirisena that allowing a 'free rein' to Rajapaksa and allies, for which he has already accused the UNP, is forcing him to pay a heavy price. All inactions on the part of his own coalition have not only affected their credibility, particularly that of him and the SLFP, but is also gradually lowering his own popularity. The fear of the prospects of Rajapaksa returning to power and the consequences to him personally seem not lost on him. Therefore, instead of sorting things out during a one-on-one with Premier Wickremesinghe, he chose a full frontal attack on the UNP at the ministerial meeting. One source close to the Presidency, however, said Sirisena had raised issues over corruption investigations with Wickremesinghe every now and then. One of his spokespersons has gone public with what transpired so the country may know. It is now in the open.
Bond commission inquiry
Now that his verbal volleys are over, Sirisena cannot rest though he is arming himself with a political sledgehammer –the findings of the Commission of Inquiry on the Central Bank bond scam. If UNP leaders defended then Governor Arjuna Mahendran and claimed there was no wrong doing in the issue of bonds, the damning evidence unfolding at the Commission speaks the opposite.
Behind-the-scene moves are already afoot to step up some of the high profile investigations. Police sources say some important arrests are on the cards. Going for the Rajapaksas and his allies at this time, however, also has its downside. At least sections of the public could view the move as bogey trail to deflect or avoid other growing issues. Thus the question is how much of credibility Sirisena and his SLFP backers can shore up and how assertive they would become. Inaction would only mean an exacerbation of the situation.
On the other hand, for the UNP the issues raised by Sirisena have had a strong effect. Yet, other than the questions he asked from Sirisena, neither Wickremesinghe nor his party has reacted. Not surprisingly since this was a matter that concerns cabinet secrecy and involves the President. Nevertheless the publicity the issue has generated is by no means good news for the UNP.
Thus, both the SLFP and the UNP are at crossroads. Naturally, the challenges are more for Sirisena who wants to bring the Rajapaksas to book. How much support he would receive from the UNP and how far he could go remain critical questions.