Playing pandu with man and beast
View(s):

This is no laughing matter. When some copy writer with hilarity aforethought labelled Sri Lanka the "Wonder of Asia" about a decade or so ago, there were outbursts of loud laughter that were probably heard by the Inuits in the Arctic.

That is the trouble with many Sri Lankans. They do not recognise a good thing when they see it. One could pick up without trouble the derisive laughter directed at our congregation of ministers and politicians in general. After all these are persons with patriotic proclivities who have stepped forth to work for the good of the nation and sacrifice money, time and energy to uplift the down trodden.

Okay, it is not that they all contribute wondrous thoughts and deeds that glorify the land of our birth. But surely their nationalist ardour should be welcomed with offerings of flowers and incense each morning. But at times I dare say people must wonder at what some politicians and their henchmen and women do and probably ask themselves in which part of their growth-oriented anatomies the brains reside.
A year or so ago, I read somewhere that over 90 of our worthy representatives in the last parliament had not been able to cross that first national educational hurdle called the GCE 'O' level. They might have failed their math paper. But they sure could put two and two together and come up with 22.
Cynics say this represents the rising percentage for commissions, doubtless due to the falling value of the rupee and rising inflation, that the monthly rate for graft- driven development is depicted in graphs on the wall behind ornate desks in the luxurious offices in rented premises now occupied by the mighty and flighty.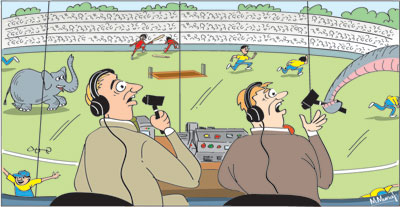 Whether the educational achievements of the present lot who have been propelled to the house by the Oya have been tabulated by more recent researchers, I know not. But if the research proves negative those results would be summarily dismissed as the work of dollar earning NGO-wallahs as though our big leaguers in the bribery business are paid by the measly rupee that Central Bank Governor Indrajit Coomaraswamy is desperately clinging to before it plummets from the 9th floor to the basement. If any of them happens to have passed out of the Low College and are practising lawyers they may be struck off the roll if our Minister of Justice (some call that an unfortunate misnomer) had his way.
If politicians can turn lawmakers elected by a pace of asses armed with ballot papers why demand that some of our politically-propelled diplomats (a word spelled slightly differently by the more knowledgeable for obvious reasons) prove their educational prowess? Ignorance by any other name would still be an infirmity however good the academic institution from which they emerged, be it at Race Course Avenue, Vajira Road or Boyd Place.
It is not that our chaps are incapable of wondrous acts that win plaudits from the slavish hangers-on but how they come up with such earth-shattering ideas is a cause for bewilderment rather than wonderment.I mean it sounds like the incessant twitter chatter from that twit called Trump who was also elected by voters which, of course, does not speak much for the mental equilibrium of the American populous.
So that Trump does not trump our glorious 2,500 year history and enter the Guinness Book of Records for the most outrageous ideas and dispersal of ethnic and religious hate we have turned out our own Robes-clad pierres and other pretentious saviours of the Buddha sasana dressed in lily-white national garb or in western-style business suits.
Most would recall Trump's audacious boasts that he would build a wall right along the border with Mexico to discourage illicit immigration to the good Ole US of A. It does remind one of equally outrageous promises made by our yahalapanites who threatened to wipe out corruption, money laundering and bribery in one fell sweep and drag the culprits to justice, perhaps on Galle Face Green.
As we all know such promises have been as successful as the crazy trumpeteer's great wall of Mexico which has faded from the burgeoning White House Tweetocrazy. I was reminded of all this reading a story in the online edition of this newspaper early last week which said that Wildlife Department officials are to be deployed at the Sooriyawewa cricket stadium where Sri Lanka is host to the visiting Zimbabwe team playing their first match in Hambantota at the time of writing.
Intrigued by this story from the French news agency AFP I continued to read with avid interest for this was surely a first that would go down in any book of records and win the ICC prize for the greatest contribution to cricket since the introduction of body armour making batsmen look like Knights of the Roundtable.
What is so fascinating about this whole idea probably from some genius in Sri Lanka Cricket, which some say is full of bright sparks that shine brighter than the noon-day sun, is the purpose for deploying Wildlife officials instead of IGP Jayasundera's baton-wielding bashers.
For those who missed reading about it, let me pick up the story from AFP: "The Wildlife Department will deploy teams of officers to prevent wild elephants from invading the Sooriyawewa Cricket Stadium."That is fair enough. After all Wildlife officials are meant to deal with wildlife even though the wild kind could be less ferocious and obnoxious than some of the two-legged types whatever garb they appear in
The story continues: "Experts will be on hand for all three ODI games at the 35,000-capacity stadium, which is next to an elephant sanctuary, a wildlife official told AFP. 'There had been a few instances when elephants broke through the fence and invaded the pitch at night,' said the official, who asked not to be named."
Why he wanted to remain anonymous is not mentioned but one suspects it is because the elephant has a long memory and he did not want to meet the beast one dark night on the centre of the cricket pitch.The story continued: "A jungle patch starts about 100 metres from the stadium and we are deploying 10 wardens to make sure that fans don't stray into that area and provoke the elephants," he told AFP by telephone from Hambantota."
We know there are all sorts of official weirdos who listen to other people's calls and record them just in case some narco-dealer languishing in jail wants to push a kilo or two of heroin or Kerala ganja. In the dark days of telecommunication such long-distance calls were known as "trunk calls". No wonder roaming herds of elephants were aware of all the plans to trap them or drive them down the trail like the Deduru Oya herd. In the bygone era, the story went, elephants picked up telephone communications with their trunks. But that is all baloney.
Anyway the Sooriyawewa herd is said to consist of some 25 animals who have made this patch of jungle their habitat.
There is one curious aspect to all this. The Wildlife chaps are there to stop homo sapiens from conducting themselves like wild animals and invading the territory of the pachyderms. After all Hambantota is 'enemy territory'– politically speaking — and elephants represent the UNP whose party-symbol is the elephant.
So it would seem that some UNP big-wig has thought it necessary to protect the elephants from obstreperous cricket fans from the Rajapaksa clan. Maybe Law and Order Minister Ratnayaka might well seek the assistance of the Wildlife chaps to maintain peace when the BBS next flexes its muscles and Padeniya's stethoscope-toting hordes undertake a padayathra to the closest private hospitals leaving thousands of suffering patients to fend for themselves.
But back at the Mahinda Rajapaksa International Cricket Stadium where the fifth ODI match is about to start……
"As you come over to us Sri Lanka has won the toss and elected to field. In the commentary box with me is Ali Pachoris well-known match-fixer who last year captained the Sri Lanka Bribe Takers team that won the Sri Lanka Cricket trophy beating Sri Lankan Airlines Board Eleven whose captain did not play as he was in the simulator struggling to pass a flight test without crash landing.
"Here comes Mathews leading his men out, a few of them rather pot-bellied. Mathews is setting the field. Zimbabwe's opening pair is walking or rather doing a few dance steps and bending exercises on the way to the wicket. Opener Hamilton Masakadza takes his guard. He is looking around the field now as Mathews makes a few adjustments bringing gully closer and pushing extra cover further back.
"Masakadza looks at the leg side field. His eyes settle on a clump of trees some yards from where deep square leg would have been. His eyes are glued to that jungle spot just about 50 yards from the boundary.""Something is definitely wrong here. Good heavens. Masakadza throws his bat in the air and takes to his heels, running as fast as his padded legs could carry him. He races past cover point, third man and then jumps over the boundary line and heads for the trees outside.
"The sounds of a trumpet break the silence. Pachoris here says the "papare" band is tuning up. If that is so they should find another trumpeter, maybe Trump himself or Sri Lanka Cricket could get somebody who could double up as coach."Good got there is an elephant emerging from the jungle beyond deep-square leg and charges onto the grounds. She is followed by a smaller elephant and both rush towards the pitch. They stomp on the stumps and keep trotting — or whatever elephants do — towards where a few minutes ago gully crouched waiting to drop a catch.
"The two-legged chaps are running like hell about 50 yards ahead of the pachyderms intent on disrupting the game — umpires, cricketers, and the Wildlife officers who are well in front of the others."Actually some cricketers do need to go through a fitness regime seeing how the elephants seem to be catching up with the disappearing players.
"The elephants have stopped yards away from the commentary box and are advancing slowly. They have their eyes trained in our direction. Elephants are supposed to have poor eyesight. That might be so. But I'm not waiting to find out. So see you in Colombo — if we are lucky enough to get there."