Lanka's Prodigies to the fore
Sri Lanka Junior Match Play Golf Championship
View(s):
The Sri Lanka (SL) Junior Match Play Golf Championship (JMPGC) for the Rukmini Kodagoda Trophy, will tee off from April 18-21, at the Royal Colombo Golf Club (RCGC). The 4-day tournament will be played under 4 categories, namely Gold, Silver, Bronze and Copper Divisions, with the overall championship being counted from the Gold Division as the main segment.
The Gold Division is for young Golfers between age 15 and 18. The Silver Division will be for youngsters between age 12 and 14, while the Bronze Division is for players between age 10 and 11. The Copper Division will be for Golfers under age 9.
"This year, for the first time, we will see the Junior Girls Segment in a separate Division, which would take the tournament to new heights," said Perera & Sons Managing Director, Gihan Perera, the main sponsors.
The manner of play would be based on a qualifying strokeplay round, whereby the best 8 qualify to play Match Play Knockout at Quarters, Semi and Final stages. There are many prizes on offer such as Best Gross Score on qualifying round and Plate winner for non-qualifiers on Day 2 Best Gross Score. The tournament is expected to showcase new talent blossom among the juniors who show aptitude for Match Play format.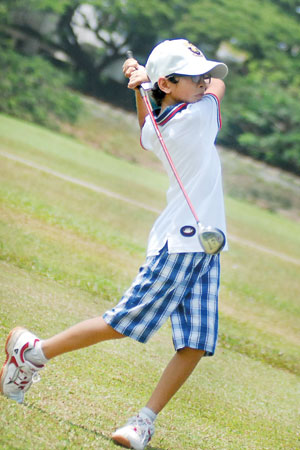 "The JMPGC is a fitting tribute to Rukmini Kodagoda, who won the SL Amateur Championship in 1979. 'Ruki', as she was popularly known, established herself as one of SL's talented sportswomen, having won National titles and represented SL in both Tennis and Golf. She also held the prestigious position of Chairman, SL Ladies Golf Union in 1990 and 1991, and Captain of the Ladies Section of the RCGC. This tournament has helped raise the standard of junior Golf and enabled these youngsters to achieve the mental toughness required for the Match Play format. It is likely see the development of future champions in the sport," stated Niloo Jayatilake, member SL Golf Union and Chairperson of Junior Sub Committee.
The qualifying medal round of the championship would be a designated round to accrue points for National junior ranking for 2017. Inaugurated in 2014, the winner of the overall championship will carry away the Rukmini Kodagoda Challenge Trophy. In the Boys category, reputed young Golfers in the likes of Vinod Weerasinghe, Armand Flamer Caldera, P.A. Dimuthu from Kandy, S. Duwarshan from Nuwara Eliya, Yannik Kumara, brothers Nirekh and Kvahn Tejwani and K. Danushan will compete for top honours in their respective age group categories. Among the Junior Girls, much is expected from Taniya Balasuriya and Kayla Perera. The Prize-Giving will be on April 21 afternoon.