Croosepulle moves to slot two at the expense of Najath
Dialog 4G-the Sunday Times Most Popular Schoolboy Cricketer of the Year 2017
View(s):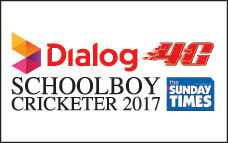 Still unchallenged, the leader of the All-Island Schools segment of the Dialog 4G-the Sunday Times Most Popular Schoolboy Cricketer of the Year 2017 competition, Navindu Nirmal of St. Aloysius College Galle, continues to forge ahead as the contest moves to the 11th week. The addition of 6150 combined votes during the ended week helps Navindu take his tally to 70262.
Mohamed Najath of Zahira College loses his grip for the first time and concedes his slot to Lasith Croospulle of Maris Stella College Negombo. Lasith managed to add the most number of combined votes for the third consecutive week and an addition of 7762 takes his tally to 51897. This is a meager lead of 31 votes from Najath, who adds 1968 during the ended week. Najath's tally presently reads as 51866. Others in the top half of the lost list too added more votes to their existing tally but the list remain unchanged for yet another week.
This will be the final week where the full list will be published of the all segments of the competition as it will be pruned down to the Top 20 beginning from April. By end of April the list will be further cut down to 15 and by end of May it will be shortlisted to the Top 10.
Pulitha Yasas Sri Sarathchandra of Sri Sumangala College Panadura continues to dominate the Emerging Schools category as Gimhana Danushka of Piliyandala Central remains to No.2 undisturbed. However Sahan Perera of Christ King Pannipitiya and Imesh Basnayake of St. Peter's Negombo move in to the third and fourth positions this week. The International Schools category is led by Shimraz Shahil of Alethea International School.
Important 
Coupons of the competition will be published in the Sunday Times, the two English dailies, the Daily Mirror and DailyFT, and the two Sinhala dailies, Daily Lankadeepa and Ada. Coupons will run for 26 weeks with the deadline set for week beginning on July 2. Readers could vote for their favourite schoolboy cricketer and take them to the winning post during that period.
Online voting could be done through Dialog Axiata's digital online voting system Portal to vote for the Most Popular Cricketer via www.dialog.lk/cricket. Player registration closed on February 28. Both coupon votes and online votes will be counted on a weekly basis and the official results published every week in the five newspapers and its websites, as well as that of Dialog Axiata's Online Portal. The deadline for online voting will be the same as for the coupons. Accepting coupons valid for each week will be received only until Thursday noon on each week. Online voting for each week will be counted by Thursday noon each week. This deadline will be strictly implemented by the organisers. Coupons for the related week will NOT BE ACCEPTED AFTER THURSDAY NOON on each week. This is an open competition and unethical campaigning will be a disqualification. The Sports Editor of the Sunday Times reserves all rights to disqualify such players if any illegal movements is found with proof.
All-Island Schools
Navindu Nirmal (St. Aloysius' Galle) 70262
Lasith Croosepulle (Maris Stella College) 51897
Mohamed Najath (Zahira College) 51866
Charana Nanayakkara (Thurstan College) 10206
Santhush Goonathilake (St. Peter's College) 8078
Romesh Nallaperuma (S. Thomas' College) 6394
Dinitha Basnayake (St. Benedict's College) 4958
Helitha Vithanage (Royal College) 1674
Lakshina Rodrigo (St. Peter's College) 1182
Mohamed Rifaz (Presidents College) 984
Sahan Suraweera (Ananda College) 674
Dileepa Jayalath (Ananda College) 524
Nikesh Anjana (S. Thomas' Colleg) 341
P.A. Dananjaya (Richmond College) 285
Hareen Buddhila (St. Aloysius College) 277
Sammu Ashan (Ananda College) 204
Pasindu Sooriyabandara (Royal College) 171
Asel Sigera (Ananda College) 167
Sanjula Abeywickrama (Isipathana College) 129
Jehan Daniel (St. Joseph's College) 102
Lasith Udage (St. Mary's Kegalle) 57
Avishka Perera (Nalanda College) 55
Naveen Gunawardana (Thurstan College) 53
Dineth Madurawala (St. Joseph's College) 25
Thilina Perera (Wesley College) 24
Shanogeeth Shanmuganathan (Trinity College) 24
Salith Fernando (St. Anthony's Wattala) 17
Kavindu Gimhana (Ananda College) 15
Pathum Nissanka (Isipathana College) 14
Thilina Nemesh (Prince of Wales') 10
Avishka Fernando (St. Sebastian's Moratuwa) 8
Emerging Schools
Pulitha Yasas (Sri Sumangala Panadura) 2180
Gimhana Dhanushka (Piliyandala Central) 130
Sahan Perera (Christ King Pannipitiya) 109
Imesh Basnayake (St. Peter's Gampaha) 105
Nipuna Ransika (P. de S. Kularatne MV) 91
Methushan Thilina (Kegalu Vidyalaya) 83
Raveen Yasas (Devapathiraja Rathgama) 42
Hirusha Mendis (Siddartha Central Balapitiya) 32
Suminda Lakshan (De La Salle Mutwal) 16
Tissara Dilshan Jayananda
(National School Polonnaruwa) 8
Shrushee Adhishtana (St. Bernadette Kurunegala) 1
International Schools
Shimraz Shahil (Alethea International) 132
Tariq Haniff (Wycherley International) 1
Readers prizes go to: 1. Poornima Samarasinghe, 41/D, Visakha Mawatha, Pugoda, 2. Sunimal Fernando, 123/5, Uyana Road, Lunawa, Moratuwa, 3. Kenula Dinadith, 22/25 1-1, Thudalwella First Lane, Richmond Hill Road, Galle, 4. Srimathi Padmalatha, 33, Tichborne Place, Colombo 10.