Annual Pride of Ownership Drive for VWs today
View(s):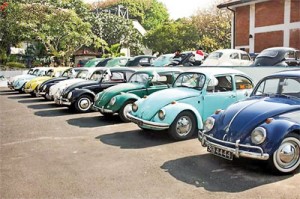 Volkswagen Beetle Owners 'Club has made arrangements to hold the 18th Pride of Ownership Drive today. This annual event of the Club is held on the last Sunday of March or the first Sunday in April each year and the Club ensures a fun filled day of activities to the members and their guests.
Colombo Hilton has once again has come forward to sponsor the start of the event. Shane Ingram, Director Operations of the Hilton Colombo will do the honours by flagging off the 18th year of Pride in Rally form with 1minute intervals.
Ruwan Weerawardana – Vice President of the Club has put together a friendly Rally route that would be enjoyed by all which would lead to a total of 28Miles en-route through "Crab City" ending at the luxurious Onreech Hotel based at Katunayake where the "Grand Finale" will take place. The Raffle Beetle will also be on display at the Onreech Hotel for those who are interested in taking a "peak" of the first ever Classic Car that has been offered as a prize at a Raffle Draw to be held at the next VW Club event being the World Volkswagen Day Celebration held in June. Over 65 VW's in air cooled form are expected to participate at this year event with many "First Timers" who will be welcomed to the fraternity.
The Club is grateful to the LOLC Group who have come forward as the main sponsor of the event, giving their commitment to support the activities of the club.