Cattle menace to be driven off the roads
By Chrishanthi Christopher
View(s):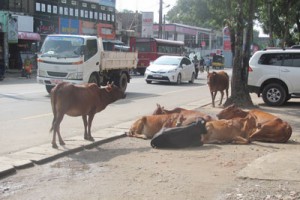 Cattle roaming the roads of the Western Province are being rounded up to help reduce road traffic accidents.
Animals will be removed to a farm in Embilipitiya in the Mahaweli area and owners who want to secure their release will be fined.
The Megapolis Ministry Secretary Nihal Rupasinghe said owners will have to contact the assistant government agent to secure their release after proving ownership.
The Colombo Municipal by-law on 'nuisance on streets' says persons turning cattle or any animal loose on to the streets of the municipal area commits an offence and is liable for a conviction with a fine not exceeding Rs 50.
"We are thinking of strengthening the law and increasing the fine to Rs 100,000, which will be a deterrent," Rupasinghe said.
Deputy Inspector of Police (DIG) Traffic, Palitha Fernando, said more than 100 accidents occur on the roads every year because of cattle wandering on roads.
Police statistics show that the number of accidents last year was 2,824 and 3,003 people died as a result. Of this total, 113 accidents were caused by cattle and 117 persons died. Last year, 136 people were killed in 132 accidents and in 2015, 123 accidents killed 130 people.
The Colombo Municipal Council is also mandated to seize stray cattle on the roads.
Dr Vipula Dharma-wardena of the CMC veterinary department, said seven cattle were seized last year and two animals are yet to be claimed. The CMC is obliged to hold an animal for seven to 10 days during which time the owner, if any, can claim the animal.
Before 1987, unclaimed animals were auctioned. But this was halted because the animals ended up being slaughtered.
Dr Vipula Dharma-wardena said the council plans to increase the fine to Rs10,000.
Animal Activist Lalani Perera said most of the animals are dairy cattle but there are also animals freed from slaughter houses. "Some animals are lucky and are found homes while others are let loose on the roads once again end up in slaughter houses."