Zonta Club 11 brings 'breast care cushion' to Sri Lanka
View(s):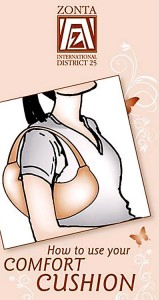 Ann Selle from the Zonta Club of Botany Bay Australia was in Sri Lanka recently. Ann is well known as the pioneer of the breast care cushion in Australia  – thousands of women in New South Wales and around Australia have benefited from using this  breast care cushion.  And it is possibly the most widely known Zonta service project in Australia.
Here in Colombo, Ann was warmly welcomed by Dr. Indira Hettiarachchi, President of Zonta Club 11 of Colombo and a few Zonta members.
As far back as 1994, Ann, a passionate Zonta member, constantly conscious of empowering and supporting women, heard about the discomfort faced by women during recovery from breast surgery and designed a breast care cushion to help women to be more comfortable during the convalescing period.
The smooth satin cushion is 'u' shaped with a strap and worn like a handbag to fit into the armpit. It cushions the surgical incision area, promotes movement of the arm without fear of trauma to the incision, helps reduce swelling and distress.
Devika Fernando, a Sri Lankan Zontian, travelling in Australia heard about it and first introduced it to her Zonta 11 Club back home.
Since then Zonta 11 of Colombo has worked enthusiastically under the leadership of Project Chair Ganga de Zilva at the outset and currently under the able guidance of Project Chair Dr. Sujatha Samarakoon, who brings a special passion and professional guidance as well.
Around 375 cushions have been distributed at the Cancer Hospital Maharagama, Surgical Units in Jaffna, Batticaloa, Trincomalee, Anuradhapura, Kandy and Karapitiya.
The cushions are specially made by a team of Zonta 11 members and a special leaflet has been designed to accompany it. The cushions are distributed free of charge by Zonta 11 to consultant surgeons who perform surgery for breast cancer. The Club is greatly appreciative of the support given by Dr. Parthipan, Consultant Oncology Surgeon, Maharagama and Dr. Suraj Perera, Consultant Community Physician, National Cancer Unit Colombo.
"In Sri Lanka we stay faithful to the original design from Ann and her colleagues at Botany Bay," says Zonta member Arukshi Rajapakse who supervises the stitching and careful individual wrapping with cellophane and ribbon.
"This cushion is a great idea and such a comfort. I had quite a bit of pain after surgery. I used it as instructed in the handout and kept it under the arm at all times, certainly while travelling and even while sleeping to protect the scar area. It is invaluable when you wear a seatbelt. It can be worn under a jacket or blouse. So if you get bumped by others, you are protected from pain and discomfort. Of course it's washable! It helped so much – mental comfort, pain relief and a sense of security of the operation site. I am so happy the Zonta ladies have taken up this wonderful task," said a patient.
For further information, please contact Dr. Sujatha Samarakoon on her e-mail: s.samarakoon@gmail.com