Rediscovering, reinventing dance and the female
By Purnima Pilapitiya
View(s):
The curtains opened on this year's edition of the Colombo Dance Platform to a new energy, new faces and a fresh take on dance. Initiated, funded and presented by the Goethe-Institut, the fourth edition of the Platform aims to help artists, dancers and audiences contextualize contemporary  dance in relation to the regional dance scene.  The Platform closes on October 9 with a weekend of dance, discussion and workshops offering audiences and critics a chance to participate and nurture their understanding of contemporary and experimental dance.
Curating the event this year is first time curator Venuri Perera.  Although the experienced dancer is no stranger to Colombo Dance Platform, having performed on their stage in  2012/13 Venuri, whose initial training was in Kandyan dance has since branched out into film, theatre, live art and therapeutic movement in several projects at home and abroad.  Currently a visiting lecturer at the University of Visual and Performing Arts and member of the Dance Panel of the Arts Council in Sri Lanka she sums up this year's Platform as "completely different", with a local curator taking the helm for the first time and the programme made up predominantly of foreign artistes.
This year's theme is Shakti: A Space for the Single Body -a concept that Venuri also shares a personal passion for, for Shakti celebrates the primordial divine feminine energy. Focused more on "movement rather than dance", this year's platform is a showcase of solo work which aims to rediscover and reinvent 'dance' and the 'female'.
The platform includes artistes from India, Cambodia, Switzerland and Germany, all whom Venuri has performed with as a part of various projects.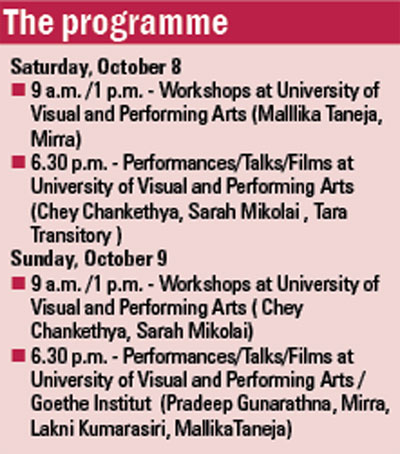 "I am influenced by the patriarchy and patriotism" explains Venuri.  She feels that dance in Sri Lanka is still anchored by a sense of masculinity; while women choreographers are not always brought to light and women are objectified in dance. "We're stretching the boundaries of what it means to be female." Among the enlightening performances are pieces  by artists such as German Sri Lankan Sarah Mikolai, trans dancer Tara Transitory aka One Man Nation and the programme's only male performer Pradeep Gunarathna fresh from the Attakkalari Biennale (Bangalore, 2015) with an exploration of the androgynous form.
Colombo Dance Platform which began this weekend will continue on October 8 and 9. All events are free entry.  For more information, see www.facebook.com/colombodanceplatform/
To register for workshops email- info.colombodanceplatform2016@gmail.com