He made Lord Shiva mortal in the backseat of his car
In our new series leading up to the Fairway Galle Literary Festival 2017, Smriti Daniel offers a glimpse of the authors- this week Amish Tripathi
View(s):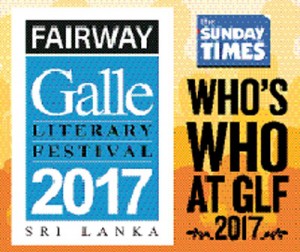 When Amish Tripathi's Shiva Trilogy became the fastest selling book series in the history of Indian publishing, with 3.5 million copies in print, the world took notice. Tripathi is one of a new generation of savvy Indian writers whose work is not known so much for its literary value but for the adrenaline rush it offers its readers. Turning to India's rich mythology for inspiration, Tripathi nevertheless writes characters and plots that embrace multiculturalism and respect for other religions.
An IIM educated banker, Tripathi's success with his Immortals of Meluha series, allowed him to give up on a 14-year-old career in financial services to focus on writing. No one expected a 1900 BC mythical fantasy based on Hindu deity Shiva to do so well, as evidenced by how many publishing houses rejected the manuscript -Tripathi says he stopped counting at 20. In an interview with the Wall Street Journal, Tripathi admitted to having to struggle to produce the trilogy:  "In fact, I wrote the trilogy's first two books alongside my banking job, mostly during home-to-office commutes. Literary pundits may scorn, but Lord Shiva was made mortal in the backseat of my car, that too, amid nerve-wracking Mumbai traffic!"
Though born to a religious family, Tripathi was an atheist before he began writing these books. Through them he says he found his way back to religion. He remains passionate about history, mythology and philosophy and says he finds much to admire in all the world's religions.
In a cover story in the Hindustan Times, Tripathi spoke about the unique marketing strategies that helped elevate a self-published book into a marketing phenomenon. Free copies of the opening chapter were offered to customers, who usually came flocking back for the rest of the book, while glitzy 'trailers' publicised the book online.
Tripathi's team, which notably includes his wife Preeti Vyas, also earned a reputation for throwing amazing parties in lieu of book launches. The Hindustan Times journalist attending the event wrote: 'Guests drank milky "somrass" out of earthen cups, little dumroos at every table allowed for a different kind of audience applause, buffet items were named to reflect characters and locations in the novels, and everyone went home with a souvenir – a scroll bearing the Pashupati seal that features prominently in the books. The only thing missing, as someone cheekily announced over the speakers that evening, was a chillum of hashish.'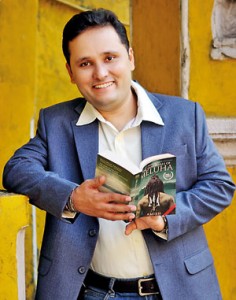 When the Sunday Times interviewed Tripathi last year in Jaipur, he professed a love for Sri Lanka, having visited this country before. The author had just announced the release of his new series, 'Scion of Ikshvaku' which would feature Lord Ram.The announcement came on the back of headlines that the author had received an impressive advance of INR 5,00,00,000 – touted as the largest by any Indian publisher for a book's South Asian rights alone.
Tripathi is known for championing women's rights in his work and inevitably has had to answer questions about how we would address Ram's treatment of Sita, which today many point to as a classic textbook case of misogyny. Ram doubted his wife after her imprisonment by Ravana, and later cast her out when her virtue was questioned by his subjects, even though she was pregnant with his child at the time. Fans, who admired Amish's characterisation of Shiva's wife Sati as a fierce warrior in the earlier series, wanted to know how he would handle Sita's story.
So far, only book one of the 'Scion of Ikshvaku' is out, but for Sri Lankan readers, Tripathi's visit will also no doubt be an interesting opportunity to discuss Ravana and his portrayal in both Indian and Sri Lankan fiction.