A journey with nature in the comfort of a hotel
By Adilah Ismail
View(s):
The most recent addition to Colombo's growing number of hotels stands tall on Hospital Street, tucked away behind the Dutch Hospital. The hotel opened its doors just last month and its façade gleams white against the blazing September sun.
ZMAX Fairway positions itself as a modern hotel for Generation Z and all of its interiors and services meld technology and design aiming to reflect the convenience it offers. From a cultural perspective there are two things which mark the hotel – the hotel's location in a key commercial artery of the city, and the art which adorns its walls.
The germination for the hotel's art began in January this year. The hotel's focus on art began merely as a casual idea to purchase a few paintings to adorn the hotel, as is the case for most establishments. As the hotel began to take shape, the art began to take a life of its own and grew with it. Soon, it had graduated from ornamental embellishment into a running theme to complement the hotel's vision and design. ZMAX Fairway is filled with over 200 paintings by well-known contemporary Sri Lankan artist Anoma Wijewardene.The end result which is currently on display is a visual treat, upping the design ante for the hotel and giving it a distinct persona, while simultaneously dealing with themes of sustainability.
Giving us a tour of the hotel's artwork last week, Anoma explains that the art displayed at the hotel consist of work from two previous exhibitions, Earthlines (2016) and Deliverance (2012), and also includes commissioned pieces created specifically for the hotel.
The work hung in the corridors are especially striking –rich, expansive pieces bringing in warm colours, texture and jewel-like overtones to the sprawling corridors and beckoning people to stop and immerse themselves instead of rushing past. All 181 rooms contain iterations of six paintings from a collection titled 'Moon rise and tide fall'– here, the paintings are softer and subtle in comparison to its corridor counterparts setting the tone for the cool, mellow atmosphere for the rooms.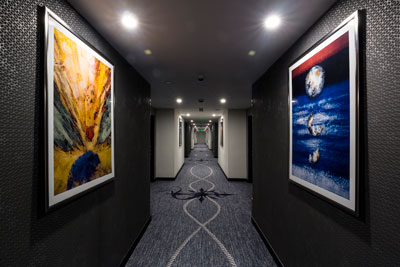 In the lobby downstairs, the installation 'Earth, Rise within Us' provides a creative fulcrum for all the artwork, tying in the themes which run through all the artwork in the hotel. The works in the hotel explore sustainability, environment and climate change, an attempt to reawaken the consciousness of the viewer about our inexorable connection with nature.
The work on display at the hotel is a conversation starter about the consequences of climate change and man's indivisibility with nature, but also about the ways in which we now consume, view and experience art. Hotels around the world have embraced a global trend of making original art a part of its identity and experience; some making art the focal point of their marketing efforts while others using it to complement and enhance the setting of the hotel, going beyond impersonal decoration. Viewing art in varying spaces, whether a gallery, on the streets, in the personal setting of a home or in a hotel (usually a point of transit between places),all bring with it different connotations to the viewer.
When you see something in a gallery, there's nothing else but the art whereas when you see art in a hotel or home, you're seeing it in the context of your personal life, notes Anoma reflecting on the implications of a hotel as a space for art. While hung in a house, an artwork is flanked by the trimmings of domesticity and daily life. Art in a hotel creates an alternate immersive space for a viewer (who is also removed from his or her usual domestic setting and self) flanking both the bustle of a household and the functionality of a gallery.
For Anoma, the past months have been busy but exhilarating. She recently exhibited at Sotheby's Gallery in Hong Kong and was the sole South Asian representative among other international women artists at the "One Belt, One Road Visual Arts Exhibition 2016"and was also at the Affordable Art Fair in London this year. An alumna of Central St Martin's College, University of the Arts, London, Anoma has also been a visiting art lecturer at several British art colleges and has previously exhibited in cities such as Kuala Lumpur, New Delhi, Sydney, Brisbane and Singapore.
Whether she was sailing or flying in open-air aircrafts built by her father (the most memorable aspect of flying in open-air planes? Feeling the different levels of air changing on your skin), Anoma grew up with a visceral connection with nature thanks to her scientist  father, Ray Wijewardene.Her exhibition 'Deliverance'in 2012 was a celebration of her father's legacy. It's evident that her father's love of the earth and its elements now pulses through her artistic oeuvre, amplified by her own passion for nature and subsequent explorations. As a reviewer remarked, "Anoma's worldview is not that of an alarmist […] the artist focuses instead, on celebrating and nurturing our fragile earth, willing us and inspiring us to protect our world."
Her previous exhibitions have taken on themes of climate change, sustainability and peace and reconciliation, and her art has been lauded for its interactive nature, embedded layers and the use of quotes and poetry to illuminate her work."I am searching for answers about how to survive in this world. It is my little journey that I am sharing with everybody else," she says simply.