30 years ago she walked into the Govt. Press, now she heads it
Kumudini Hettiarachchi talks to Gangani Liyanage, the first woman to succeed a long line of men in the 214-year history of this state institute
View(s):
The clackety-clack greets us long before we enter building No. 8……..and as we climb up a few steps there comes into view the presses in all their magnitude going back and forth, gobbling up fat reels of paper and spewing forth all documents official.
As those who work the presses, now ranging from the old to the new, having moved to the digital age while still making use of the old iron 'horse', attend to their daily work, on the second floor accessed by an antique-looking lift, another male bastion has toppled.
In the seat of the Government Printer, 'acting' it still may be, since September 15, is Gangani Liyanage, the first woman to succeed a long line of men in the 214-year history of the Government Press, now called the Department of Government Printing, sprawled across five acres of land down Baseline Road (Dr. Danister de Silva Mawatha) in the very heart of Borella. Above her seat is prominently displayed the Sri Lanka Government emblem.
It is a busy day for her, with her staff, be it senior or junior, walking in and out of her office with ease, as she deftly deals with a Tender Board issue, a forklift matter while querying whether that "plate eka gahalada" (of course, not referring to ceramic but printing plates), assuring someone that she will give her decision on Friday, signing several documents presented to her in files and making ready to step out to Kanatte at noon, to condole with an employee who has lost his father.
Mrs. Liyanage is able to multi-task and handle many an issue with aplomb as she has "grown-up" within this very system, joining the Government Press as a young woman just out of the Colombo University, armed with a Degree in Physical Science, 30 long years ago.
Saree she wore on that first day and saree she still wears to work, she smiles when asked whether there was no trepidation coming to work in a literal all-male environment.
"Yes, there was only one other girl who was Staff Officer when I joined. She was in the computing section," says Mrs. Liyanage, going back to her "wonderfully free" childhood in her maternal village of Uduwa in Horana where there was never any gender stereotyping.
Her earliest memories are of being brought up, along with her older brother, amidst an extended family in her maternal Maha Gedera, moving to a home her parents built later also in Horana and attending Sripalee College, a mixed school where once again gender did not matter.
There was a gang of cousins, both boys and girls. "Sundara," was their younger days, not only climbing but also tumbling off trees, romping in the wela (paddy-fields), bathing in the streams and crawling into the kelawa (jungle) to eat dang. They quarrelled and made up, but there was never any discrimination or taboos placed on the girls. They were allowed to roam the village as free-spirited as the boys.
The family also travelled far and wide, for her father was in government service, attached to the Health Department. So with the railway warrants he had every year, they would board a train to visit the ancient cities or go to Nanu Oya, take a bus from there and climb Pidurutalagala.
It was for the Physical Science Degree that she was selected to the Colombo campus and her father came on transfer as Secretary at the Lady Ridgeway Hospital for Children.  Having sat the final examinations, she was persuaded by a senior Akka, Prema Swarnasinghe, to join a research project of the Sociology Department.
Wider became her exposure to a world not experienced before, the shanties of Colombo, where the research team went in search of returnee housemaids to talk to them about their stints abroad and also share their meagre meals which were readily offered to them.
As was customary among just-passed out graduates, vacancies were pored over in the Gazette and the newspapers and several applications sent out. Gangani's picks were – Trainee Brand Superintendent at the Government Press; Management Trainee in the Maharaja Group; teaching; and the Sri Lanka Administrative Service (SLAS), all first levels of which she sailed through without much effort.
Gangani was making ready for an interview for the teaching appointment when her mother called her to give the good news. A telegram had arrived that she should report to work at the Government Press.
Having been informed earlier at the interview by then Government Printer Neville Nanayakkara of there being only one before her, it was without any hesitation that Gangani arrived at the Government Press reporting for duty on August 11, 1986, to start her career in an almost all-male (nearly 2,000) environment with monstrous machines all around her.  There were only about 150 women in the non-Staff Officer, the clerical, typesetting and binding sections.
There have been no regrets and no turning back, with Gangani embracing her job with vigour and enthusiasm, even working late shifts, from 1 to 8 p.m. two days a week.
"Kisima prashnayak thibbe ne," she says, adding that there were no issues at all, with many of the Works Department employees who manned the letter-presses and the offset machines treating her like their own daughter or sister.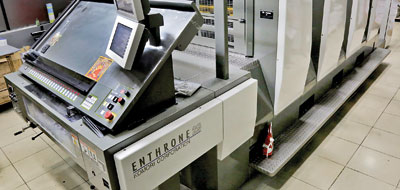 Over the years though, the gender imbalance has tilted somewhat with more women joining. How much the scales have righted is evident when she talks of the latest recruitment – among the 30-odd  binders they are about to take in from the National Apprenticeship Board, all except one are women, while among the 30 typesetters, 28 are girls!
There have been challenges and there will be challenges, is the view of Mrs. Liyanage, a mother of two sons who are in their 20s, who has managed home and work life with major support from her husband.
A hotbed of trade union action, does she fear the future at the helm of a department which is an integral part of government – be it the printing of the Gazette announcing the election of a new President of Sri Lanka or the more humble but vital birth, marriage or death certificates or the crucial ballot?
Some of the major and immediate challenges are a dearth of staff, particularly higher grades; upgrading the technology in keeping with modern trends, while repairing and retaining the old but solid machines; and improving employee welfare.
"I am ready to face and overcome them all, with the support of my staff," Mrs. Liyanage is confident as she occupies this important and difficult seat, for she is sure that the Government Press is one big family. "There may be squabbling, differences, debates and arguments, but we are family."