Living next door to elephants
Kumudini Hettiarachchi visits the heartland of the human-elephant conflict in the North Western Province where a fence project initiated by the Centre for Conservation and Research has shown the path to harmonious co-habitation
View(s):
It is an extraordinary audience, from a short distance away, with a 'King'.
As we spot the majestic tusker, monarch of all he surveys, we are spellbound. The scene is picture-postcard perfect. A fairly strong breeze blowing across the vast wewa makes ripples on the waters, set a-shimmer with silvery hues by the gently setting sun.
There are two pairs of mongoose slinking close to the jungle's edge and birds are winging their way home. As we watch from across the waters, in twos and threes come the elephants, the big tusker with a 50-odd herd with lots of babies.
Vigilant and protective, he moves with dignity around his kind, which includes about seven tuskers of different ages, while babies gambol close to their mothers and young bull-elephants engage in playful 'who-is-stronger' tussles. Another tusker, obviously in musth, seems the King's second-in-command, keeping a wary eye out for intruders.
The beauty of it all is that on the other side of the tank, the same ablutions and more are being performed  by people…….. washing of clothes, bathing, fishing, chatting while seated on motorcycles parked on the wew-pitiya and even smoking what seems to be different to beedis or cigarettes.
The irony, however, is that we are in the very heartland of the human-elephant conflict (HEC) in Wayamba (North Western Province).
Will this magnificent tusker fall victim to the same fate as his Galgamuwa brother who faced an untimely death when the vehicle transporting him elsewhere collapsed? He was being 'translocated', which strong scientific research has found is not the answer, for the alleged crimes of marauding village homes and crops.
Of course, Galgamuwa had been the home of the tusker long before humans ventured on unplanned development, opening up huge tracts of land, with nary a thought that these were the 'traditional homelands' of the elephants.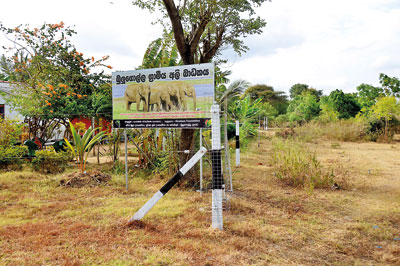 There, however, is strong hope now that a fencing problem-solver, studied, tried and tested, is proving that both human and elephant can and should co-exist.
Ehetuwewa and Galgamuwa are arguably the worst HEC areas in Sri Lanka, points out the Chairman of the Centre for Conservation and Research (CCR), Dr. Prithiviraj Fernando — whose passion along with his wife and fellow researcher, Dr. Jennifer Pastorini are elephants — when we meet him in Galgamuwa. "There are no Protected Areas (PAs) coming under the purview of the Department of Wildlife Conservation (DWC) here.
There are lots of people who have settled on government lands and lots of elephants in and around these people – it's a fine-scale heterogeneous mix, with people and elephants living in the same landscape," he says.
Dr. Fernando's 'main tool' in curbing the HEC has been creating awareness and enabling people to protect their crops and their homes in a non-confrontational manner and allowing them to co-habit with the elephants, by the proper use of electric fencing.
And the Sunday Times sees the village and paddy-field electric fences and also the faces of farmer men and women wreathed with big smiles.  The electric fences protecting the villages are permanent, while those around the extensive paddy fields, large and small holdings, are 'seasonal', removed once the harvests are gathered, leaving some tasty morsels for the wild elephants to feast on.
The people themselves put up the fences, bear part of the cost and do all the maintenance, says Dr. Fernando, adding that the CCR designs and suggests the best location for these fences. While the CCR gives the technical know-how, the farmers contribute a percentage of the cost in addition to all the labour required. Villagers create a fund and Fence Committees allied to Death Donation Societies which are very active in the area, collect a monthly fee for maintenance.
The CCR with a villager, monitors the fences and checks the voltage (high enough to give a shock but low in amperes so that it will not injure or kill an animal or even a human who touches it accidentally) weekly for a year and monthly thereafter. The villager informs the Fence Committee of any fence issues, which are rectified immediately.
"If the electric fences are provided free, the villagers do not have a sense of ownership," says Dr. Fernando, adding that in some villages those who were unable to meet the cost were granted loans by the village Death Donation Society.
With regard to paddy-field fences, he says: "We first got an insight into the paddy cultivation patterns and elephant ecology of the area – if the paddy-fields are only rain-fed, it would just be one season (Maha) and the land is not cultivated eight months of the year. If served by irrigation tanks as well, then both seasons (Maha and Yala) are cultivated but still there are at least four months of a non-cultivated period annually.
"We saw that the elephants foraged in the paddy fields when they were not under cultivation and used them to move between patches of elephant habitat, thus avoiding conflict. If permanent fences were put up around paddy fields, it would deny the elephants foraging areas and force them to find alternative movement routes, aggravating the conflict," explains Dr. Fernando.
Thereafter, the CCR came up with a 'seasonal paddy fence'. The farmer society instals the fence when cultivations begin and maintains it during the cultivation period. After the harvests have been carried home, the fences are dismantled and stored for the next season, while the ipanella (the remnants of the harvest) and also the tender  grass shoots on the niyaras become fodder for elephants.
The village and paddy-field electric fence projects led by CCR's Sampath Ekanayake were initiated in the Grama Niladhari (GN) divisions of Madadombe in Galgamuwa and Ethinimale in Ehetuwewa in 2011 and have shown the path to conflict-free co-habitation.
The CCR has helped people protect 15 villages and 10 paddy fields in these two GN divisions, covering almost their entirety in the highest HEC area in Sri Lanka, providing proof of the workability of the  concept. "This is as much as we can and want to do. Now it is up to the appropriate stakeholders – who are the people themselves and the agencies responsible for development and people's welfare, to take it forward," says Dr. Fernando.
The DWC appears to have accepted that the electric fence can act as a 'peace barrier' between human and elephant, instead of a tool for imprisoning elephants in Protected Areas where they cannot survive. The DWC is now putting up 30 village fences under a project inaugurated by Wildlife and Sustainable Development Minister Gamini Jayawickrema Perera in February, this year.
They are no longer fearful
"The people were selling their plots and abandoning their homes in Athukoralagama, all because of ali prashna (elephant problems)", says Nimal Ariyaratne who grows cowpea and mung in the area.
We wonder, though, why Nimal is smiling and then he points to the electric fence which has left a corridor for the elephants to move to the wewa, reducing the marauding and the crop-raiding.
This is just one of the new initiatives of the DWC that the Sunday Times visited recently.
"Those days the 27 families in this area were prisoners in their homes after about 7.30 p.m. but not anymore," he says, pointing towards his Amma and Thaththa who have earlier had close shaves with elephants.
"Than ali yana margaya saha api yana paara ven karala thiyenne. (The elephant routes and our roads have been separated)", he says while a tiny knot of people including a child eating a biscuit, that forms near the small kade (boutique) nods in agreement how earlier the elephants did not spare a single banana or coconut tree in their gardens.
For 15 long years, D.M. Priyantha Dissanayake of Wegedara suffered a lot of karadara (trouble) from elephants. Then with know-how from the CCR, he and his malli (younger brother) electric-fenced their 5½ acres, spending Rs. 450,000 which have been cultivated with tender coconut plants and also banana and vegetables, such as me (string bean) and brinjal about a year ago. Now they sleep in peace, even though the night before too the elephants had come near the fence.
As we drive into remote villages set deeper and deeper along narrow tank bunds, spectacular is the scenery. Tiny stupas set amidst rocks, trees with watch-huts over large tracts of golden-eared paddy on one side of the tank and on the other their day's labours over, as dusk is about to descend, men and women washing clothes and having a dip, after bathing their little children and keeping them dry a little way off.
Along the bund, a mammoty slung over her shoulder, comes 65-yeard-old B.R. Kau Amma. She engages in cultivation, toiling all alone without allowing her son to get into the muddy fields after he was struck down by mee una (rat fever).
"Gama aaraksa karala gama wate weta gahala thiyenne (the fence has been put around the village protecting it)," she says, giving us a smile, adding that now they hear the trumpeting of the elephants but are not fearful.
Their crops are also safe as they have fenced their paddy-fields too, she says, inviting us to her humble home for a cup of tea.
But we have to move on, for other curious villagers have come out of their homes, though no prior indication of our visit has been given. All are eager to tell us their stories and W.M. Anulawathi Kumari talks of how many people close to her home had been injured by elephants before. She had lost her Bappa (uncle) when an elephant killed him and a youth had escaped with his life but broken his leg in a similar attack. Now no more……..the village and paddy-field electric fences have saved the day.
The other day around 5 a.m. they left their home on a trip when suddenly they came upon an elephant. "Aliyath bayawuna, apith bayawuna," she laughs, adding that the elephant as well as all of them got very scared. So they still have to take care when they move around in the area but this they find acceptable. With her daughter and pet dog near her, Kumari sounds very convincing when she says without hesitation that "alith inna one, apith inna one. Me palatha api degollagema. (Both the elephants and people have to live. This area belongs to us both.)"
Fencing, his job
An entrepreneur, meanwhile, has taken the initiative to make a little money through a business opportunity that has arisen.
Chaminda Herath has just had his lunch, after a tot of arrack, even though the afternoon has advanced into evening. Not owning much land, he and his band of men have learnt to construct electric fences by working with the CCR on village and paddy-field fences. Now every season they set up electric fences and offer the 'service' of protecting paddy-fields for a fee.
He re-lives the time when they did not know what an electric fence looked like. "Madadomba was more like an 'alipura' (elephant city), with elephants roaming the area."
Now this entrepreneur has fenced 67 acres of paddy and is looking after them for the farmers, while employing several others too. The CCR is helping him develop his initiative further.