Real cinema needs real people: Suranga
By Susitha R. Fernando
Illegal filmmaking and searching for realism through real people
View(s):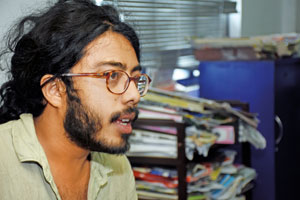 Young Sri Lankan filmmaker Suranga Deshapriya Katugampala whose maiden film, 'For a Son' (Puthekuta) was screened at the 52nd Pesaro International Film Festival 2016 last month says that to him cinema is making film with real people and real life events. Having been brought up and studied in Italy and now based in Verona, Suranga a university lecturer on cinema in Italy by profession ventures on an artistic journey to capture the social and cultural dilemma and alienation and isolation faced by Sri Lankan and others migrants who live in the Europe. Having lived most of his life in Europe, Suranga explains the social, psychological problems created specially for the second generation of migrants whom  he represents and their connection to immigration and terrorism.
Q

: What is your background and how was your 

entrance to cinema?
A: I went to Italy when I was ten years.   I did my higher education on Information technology in Italy. At present I teach cinema at a university in Italy.
The film I made was not just my story it was the story of many in Italy. My parents used to say that they came to Italy by land. But this is not a story of me and my family. In the 1990s many went to Italy over  land illegally. There was a collaboration of a mafia system starting from Sri Lankan to Italy and many other countries down the borders. This is still happening in Europe and this is still happening in Sri Lanka and people are still trying to go to Australia illegally.
It still happens as people are trying to escape from their own countries, for economical reasons, may be there is a war or there is a situation impossible for them to live
Q

: What is the effect if Immigration which is the subject matter of your film?
A: The effect is that there is a big cultural gap between the first generation and the second generation. This has become a major social issue.  The first generation is still dreaming to come back to their home countries. They say "we don't want to belong to an European country and we want to go back to our own country.
In my view there is a need to protect the original wisdom of countries we belong to. Of course we have to speak the language of the country we are living in and also integration is important but not totally.
Within this lies a big problem which is related to terrorism. Let us think about the terrorism in Europe. The threat is coming from the people who are living in Europe. This is a big issue. This is not a terrorism that is coming from other countries or elsewhere. The terrorism is coming from second generation  immigrants living in Europe that speak European languages and follow European culture.
In this sense there is a kind of depression within the family members of immigrants. Let us just think about a Sri Lankan family. Eating from hand at home is our culture and a habit but eating from hand outside home is a problem. This is a simple example. There is a culture at home which is not accepted outside your home.
Q

: What was the response you got at the Pesaro film Festival?
At the festival there was a view that our film was more authentic than some films made by some Italians or others.
We can say there is an identity crisis. It is not a culture of Indian and Sri Laka. But there is a big gap. The first generation is dreaming of coming back one day. It is sadly funny. The first generation think that in two years they can go back home. They have built big houses and dreaming houses. But when they come to Sri Lanka they live in an alienation because ordinary people have ordinary houses and those working abroad have big houses. There is a gap again, your roots are different. There is a set of people who do not belong here nor there.
This is the character of Kaushalya, a mother who cannot decide where to go and a mother who cannot understand what to do and who doesn't know her destiny.
Q

: Why did you select Kaushalya Fernando for this role?
A: I selected Kaushalya because when I was in Italy I followed Sri Lankan cinema and Sri Lankan directors and new generation cinema and I was looking for an actress who could  go deeply inside a character specially I like realism and I don't want too many dialogues. I did not want actors who byheart dialogues and I needed an actress who has the talent and passion to go inside a character and who had a passion to help a new director. And in Kaushalya I felt she was one of the actresses who wanted to help the new generation of directors. Her philosophy is to belive in new directors.
Q

: So you didn't find difficult in working  with Kaushalya?
No no. Absolutely no. She wanted to listen to what I had to say. I had worked with other Sri Lankan actresses earlier. I came here 2012 to make a web series. I belnnged to the internet generation I don't believe in teledramas. Years ago I tried to create a web TV in Sri Lanka. I tried to create a television drama. They had so many attitudes. They thought they were actresses and I was a young boy.  But Kaushalya was different to them because she had a deep understating of why I was doing this film.
Q

: What would be the next step of the film?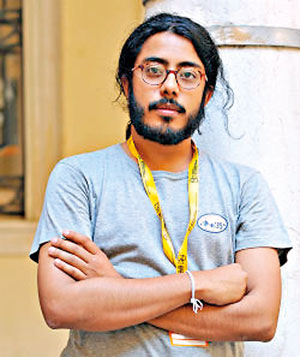 I don't know when I will be able to release the film. May be this year or next year. I want to discuss the film as soon as screen to the people. I want to bring the story to the people that this information. I like to stop the immigration and convey the message that going to Europe is not salvation. May be that could be an economic salvation may be you can have a big house. The essential way of living is not salvation. Interesting thing is that there are many Sri Lankan young directors . There is a new breed.
I think that the new generation of directors has to also focuse on these directors. There is Sri Lanka in Europe, there is Sri Lanka in Italy you cannot anymore say that Sri Lanka is only in Sri Lanka. It is a strange situation. May be
Q: Kaushalya was the only professional actress in this film and the rest are ordinary people. Why did you do that?
In the process of making the film I wanted to in this movie Kaushalya was the only professional actress. All the other people were normal people living their normal lives. This was my direction method. I did so to have some kind of realism. In the film you can see there is an old lady in a house. There is another open street festival. We close the camera and hide it to capture the realism. The funny thing is that we captures even comments of Italian people "What are these black people doing here with a camera?".
We had to capture the realism so that we can expose the reality.
Q

: What have you 

got to say about 

your film?
A: This is kind  an illegal film of a kind. Because Kaushalya,  Channa and three others came to Europe with tourist visas. Not with working visa because it was not permitted. When I went to the Italian embassy in Colombo last to year to expalain that I was doing a film and I needed these people the response I got was "Oh no you are trying to smuggle people. How much you are asking from them. Kaushalya and Channa have a big life here. Why do they want to go there.
In another instance Kaushlya had to ride  a motorbike but she did not have licence to ride it in Italy.  And we had no permit to shoot on some public roads.
Though an 'illegally' made film, the best thing is this was a community film as Sri Lankan community in Italy gave full support including  food, lodging and transport . When the Sri Lankan living in Italy came to know that Kaushalya and other Sri Lankan artistes were in Italy they were so enthusiastic to keep treating  them well.
Q

: What is your 

next step?
My next plan is to make another film in the same way in Sri Lanka. To make a film with real people, I need true actors. I need to do a film in Polonnaruwa. Let's say that sometimes cinema can go on without big actors and actresses. Real cinema needs real people. So I'm trying to make two more projects in this manner—working with a few professionals while most parts it is with non-professionals.