George RR Martin confirms release date for 'very special' 'Game of Thrones' tome
View(s):

"Game of Thrones" author George RR Martin has revealed he will release a "very special" edition of "A Game of Thrones", to commemorate the 20th anniversary of the first book in the "Song Of Ice And Fire" series.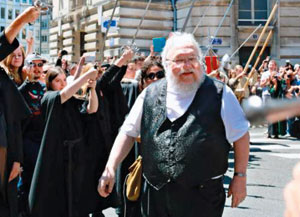 Martin confirmed via his blog that the new edition will include an introduction by the World Famous Nebula Toastmaster John Hodgman and "a truly astonishing amount of artwork" — a total of 73 black-and-white interior illustrations, and eight spectacular full-color plates.
He added that while some of the art will be drawn from the Ice & Fire calendars, from "The World of Ice and Fire", and from the card and board games and role-playing games, 48 of these pieces are "completely new, never-before-seen artwork". Martin also unveiled two examples of the type of artwork to be featured in the special "A Game of Thrones" edition.
The book will be entitled "A Game of Thrones: The Illustrated Edition" and will be on sale from October 18, 2016. However, no updates on Martin's highly-anticipated sixth book on the series, "Winds of Winter", have emerged of late, with Martin's publisher maintaining that a release date is not yet know