Dwayne 'The Rock' Johnson Angrily Slams Male 'Fast 8' Co-Stars
View(s):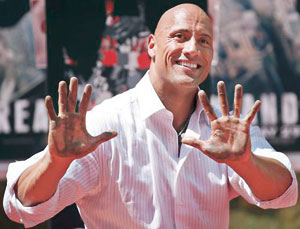 Who in their right mind would upset The Rock? On Monday, Dwayne Johnson took to Instagram to call out several unnamed male Fast 8 co-stars in a shocking post, Yahoo news reported.
After praising his "always amazing" female co-stars, who include original franchise stars Michelle Rodriguez and Jordana Brewster and newcomers Charlize Theron, Helen Mirren, and Eva Mendes, The Rock had plenty to say about certain male co-stars from the upcoming action flick.
"My male co-stars however are a different story. Some conduct themselves as stand up men and true professionals, while others don't," the former professional wrestler wrote.
Fortunately, his frustration plays well to his performance as Hobbs.
"When you watch this movie next April and it seems like I'm not acting in some of these scenes and my blood is legit boiling – you're right," he wrote. "Bottom line is it'll play great for the movie and fits this Hobbs character that's embedded in my DNA extremely well.
The telling caption was posted with a video of Johnson attacking prison guards in the film.
Johnson never named which co-stars upset him, but in the past, the cast of the hit Fast and Furious franchise has always seemed particularly bonded, calling each other "family" and publicly grieving the loss of co-star Paul Walker.
Fast 8 also stars Scott Eastwood, Jason Statham, Kurt Russell, Vin Diesel, and Tyrese Gibson. It's set to be released April 14, 2017.