'Adaraneeya Rohana' in Aussie
View(s):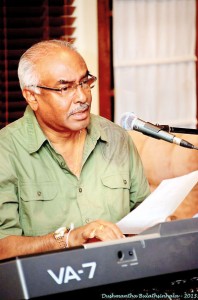 Veteran musician Rohana Weerasinghe will tour with his spectacular live in Concert 'Adaraneeya Rohana' in five cities in Australia during the month of August starting from Sunday, 7th August.
'Adaraneeya Rohana' Concert will feature Rohana and his full Orchestra along with popular singing stars Deepika Priyadarshani Peiris, Chandana Liyanarachchi and Chamika Sirimanne.
The organising of these concerts spearheaded by Bandu Dissanayake and Indrajith Mirihana will be held in August 7 in Melbourne, August 13  in Adelaide, August 20 in Canberra, August 28 in Sydney and also for the first time in Dubboo, New South Wales.
"This is the maiden 'Adaraneeya Rohana' concert I will be performing outside Sri Lanka. There have been numerous requests for this concert ever since it was first held here in Colombo. But almost ten years ago I performed at the 'Rohana Ransara opera' at the Sydney Opera House' said  Rohana Weerasinghe.
'Since it is not an easy task to hold concerts with huge orchestras and a large number of singers, I chose to perform a trimmed version with one, two or three singers according to the demands in any country and even in Sri Lanka. I have already got invitations to perform in the US, Britain and Italy' he added.