'Gypsies Family Night with Pegasus Reef'
View(s):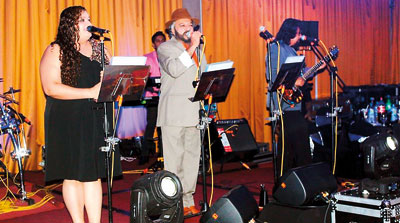 The Pegasus Reef Wattala, presented their newly designed family event recently, 'Gypsies Family Night', a musical evening along with dinner buffet at the hotel premises.
'Most of today's families' daily routine is often so chaotic and tired. Whenever they get a time they always look for a place for leisure dine and wine with the whole family. Therefore we have designed this family event especially for those who seek a better place for the whole family' stated the management of Pegasus Reef.
It was an evening of fantastic music, dance and wonderful enjoyment performed by the Sri Lankan popular pop band, none other than Gypsies.
Gypsies Sunil Perera, the amazing performer along with his fabulous singing made the audience totally engaged throughout the night. His witty jokes and interaction with the audience made it very entertaining.
'The evening started off with the rhythm of guitars and the voice of showbiz, Sunil Perera, the leader of Gypsies, brightened up the stage and gave that "WOW" start off and it was the sign saying that the success of our event' the GM said.
"The music kept us interesting" said Krishan Fernado, Businessman who participated in the family night with his family and friends.
'It was fun to dine whilst listening to our every time favourite songs. Foods were delicious and the place was very fine. We love to visit Pegasus more often as it offers their best always' he further added.
The Pegasus Reef's delicious and tempting dishes took its customers on an unforgettable and exciting gastronomical journey.  Its wide spread of salads, soup varieties, fresh breads to the fish and meat cuisines and mouth watering delectable dessert choices was nothing short of spectacular.
Raffle draws, Beverages and hot drinks, cocktail counter and sudden surprises added glamour to the night. Especially the kids had lot of fun throughout the night whilst elders had chit chats and sip of drink.
The Gypsies kept all dance lovers not to leave the floor with a cocktail of popular favourites from "Lunu Dehi", "Ojaye", "I don't know why" "Latha", "Linda Langa Sangamaya", "Lambada" to "Koththamalli" and hits from western singers and bands. A medley of Bailas that had everyone spent in the end.