Space for poets and artistes in the making
By Dilantha Dassanayake
View(s):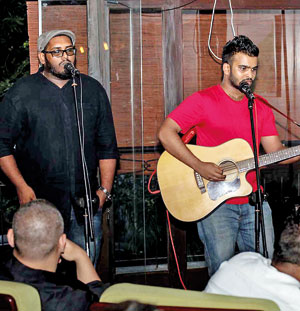 After a long break Colombo Poets Open Mic Night returned at a new venue. The setting was the upstairs lounge of the Tea Avenue, which provides an ideal and relaxed atmosphere.
The space has large armchairsover looking tall trees on to a quiet trafficless Sunday afternoon. This however is not your average poetry night. There are young people drinking coffee, milkshakes and tea. The audience will enjoy listening to published and novice poets with interludes of singer songwriters playing on acoustic guitars.
What makes this event unique is that there are always special guests in the audience from the business and political circles. "In Sri Lanka there is a segment of people who do not necessary have a venue to express their ideas, which eventually leads to a lot of frustration. In a coffee shop revolution everybody complains about things but does not know what to do to make those changes. The kids that are coming here have visions of making improvements. By having them in    a small environment with people of influence they can seek advice or vent their frustrations," Said founder Shahul Shabdeen.
Shahul's foundation Youth For Change that runs the poetry night, which began in 2014, also has initiatives that include scholarships and workshops. Recently they held a seminar with Professor Daryl Harris of the University of Kentucky, a specialist in Experimental Theatre and Performing Arts.
In the past there have been poets in Sinhala and Tamil. Shahul aims to include school children with a number of programs already under way to encourage them into the art of spoken word and public speaking. The event will now be held every last Sunday of the month with further aims to move the venue from Colombo to Galle, Kandy to Jaffna and the Eastern province.
While the latest instalment showcased a wealth of talent within Colombo, highlighting issues such as identity, gender equality and current affairs it is also a light hearted affair. Many humorous situations are described and belts of laughter to be heard.