Sad plight of Sri Lanka Athletics
View(s):
Jayamini Ileperuma( Former National Athlete – South Asian Games Medalist)
We have seen a sudden dearth of talented athletes when compared to the past. I cannot say now the standards of athletics has dropped as I have retired from athletics a long time ago. I get all these observations from printed and the electronic media. When compared to our times, I have noted in every athletic event, the present participation of competitors is less. I am the only athlete, who may have participated in most of the athletic events such as 100, 200, 400,800,1500, 4×100 and 4×400. In each event I was able to create a national record. What I have observed is during those days,after retiring from athletics, there were many competitors competing for above mentioned events. These athletes not only won the national championships but participated in international championships as well. There is a big difference in athletics in my era and the present era. We participated in championships with lot of difficulties.We did not have sponsors and facilities. But the present athletes get the best resources and facilities.There are people to look after them. Today there are more international championships than our period. But performance wise, the present set of athletes cannot be compared to the performance of athletes in our period. Today in a running event, seldom do we see attempts to break records.The main reason is, the present set of athletes make no sacrifice to achieve their targets. Today we only see a commercialised show. If we had the same facilities as the present day athletes we should have performed better".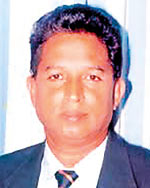 Derwin Perera( Former National Athletic Coach and Director Sports Gateway International School)
The athletics in Sri Lanka is at deathbed. We have not seen any progress in junior athletes and no interest of safeguarding the senior athletes. In the recent Asian athletic championships, we were able to assess the situation of athletics in Sri Lanka. Even if we target athletics for the year 2018, and make plans, it is not in action as yet.We have a proud history in athletics.But still we cannot appoint a national coach. The people who are at athletic association, have no specific plan but what they do best is survive at the office. Obviously the Athletic Association is acting but have no constructive plan. To address the situation and to uplift athletics in Sri Lanka, the Ministry of Sports must get involved immediately"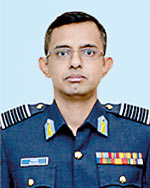 Group Captain Pathman Costa (Secretary Sri Lanka Air Force Sports Council and Secretary Defence Services Sports Board)
" As per my observation if not for the three forces (Army, Navy and Air Force), there is no athletics and other sports surviving in this country. The athletes who come from school level to national level, are nurtured carefully by the three Forces. To safe guard the interest of national level athletes there is no proper long term plan. To safe guard the junior, senior and national level athletes, the Ministry of Education, Ministry of Sports and National Athletic Association should formulate a plan soon.The athletes who have won medals in international and national level competitions are employed by the three Forces, who give all the facilities and promotions. But in turn the attitude of the National Association towards the three forces is not fair and justifiable. We will have a good future in athletics and rest of the sports if three forces, Government, Mercantile and Banking sectors get together."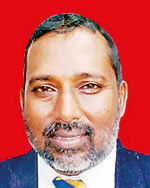 Neville Rodrigo ( Vice President Sri Lanka Schools Athletic Association)
" The Athletics in schools and national level has dropped suddenly. This has resulted in our failure at international level as well. The main reason for the drop in athletics is the performances at school level. PTI's are being entrusted with other subjects apart from their known subject. The PTI's are being now entrusted with health and physical education. In the past PTI's were entrusted with physical education only. When PTI's teach health education, the physical education is affected. Now I heard of a new decision taken by Ministry of Education to keep physical education and drop health education. That's a good move! The Athletic Association has no long term plan. At the recently concluded South Asian Games (SAG), we did not have the desired results. The excuse given by the Athletic Association is that we have participated at very short notice. For the next SAG too we have not prepared ourselves. So how can we develop and make a progress in a sport like this with responsible officials having a lethargic mind sets?"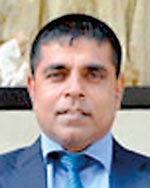 Sajith Jayalal ( President Sri Lanka Athletic Coaches Association and Director National Institute of Sports Science)
" Our athletic performances have suddenly come down, when you compare with the past.The best example is in the recently concluded Asian junior athletic championships where we failed to win a single medal though 24 athletes took part. Even national champion athletes lost. We have no plans to safe guard the young talented athletes. Today we have no faith in the sport of athletics. Today our athletes set their records from athletic events such as Pole Vault, Discuss Throw and Hammer throw .But no records in sprint events. Recently the javelin record established was after many years. In year 2000, the 8th placed athlete in 400m finished the race at a time of 47.1 seconds. But today's champion of the same event has set the same record. Hence obviously there is no improvement in athletics in this country.Today the officials who are responsible for athletics,only do is send out teams to overseas championships at the expense of Ministry of Sports.Today, these officials are sending out athletes to open athletic championships in Thailand, Singapore and Malaysia. And they bring lot of gold medals but it is not worth it as they are not very competitive championships. It is not helping our athletics in the long run at all. These competitions are not worth at all due to non-competitiveness. During those days we had coaches who guided the athletes free-of-charge but the present day coaches do their part for money only.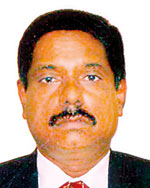 Col.Sudath Madugalle (Former President  Sri Lanka Athletic Association)
It is of the utmost importance that officials from Sri Lanka Athletics and the Ministry of Sports draw up plans for programmes to educate coaches. If we are to target medals from the international arena, we are compelled to send senior coaches abroad for training or, to bring down world renowned coaches to Sri Lanka to conduct seminars or similar training programmes for local coaches and athletes.
We must acknowledge that, day by day, training methods and techniques are evolving and we will not be able to add value to training our athletes if our coaches are not provided with the opportunity to learn from them. Some coaches resort to studying these methods through the internet, which is however not advisable.
A team of experts have to be formed from among the coaches and athletes to identify new talent, especially from the villages and the interior of the country. This team should be tasked with travelling around the country in search of this hitherto undiscovered promising young men and women. Once talented youngsters are identified, they must be placed in a pool with a special development programme for at least 3 to 5 years to bring them up to national and subsequently, international standards.
Coaches and athletes that contribute highly to adding value to or up lift of athletics should be appreciated.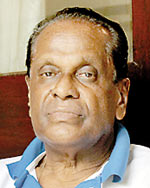 Prema Pinnawela( Former Secretary Sri Lanka Athletic Association and Former Secretary National Olympic Committee)
" My personal view is there is a sudden drop of athletics in this country.The main reason for the downfall is we don't have competitive local and international competitions. Due to this our national level athletes have no opportunity to make progress. The best example I can give is – the case of our Olympian Sachith Maduranga, the javelin thrower. He qualified for the Olympics by throwing the Javelin at 84 metres last year. But since then he has failed to maintain or improve on the 84 meter distance that he made. Hence I see, due lack of competitions he has failed to progress. We have no proper plan to improve athletics in Sri Lanka. But I think when S.B.Dissnayake was Minister of Sports, he had a vision to develop the athletics in this country. The minister himself, Sunil Gunawardena, Derwin Perera and Lakshman de Alwis after having many discussions made a pool targeting the Olympics. They established a junior, senior , intermediate and an Olympic Pool. Many laughed at the plan they made for the Olympics,and criticised.But at the end all Sri Lankans were able to witness ace sprint queen Susanthika Jayasinghe winning a medlal at the Sydney Olympics in 2000. I think this is the best way to develop the sport. Even if India is a powerful nation, in the sport of athletics they are second to us.The very reason for saying this is, we have bagged many medals in athletics than India has obtained. The Athletic administration should be more active than in the recent past. The president of Athletic association –Sugath Thilakaratne – makes a valiant attempt to see athletics prosper in Sri Lanka, but the officials around him have no interest at all."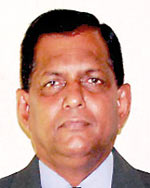 Palitha Jayathilake( Director Sports,Lyceum International School)
" In our country for athletics and rest of the sports there is no long term plan. For this pathetic situation, Ministry of Sports and Athletic Association should take the full responsibility. There is no proper selection plan. Though we have a local calendar for athletics, it is not properly to put into action to achieve the desired results. The athletic events are not held on the mentioned dates. When there is an international championship around the corner, then both the Ministry of Sports and the Athletic Association prepare plans for it haphazard fashion. To develop our athletes in the long run, we had only two facilities – The Sugathadasa Stadium and Mahinda Rajapaksa Stadium, Diyagama. But unfortunately the running track in both stadiums cannot be utilised in these two stadiums. Hence a single championship cannot be held. With these obstacles how can we expect good results from the present set of athletes? If immediate action is not taknen by the officials, there is no hope for athletics in Sri Lanka. It will be dead and gone. The total responsibility should be taken by the Ministry of Sports and the Department of Sports Development for this detrimental status in athletics."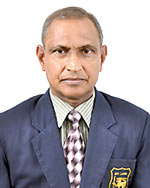 Tissa Samarasinghe (President , Sri Lanka Masters Athletic Association)
"Sri Lankan athletics occupied a pride of place in the past consistently winning medals and performing well at SAF, Asian, Commonwealth,Olympics and at world level meets. Today Sri Lankan athletics has fallen to its lowest level in terms of international performances. We are not a force to be reckoned with even at the SAF level cutting a sorry picture at present.This was seen especially during the last decade and this unfortunate situation is a direct result of many reasons. During this period the National Athletic Association hardly had a development programme or a vision to lead athletics. Administrators holding on to major positions too long was undoubtedly the cause for it. Despite reminders by all concerned, the athletic administration failed to concentrate on building up a second and third line of athletes to fill the vacuum created by the best first level athletes we saw during the recent past.
The Athletics Association will not be able to develop athletics alone.The main contributory factor in my opinion is the
non-availability of a co-ordinated national development programme for the athletics involving the Ministry of Sports, Athletics administration ( National Association ) and schools. The decline of school athletics was another major issue that we can identify in this situation. Especially during the time of veteran sports administrator Sunil Jayaweera, top athletes in the calibre of Susanthika Jayasinghe, Damayanthi Darsha, Sriyani Kulawansa, Sugath Thillakaratne and many others were produced by the schools sector who brought honour and glory to the motherland later as national athletes. The National Schools Sports Festival at that time was a Model Games that looked like a Mini Olympics in Sri Lanka.
I understand that the present Minister of Sports has already launched a coordinated programme involving the Ministry of Sports and the Ministry of Education to promote national sports involving the National Sports Associations, this is bound to bring some hope for the future. At the same time we must bring an end to group politics in athletics and elect the best and the most deserving administrators to run the National Athletic Association if we want to see the rise of athletics in the country once again to some level."