Rider Dassanayake hat-trick, Driver Perera double, reign supreme
6th Cavalry Supercross
View(s):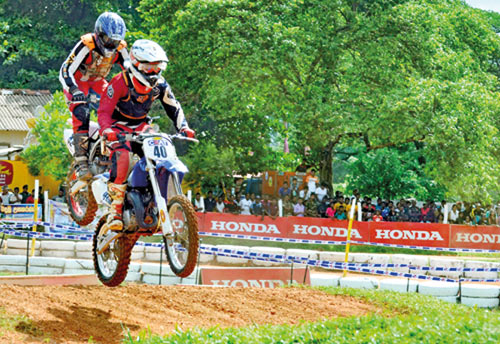 With a hat-trick of wins, Ishan Dassanayake grabbed the Rider's Championship at the 6th Cavalry Supercross Motorsports, while Ushan Perera dominated in the Cars event to win the Driver's Championship, at Pangolla in Kurunegala last Sunday. Dassanayake, a rider with ample experience competing at top Motorcross events in Sri Lanka for many years, reached his career peak last Sunday by outwitting many prominent names in motorbikes. First he won the Class MX up to 125cc Motorcross event, then continued his perfect form to win both races of the Class MX 125cc to 250cc Motorcross events and make a faultless ending on a eventful day.
Dassanayake was the man in control in both Class MX 125cc to 250cc Motorcross races — the main event for the riders — as he dominated the entire pack leading the way from start to end. Both races virtually belonged to Dassanayake, who took the lead from the start and swept aside challenges from other competitors with ease. Ivon B. Gurusinghe pursued Dassanayake, to his potential, but had to settle for second best in both races. Buddhika Silva, from the Sri Lanka Army was third in the first race, while Sameera Premaratne was third in the second outing.
Two prominent riders, Gayan Sandaruwan — winner of Rider's Championship at Cavalry Supercross 2010, 2012 and 2013 — and former champion Shehan C. Adikari, did not participate this year due to injuries. Jacque Gunawardene, a potential threat, had to pull out from both races due to technical problems, enabling Dassanayake to dominate.  In the main event for Cars, the Class SLGT up to 3500cc event, Ushan Perera maintained his supremacy from flag off to the checkered flag.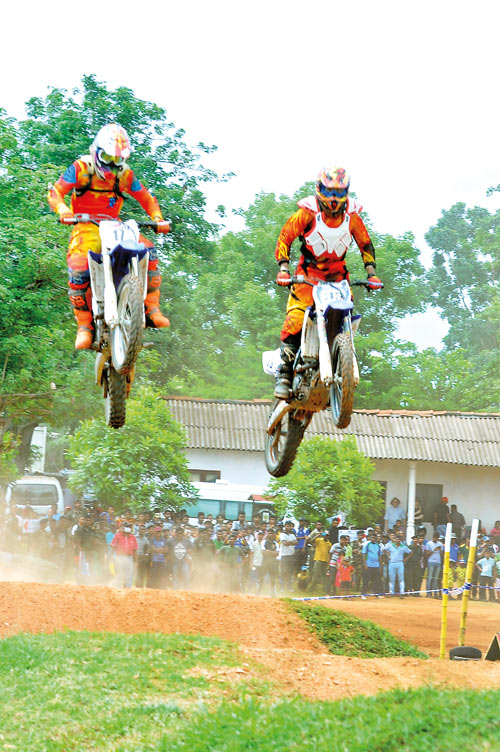 His flawless handling ensured other drivers did not pass him, even once, at both races. During the 5th lap of the second 8-lap race, Perera's car came to a sudden stop while maneuvering a difficult bend, which had the spectators in watchful suspense. However, before any of the chasing cars could get close, Perera managed to get his machine back on track and complete the remaining three laps unchallenged, for a richly deserved win.  Dinesh Jayawardene, the main contender to beat Perera in both races, had to settle for second best on both occasions.
Kaushal Samarasinghe too gave a good run but finished third in both races. Pasindu Peiris, who won the inaugural Driver's Championship at Pangolla, could not come to his usual form as he intensely battled with other drivers, eventually forcing himself out in both races.  Ivon B. Gurusinghe, a worthy competitor in the main motorbikes event, won both races of Class M Standard and Modified up to 250cc Street Trail event. Shanuka Sandruwan came second in both races.
National Cricketer, all-rounder Sachith Pathirana came second to Yasith Gamage in the Class SLE up to 1000cc Nissan March Cars event but reigned supreme in the Class SLA up to 1050cc Modified Cars event, pushing veterans Ajith Keerthi and Nishan Wasalathanthri to second and third places respectively.  Under trying circumstances, Imal Manchanayake won both races of Class SM Super Motard Motorbike event, while Uddika Srimal Malavige and Deshan Solanki finished second and third on both occasions.
Veteran rider Ananda Wedisinghe, who was injury the previous weekend at the Sigiriya Rallycross, was not at his usual best.  Nishan Wasalathanthri, the incumbent President of the Sri Lanka Association of Racing Drivers And Riders (SLARDAR), clinched the Class SLS up to 1500cc Special Cars event, pushing Dinesh Senanayake, winner of Class T&J Trucks and Jeeps Open event, to second spot.  The Class MX up to 125cc Motorbike event for the Armed Forces was won by Sameera Premaratne.
He became the most sought out rider among the Armed Forces after coming second in the Class MX up to 125cc Motorcross and third in the Class MX 125cc to 250cc Motorcross events.  Upulwan Serasinghe won the Class SLN up to 1300cc Ford Laser/Mazda Cars event, but was pushed to second place by Randika Niroshan in the Class SLN up to 1500cc Ford Laser/Mazda Cars. The battle was intense in the 1300cc event which Shenal Gunawardene controversially won, relegating Serasinghe to second.
However, Serasinghe lodged a protest soon after the race, stating Gunawardene deliberately knocked his car to gain top position, which he pointed out as being against the rules of the race. Consequently, the organisers viewed video footage of the the entire race and found that Gunawardene had indeed breached the event's rules and awarded the win to Serasinghe. Hence, Dinesh Jayawardene, who came third originally was made Runner-Up and Michael Wijesuriya, who came fourth, was placed third.
In addition, Gunawardene was involved in a heated debate on the track with Kushan Peiris, during the Class SLS upto 1500cc Special Cars event, after colliding with each other in the 1st lap. Gunawardene's car was forced out after the collision, while Peiris had to retire 3 laps later due to a technical failure. The argument erupted when Peiris was leaving his car to lodge a protest with the organisers. According to SLARDAR, both drivers have lodged protest letters and an inquiry will be held to determine the offender. Eleven-year-old D.M.D. Kalhara impressed with two victoriess during the day.
He first won the Class J up to 85cc Motorcross Bikes Under-13 event and crowned his day by winning the Class MX up to 85cc Motorcross Under-16 event, with some spectacular jumps.  While Malika Kuriwitarachchi won the Class SLH up to 2200cc Subaru Legacy Cars event, veteran driver K. Parameshwaran went on to secure the Class SLA up to 1000cc Mini 7 Cars event. Twin brothers Minuka and Rivinu Ratnayake came first and second respectively in the Class MX up to 50cc Motorcross Bikes event.  The 6th Cavalry Supercross was organised by the Sri Lanka Armoured Corps in collaboration with SLARDAR. The main sponsors were CEAT, Honda, Singer Sri Lanka, Sign Tech, Litro Gas, Commercial Credit, Ranjanas and Sri Lanka Insurance.