Clay and Ali were 2 different Boxers
By the late Sharm De Alwis (Published on 9-5-2010)
View(s):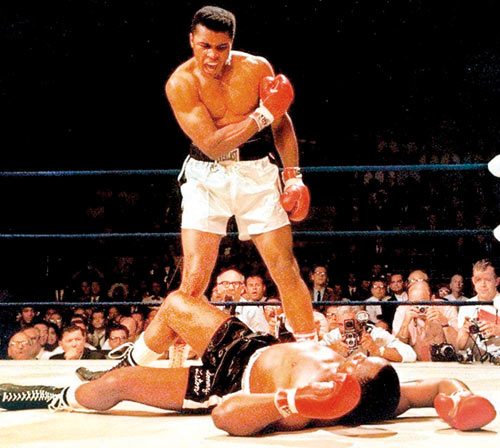 Cassius Clay considered himself the finest ever to have worn the Heavyweight Championship belt. Having seen his early fights, I dare say he had the speed of fist and foot, and agility of body to qualify, even though he lacked the killer punch of Dempsey, Louis or Marciano.  Joe Louis had one glaring weakness that was exploited by Buddy Bear, Brother Max, Billy Conn, Max Schmeling, Ezard Charles and Joe Walcott – he was a sucker for a low right hand punch.  Cassius Clay aka Mohamed Ali got away with a multitude of basic flaws that even an amateur would not allow to tarnish his arsenal; low guard with the jaw forever exposed, never body punched, never blocked punches with arms or elbows, punched in rallies like an amateur, never in combinations, didn't slip punches or bend under them.
His stock move to avoid punches was to slide backwards or sideways.  Pound for pound, Clay's own personal hero, Sugar Ray Robinson has been the finest boxing machine the world has had. Jimmy Carter was the best street fighter within the roped square, but it is only conjecture as to the outcome of a Cassius Clay encounter with Bob Fitzimmons, Jack Dempsey at 32, Joe Louis at 21 or, the rugged Rocky Marciano who retired undefeated.  Clay never had the pulverizing punch of Marciano or the granite jaw of Dempsey, but his footwork and his timing of swift punches may never again be seen, unless the gods themselves come down in a flurry of boxing trunks and blurred gloves.  I have repeatedly watched videos of all the Clay fights and marveled at the speed with which Clay moved to inflict pain.
He himself summed up his technique: "float like a butterfly, sting like a bee."  In the process he became a household name — a farmer's wife in Cornwall, a judge in Cape Town, an antique dealer in Hong Kong, a dentist in Jerusalem… ask them "who is the all-time greatest Heavyweight Champion of the world?" They will answer in one voice, "Cassius Clay". I make this distinction because, by the time he changed his religion and name to Ali, he had slowed down considerably and might have been pole-axed by Marciano or Dempsey. But never when he was Cassius Clay of the quick feet.  He was always pre-fight vociferous but then, he has said, "I don't believe all the stuff I say. I say it only to make people angry – then I go laughing to the bank." Within the ring he was cucumber cool.
When some radical students of Oxford University wanted him to be their Professor of Poetry on the death of W.H. Auden, he said he would take it for the prestige, even though the salary wouldn't pay for his telephone bills. "Who," he asked, "is the boxer who can be the Professor of Poetry at the Oxford University?"  When the world was keyed up for the Ali-Foreman fight, quite a few thought the dream was over, because of the long layoff and some even said, "My heart is with Ali but my money is on Foreman." But like Elvis Presley and all other great men, Ali performed best under pressure, and David Frost's live commentary on the fight encapsulated the finale: "Ali has knocked Foreman down! Ali has done it! And the fight is over."  It was a bicycle that got Cassius Clay into the ring.
A US$ 60 bike his father had gifted him was stolen within days, and the little boy, scarcely four feet in his socks, was livid and told Joe Martin in the Police station: "If I catch the guy who stole my bike, I'll whip him good." Martin asked him if he knew to box and being told "no" said, "Come over, we'll teach you to defend yourself." Clay was on the move. Within a few years he would win the Golden Gloves as well as the Rome Olympics Light-Heavyweight titles.  He later threw the Olympic Gold medal into the Ohio river, when he was denied entrance to a colour conscious restaurant, that negated his triumphant return from Rome. There he met Joe Martin who confirmed that the benevolent millionaire William Reynolds would sponsor Clay's professional career.
"I dream about what it's going to be like. I'll have a $100,000 home and a beautiful wife. I'll own two Cadillacs and I'll own a pretty Cassius Clay Hotel in Louisville and, if business is good, I'll branch out to New York and California."  During the early years of his journey, he teamed up momentarily, with several greats such as Sugar Ray Robinson and Archie Moore who wanted to make an all-round boxer out of "this youth with utterly astounding potential", but Clay scoffed at in-fighting, because he was "gonna be so swift and out of range." This credo he exercised in full measure against Henry Cooper.  Time marched on relentlessly and Clay became rusty without ring activity.
The Liston pre-match hype had wild predictions from all quarters:
Liston: "My only worry is how I'll get my fist outta his big mouth once I get him in the ring."
Marciano: "Clay is horribly short of experience to be going against a brute like Liston."
Billy Conn: "The first shot Liston hits him, he's a goner."
Joe Louis: "Clay has got to be joking. I wouldn't give one nickel for his chances."
Jackie Gleeson, the comedian: "Clay should last about 18 seconds and that includes the three seconds he brings into the ring with him."
Scribes butted in: "Clay is strutting to his inevitable downfall." "Stop this suicide fight." "Clay won't last through the National Anthem."
Cassius Clay kept his cool. He turned the screw harder. He issued special jackets at his training camp with 'BEAR HUNTING' emblazoned across the back. He threatened to invade Liston's training camp and did, with a bus load of screeching teenage girl supporters. Liston lost his cool and "That," said Clay, "was when he lost the fight", even though Liston was reputed to have a 'right hand destruction and left hand death'. Despite having been temporarily blinded by caustic or acidic liniment from Liston's wounds, he unleashed such a barrage of blows in the 6th Round, that Liston never wanted to face another.  Clay's refusal to enlist in the US Army to fight in Vietnam is worth recording, if only to pinpoint his moral stand as an individual with fundamental rights."I have nothing against them Vietcongs," he said, and when he "looked at a list of them questions they had on them Army tests, I just didn't know the answers. I didn't even know how to start about finding the answers.
Shades of Madu who, never mind the answer, didn't know the question. Stripped of his title and exiled, the elders of the boxing fraternity conspired to heap calumny on Clay, but the ex-champ was not a man of straw and unleashed a right cross: "I am black. They never let me forget it. Sure, I am black. And I'll never let them forget it."  The men he fought were not journey-men who were done with journeying. The roll-call includes Sonny Liston (twice), Floyd Patterson, George Chuvalo – the hard rock Canadian who had never been knocked down in his long career – Henry Cooper, Brian London, Karl Mildenberger, Zora Folley, Cleveland Williams, Ernie Terrel, Jerry Quarry, Oscar Bonavena, Joe Bugner, Joe Frazier (thrice), Ken Norton (twice), George Foreman (twice) and the 24 -year-old Leon Spinks who finally took the championship belt off his waist in February, 1978.