Anjalee leads HNB to Cager title
By Lakshman Ranasinghe
View(s):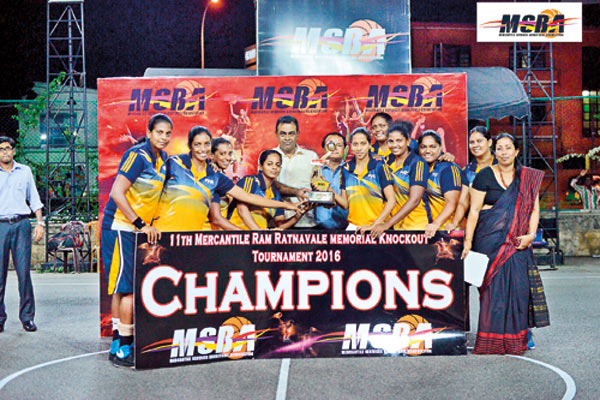 National player and HNB skipper, Anjalee Ekanayake led from the front to lead HNB to a convincing 59/48 win over Commercial Credit and Finance PLC. In the MSBA – 11th Ram Ratnavale Memorial Trophy Knock-out Women's 'A' Division Basketball Final 2016 at the Edward Henry Pedris Sports Complex.  While energetic, Ekanayake unleashed her speed and ball control to the maximum, the HNB old guard, Umanga de Zoysa and Double International (Basketball and Netball), Kumaranie Silva, gave ample support with their experience.
HNB led all three quarters, 8/5, 22/16 (H/T) and 37/30 before winning.
Top scorers: Anjalee Ekanayake (15), Umanga de Zoysa (17) and Kumaranie Silva (16) for the winners; Prasadi Fonseka (13) and Erandi Rajapaksa (20) for the losers.  Ranil Suranga, Charitha Dodangoda and Thusitha Yatigammana refereed.
Men's 'C' Division final: In the game that followed, Commercial Credit & Finance PLC 'B' turned the tables on HSBC, to snatch a heart stopping 49/48 win , in the Mens 'C' division Final.  The first two quarters swung like a pendulum, Commercial Credit 'B' taking the 1st quarter, 14/13 and HSBC gaining a useful 29/24 lead at half time  HSBC dominated the 3rd quarter via Chamara Wimalananda's intelligent play and Hasantha Gunawardena's energy, to forge ahead, 43/33.  HSBC continued their dominance up to the last five minutes in the 4th quarter, when suddenly like a bolt of lightning, Commercial Credit's, Anushka Dilan scored in rapid succession to take the game to the wire, 49/48
Top Scorers : Anushka Dilan (15) and Anjelo Dewruwan (10) for the winners; Hasantha Gunawardena (12) and Chamara Wimalananda (10) for the losers.  Buddhika Kumudapperuma, Channa Perera and Christopher Karunasinghe refereed.
Women's 'B' division Final: 20 year old, National Player, Natasha Perera with her incredible speed and ball control handed over NDB Bank a comprehensive 48/32 win over MAS Holdings.  NDB dominated play in the first three quarter to lead 18/5, 28/21 (H/T) and 40/23.
Top Shooters: Natasha Perera (30) and Hashini Ariyaratne (10) for the Winners; Wendy Smith (11) and Geshani Lahiruka (10) for the losers.
Christopher Karunasinghe and Ranil Suranga Refereed.
Mens 'E' Division Final: The robust, Clifford Shenal and experienced Hasitha Wijeratne played brilliantly to lead debutants, Union Bank to a memorable 77/51 win over Mobitel.  Union Bank took the 1st Quarter 14/10, but Mobitel fought back to lead 33/31 at half time. Union Bank turned on the heat in the 3rd Quarter through Hasitha Wijeratne and Clifford Shenal, as they took the 3rd Quarter 58/38
Top shooters: Hasitha Wijeratne (20) and Clifford Shenal (30) for the winners; Thilina de Silva (17) and Koshan Jayawickrama (18) for the losers.  Charitha Dodangoda and P. Saluwadana Refereed.
Mens 'D' Division Final: In a game that was slow paced in the beginning , turned into a thriller in the last 20 minutes, as Softlogic Group snatched a 52/50 win over MAS Holdings 'Blacks'.  Softlogic led in the 1st quarter, 15/11 and held the lead at half time, 22/21; MAS 'Blacks' fought tooth and nail and took the 3rd Quarter 38/37.  MAS Holdings paid the penalty of not making use the free shots that came their way in the crucial fourth quarter.
Top Shooters: Andre Fernando (12) and Lakshan Madusanka (12) for the winners; Heshan Kavisha (22) and Eric Joseph (10) for the losers.
Gayan Buddhika and Christopher Karunasinghe Refereed.