Melioidosis: A deadly bug hiding under another identity
By Kumudini Hettiarachchi
Health officials sound warning in the aftermath of floods and landslides
View(s):
It is a bug which is a 'great mimic' that can very easily lead doctors up the garden path to a different diagnosis ultimately ending in death.
Hiding under the guise of Leptospirosis or Rat Fever, it rises rapidly from muddy and watery soil not only during the monsoons but also disasters such as the floods and landslides Sri Lanka has been experiencing in recent times. It can also mimic tuberculosis (TB) and pneumonia.
Beware of Melioidosis caused by the bacterium Burkholderia pseudomallei.
The alarm bells about this infectious disease — which has a high death (mortality) rate — spreading in Sri Lanka after the recent floods and also with the onset of the monsoon, are being sounded by Senior Lecturer in Microbiology at the Medical Faculty, University of Colombo, Dr. Enoka Corea, who has delved deep to research this bug.
"With early identification of Melioidosis, the patients can be treated effectively and deaths prevented," she says, pointing out that the mortality rate is a shockingly high 1 in 4 among those stricken by this disease. This is way higher than the number of lives that Leptospirosis or Dengue claims.
The data speak for themselves. In 2011 – 6 cases had been confirmed; in 2012 – 5; in 2013 – 10; in 2014 – 23; in 2015 – 65; and from January to May 2016 – 28.
"While there has been an 'exponential' rise in cases in recent times, in the five months of this year alone, 6 deaths have occurred due to Melioidosis," points out Dr. Corea underscoring the gravity of the situation. Last year, after heavy rains lashed Batticaloa, followed by flooding, 10 cases of Melioidosis were reported with four deaths. "A young mother and a girl just after sitting her Advanced Level exam were among the four who died," she laments.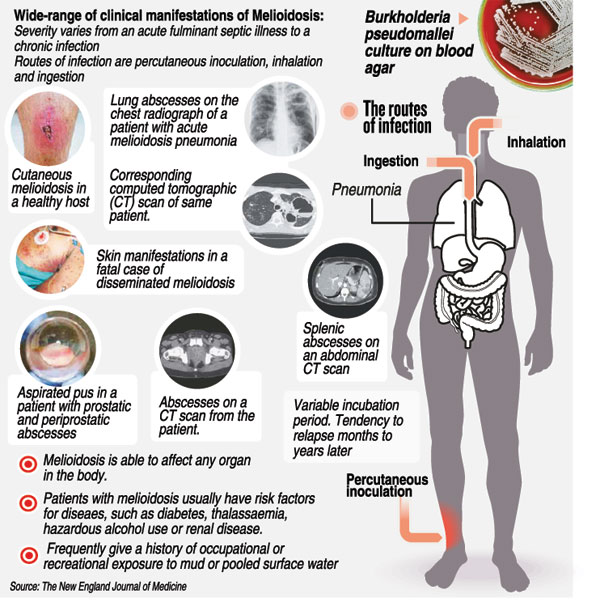 Dr. Corea who has done country-wide mapping has found that the disease correlates with paddy cultivation, rather than tea or rubber. A low peak occurs during the southwest monsoon but a sharper spike at the time of the northeast monsoon.
Profiling the bug which causes Melioidosis, she says that it takes a silvery metallic sheen on culture and sometimes gradually wrinkles up. Its antibiotic-sensitive pattern is "peculiar". In a gram stain under the microscope, it takes a safety-pin appearance. Genotyping has thrown up more than 40 strains.
Melioidosis, however, is not a new disease but has been around for a very long time in tropical countries close to the Equator, with the hot-spots being Thailand, North Australia, Singapore and Malaysia.
Zeroing-in on this bug, Dr. Corea states:
n The exposure to B. pseudomallei can come from anywhere in the outdoor environment – for it is a soil saprophyte (a bacterium that grows on dead or decaying organic matter), especially found in muddy soil.
n As such, anyone may get infected – those at highest risk are people who have occupational exposure to soil and water such as paddy farmers, other cultivators, military personnel, construction workers and livestock farmers. Even those who indulge in gardening, children playing in muddy water or those wading through flood waters are vulnerable. Going around barefoot in mud or muddy water raises the risk of contracting Melioidosis.
n It is not a 'primary' pathogen (something which causes disease commonly), but an 'accidental' one, acquired by exposure to soil and water.
n The mode of transmission is not clear but it is most likely to enter the human body through the skin, if there are breaks or cuts in it, and also the mucous membranes. Inhalation plays a role when soil or water is aerosolised (becomes a fine spray), during heavy rains and floods. Ingestion may play a role in small outbreaks due to a common water source.
"Weird is the incubation period in Melioidosis," says Dr. Corea, explaining that the time between infection and appearance of symptoms could be a few days, 10 days or many years. Sixty-two years after infection while he was serving in Asia, had an American war veteran of World War II manifested symptoms!
Referring to the wide and varied clinical manifestations which could be similar to any syndrome, affecting any system and involving any site of a person's body, she warns that even after successful treatment, the disease could relapse.
The symptoms of Melioidosis are:
n Chronic localised infection with abscess formation on the skin, psoas (an important muscle in the lumbar region), spleen, liver, lung or even the brain.
- Pneumonia, cavitating (cavity-causing) pneumonia or pleural effusions.
- Septicaemia (blood poisoning) or acute fulminant septicaemia (sudden and quick blood poisoning).
- Septic arthritis.
- Lymphadenitis (inflammation or enlargement of a lymph node).
- Brain-stem encephalitis
(inflammation).
According to Dr. Corea as it is an "opportunistic" infection, those with diabetes, chronic renal failure, renal transplants, thalassaemia, Chronic Obstructive Pulmonary Disease (COPD) or alcoholism are more vulnerable to Melioidosis than others.
A culture is the 'gold standard' test, she says.
Tracing the recorded history of this bug in Sri Lanka, she says the first report about a European tea-broker who got the disease was published in the Ceylon Journal of Science in 1927. In more recent history, it was the Professor of Microbiology of the Peradeniya University, Prof. Vasanthi Thevanesam, who when asked to look at an "unusual" isolate from a blood culture in 2006 recognized B. pseudomallei. Since then sporadic cases have been identified, with the number of cases rising "exponentially" in more recent times.
Dr. Corea's advice to clinicians is to keep an eye on patients who come with community-acquired septicaemia and pneumonia. The chances of the culprit being B. pseudomallei are very high then. Intravenous-administered antibiotics will be the answer, followed by oral eradication treatment to prevent a relapse.
A mathematical modelling of the incidence of Melioidosis published in the 'Nature – Microbiology' magazine in January, this year, has predicted that South Asia will have the highest burden and that Sri Lanka will have 1,881 cases per year with 619 deaths.
Guidelines needed for treatment"Bring in guidelines for the treatment of Melioidosis," urges Consultant Clinical Microbiologist Dr. Muditha Abeykoon who is attached to the Polonnaruwa District General Hospital, reiterating that it should also be declared a disease which should be notified to the Epidemiology Unit.

Having tested specimens from patients who are suspected to be having Leptospirosis (Rat Fever) or died of this disease, he has found that some actually have Melioidosis or succumbed to it.

What is the probability of acquiring Leptospirosis and Melioidosis, he asks. Someone needs to have cuts or small wounds for the Leptospirosis germ to enter the body, while there are more ways than one for the Melioidosis bug to get into a person's system. The contamination of soil with Melioidosis is also higher, according to this Clinical Microbiologist.

This is why it should be covered by guidelines, says Dr. Abeykoon, echoing Dr. Corea's concerns.

"While these days patients are presenting with acute symptoms of Melioidosis and clinicians should consider both this disease and Leptospirosis when making a diagnosis and treat them accordingly. Another possibility is patients coming to hospital with a chronic presentation of symptoms such as high fever. These patients would get treated, go home but keep returning. Then too, the red flag of Melioidosis should light up," he says.

He sees as "a big problem" the fact that Leptospirosis is being diagnosed only clinically as confirmatory tests can only be performed mainly at the Medical Research Institute in Colombo. But Melioidosis is easily detected by a Microbiologist and they are in many a hospital.

With Melioidosis and co-morbidities such as diabetes forming a dangerous link, Dr. Abeykoon warns that "we are only seeing the tip of the iceberg". Remember we are a country facing an epidemic of non-communicable diseases (NCDs) and we have also just come out of a major conflict.

Recalling how Melioidosis was named the 'Vietnam time-bomb', afflicting a number of American soldiers long after they had returned home from Vietnam, he says that Sri Lanka should expect a rise in this disease among its military personnel when they reach the age of 50-60 years. For, this is also the time when they would be more susceptible to diabetes and other immuno-compromised diseases.

"We need to take heed – otherwise we may have a ticking 'Sri Lanka time-bomb' in Melioidosis. This is why surveillance and timely diagnosis are of utmost importance," adds Dr. Abeykoon.