University Flag Football tournament in June
By Narendra Kulatunga
View(s):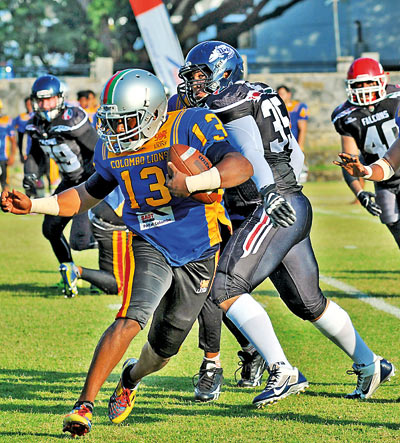 University Flag Football Tournament for the SAGT trophy will take place for the 3rd year on the 4th and 5th of June 2016 at Race course grounds from 9 am to 6 pm. This year the tourmanment will be contested by 20 local university teams from Colombo, Jaffna and Rajarata.  Extending its support for the second year running towards the event, South Asia Gateway Terminals Limited (SAGT), one of the largest operators in the Port of Colombo and ranked No.1 in South Asia and No.4 in the world for terminal productivity, comes forward as the Platinum sponsor for the 2016 tournaments.
American Football in Sri Lanka is a game that has emerged to be very popular amongst the youth in many parts of the country. It is a sport that draws many parallels with rugby and was introduced to the country with the objective of giving Sri Lankan youth the opportunity take part and excel in another exciting sport. American Football was first introduced to Sri Lanka in 2012 by EFLI – Sri Lanka (Elite Football League of India).
The University Flag Football Tournament follows a full-gear tackling tournament organised by EFLI which took place at the end of last year with the participation of teams from Colombo, Jaffna and Rajarata.
An international team from the UAE, EAFL (Emirates American Football League) Falcons toured and played against Colombo Lions in April this year.  EFLI- Sri Lanka will also organise another contact (tackling) tournament during the latter of this year with teams from Colombo, Jaffna, Rajarata and Saudi Arabia.  EFLI – the first professional American football league in India – was launched in Sri Lanka in 2011, as part of its plan to expand and introduce the sport into the South Asian region. Since then the organisation has conducted numerous tournaments and training events for both local and international teams.