New leader as Yohan dethrones Pawan
37th Bata-the Sunday Times Most Popular Schoolboy Cricketer of the Year 2016
View(s):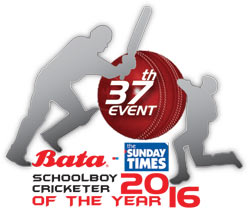 After continuously dominating from the very first week Pawan Dias' crown comes down after Yohan Mendis claimed the supremacy of the 37th Bata-the Sunday Times Most Popular Schoolboy Cricketer of the Year 2016 contest. As the competition reaches its 15th week Yohan took charge of the top spot in the All-Island contest, pushing Pawan to the second slot with a lead of 1942 votes.  Yohan, the allrounder from S. Thomas' College, took the top position after receiving 3218 votes during the ended week while Pawan of Royal College Panadura showed a huge drop on his usual pace. His collection for this week was a mere 385 which took his overall tally to 11964. With few more weeks to go before the end of the competition, it may have looked as an easy race for Pawan, but Yohan comes at a crucial juncture disguised as a party spoiler.
Until three weeks back everything looked smooth and nice for Pawan but with the sudden rise of Yohan, the leader of 14 continuous weeks would have felt the danger. Yohan was idling at third place for nearly 10 weeks before staging his intention in the 12th week. For two more weeks to follow, he gathered momentum with huge sums of votes weekly before toppling Pawan in the 15th week.  But the race is not yet over, for Pawan and Yohan both. Two more weeks are left for the top two contenders to face off and let the followers know who the ultimate winner is. Meanwhile Lahiru Thambawita of Holy Cross College Kalutara remains at third place after failing to add anything to his remaining tally. At fourth is Lakthina Rodrigo of St. Peter's College followed by Trinity College skipper Ravin Sayer.
Madawa Fernando of De La Salle College Mutwal continues to lead the Emerging Schools category for the 15th week, totally unchallenged by the remaining two contenders. Dilshan Madushanka of Siri Piyarathana Central Padukka remains untouched at second place.  Coupons of the 37th Bata-the Sunday Times Most Popular Schoolboy Cricketer of the Year 2015 will appear on Wijeya Newspaper's dailies, the Daily Mirror and Lankadeepa and also its weekend English issue, the Sunday Times and the Sinhala weekly Deshaya. Readers will be able to send in as much as coupons in favour of their favourite schoolboy cricketer until 12.00 noon on June 16. The final coupon will appear on June 12.
All-Island Schools
Yohan Mendis (S. Thomas' College) 13905
Pawan Dias (Royal College Panadura) 11964
Lahiru Thambawita (Holy Cross College) 7434
Lakshina Rodrigo (St. Peter's College) 1797
Ravin Sayer (Trinity College) 514
Malshan Rodrigo (St. Joseph's College) 304
Kevin Perera (Maris Stella Negombo) 228
Pasindu Sooriyabandara (Royal College Colombo) 168
Geethal Fernando (St. Benedict's College) 161
Sachinda Gamadikari (Maris Stella College) 104
Emerging Schools
Madawa Fernando (De La Salle College Mutwal) 2561
Dilshan Madushanka (Siri Piyarathana Padukka) 104
Riyaz Rizvy (Azhar College Akurana) 2
Readers prizes go to: 1. Philline Peiris, 51/3, Norris Canal Road, Colombo 10, 2. F.I. Leonard, Pioneer Lanka (Pvt) Ltd, Digana, Kandy, 3. S.D. Edirisinghe, 18/5, 1st Lane, Molligoda, Wadduwa, 4. Sharmain Fernando, 308A, Jubilee Mawatha, Katunayake.