Kayaks not only for sport
View(s):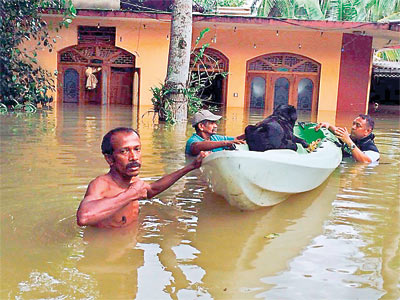 Kayaks proved their worth in the recent floods, with some athletes from Sri Lanka canoeing and kayaking team working together with the military to rescue people trapped in their houses and also to deliver food to homes in need.  The paddlers in their kayaks were able to get to people in areas that were inaccessible by motorboats and carry out rescue work. The kayakers ferried people out of their inundated homes onto military motorboats which then transported them out of the flood zone.
Operating in nearly all affected areas in Wellampitiya, Angoda, Malabe and Kaduwela, the kayak team was able to rescue over a hundred people over four days, in addition to taking food and essential items to a large number of affected families.  "This is indeed a showcase of the spirit of volunteerism as espoused in our National Association for Canoeing and Kayaking, Sri Lanka, and as enshrined in the Olympic Charter," said Prithiviraj Perera, President of NACKSL.
"It is a great example of sports' contribution towards humanism and volunteerism in times of need." The kayaks, which are lightweight, were especially useful for deployment in narrow lanes where it was not possible to see sharp objects in the water. Such objects could damage a normal boat or dingy. Recreational and racing kayaks were used. They could support around three persons.