Mechanics flooded with motor cycles that had gone under
View(s):

Motor mechanics are kept busy with a large number of motor cycles affected by the recent flooding being brought in for servicing.
The Sunday Times witnessed over 75 motor cycles at a garage in the city that have been brought in for servicing after their engines had been affected by the flooding.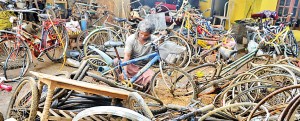 Nalaka Niroshan, a mechanic said this was the first time such a large number of vehicles had been brought in at the same time.
He said most of the bikes were covered in mud while their engines were filled with water. "Some bikes had pockets of water remaining in their silencers as well as water in their fuel tanks." he said.
" We promised all our customers that we somehow will remove the water and make the bikes run again. There are so many customers demanding their bikes be fixed quickly but the four of us find it difficult to repair around 75 bikes" he said.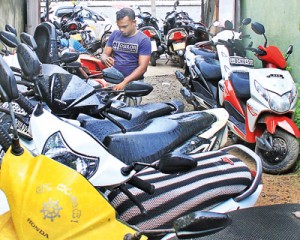 He said another 150 bikes are awaiting repairs but he has instructed their owners to wait for a few days till the backlog is cleared.
Shayam Jayathilake, a bicycle repairer at Dahanwala Road in Angoda said his house and workshop went under four feet of water ruining bikes he was repairing and ones already repaired.
"I had over hundred bikes. Some were already repaired while others were to be sold and repaired but now all of them are beyond repair. I have to face a loss of around Rs. 500,000," he said. He said that he is awaiting help from the Government to rebuild his business and clear his debt to customers who had paid him advances.