Little coordination, no deterrent laws main reasons for landslide tragedies
By Chrishanthi Christopher
View(s):
The landslide at Aranayake in the Kegalle District killing 37 people and trapping hundreds of families under its heavy sludge underscores the importance of state organisations taking their responsibility seriously. It is on record that despite the National Building Research Organisation (NBRO) declaring Aranayake as a highly hazardous place for habitation no action was taken to mitigate the danger.
Chairman R.M.S.Bandara said that NBRO, a semi- government organisation which only identifies hazardous slopes and recommends mitigating measures is not mandated to implement precautionary measures on landslide prone slopes.
The NBRO has been warning people from constructing homes and structures in landslide prone areas and in 2011 made it mandatory to obtain certificates for any construction on these sites. However the authorisation to NBRO comes on a mere internal circular distributed among the departments. Attempts to make the regulation an Act is in its draft stage for the last three years, at the Legal Draftsman's office.
Presently when hazardous sites are identified the implementation of mitigating measures is to be taken by other stakeholders. Evacuating and resettling the people rests on the co-ordinated efforts of the Regional Plantation Companies, the Disaster Management Ministry, the Plantation Ministry, the District Secretary and the Grama Niladhari.
However there is a lack of co-ordination among the departments and no action has been taken about the many sites identified by the NBRO as being risky for human habitation. Government Agent Kegalle Abeywickrema Warnasooriya dispelled any ambiguity whether alarm bells were raised early for the people to move out of their villages. "We did not alert the people," he said.
According to the NBRO several hilly areas in Sri Lanka fall into the hazardous range and it was hard to predict an imminent landslide. "We cannot predict exactly and it is a probability only," Bandara said.
He explained that the process of mitigation is an arduous task and that every identified slope cannot be mitigated. "Work is being done on a priority basis on some of the hilly areas," he said. The landslide at Aranayake was triggered by excessive rainfall in that area, he said.
He attributed the landslide that wiped out the three villages – Siripura, Pallebage and Elagapitiya – was man-made by unauthorised construction activities . "We cannot stop people or take legal action against them as we have not been granted powers," he said. Bad land clearing practices has also added to the situation.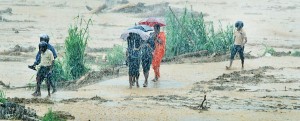 Experts believe that prompt mitigation measures would have helped reinforce the slope and save many lives. A leading geologist Nishantha Hikkaduwa said carving horizontal drains and laying PVC pipes to drain off the water collecting on the slopes would have mitigated the slide. A similar project is being undertaken at Udamadura in Nuwara Eliya, he said.
Although landslides are difficult to predict there are impending signs that show over a period of time. Wells and springs dry up on the upper slopes and new springs emerge on the lower slopes. Additionally trees and poles tilt and cracks appear on floors and walls of buildings.
The Japan International Cooperation Agency (JICA) – a company despatched by the Japanese government to provide technical co-operation for disaster risk reduction in Sri Lanka – said it is important to have a proper knowledge of emergency management to be prepared for an impending disaster.
Following a survey done jointly with the NBRO and the Disaster Management Centre after the Meeriyabedda landslide where an entire village was wiped out in October 2014, JICA has trained the officers of the institutions in identifying risks and prioritising emergency management actions for decision making.
Sri Lanka representative Oshiyuki Shimano also maintains that landslides cannot be forecast but if effective structural and non-structural measures are applied the damage could be limited.
"Identifying early signs of landslide such as cracks and water streams changing colour can be indicative of an imminent slide," he said.
Prof. Kapila Dahanayake, Emeritus Professor of Geology said disasters can occur wherever one lives but it is important to educate the people on signs that indicate impending landslides so that they will voluntarily move out of the area. "A mechanism should be developed to educate them," he said.
He also emphasised that knowledge should be imparted on the type of vegetation to be grown on the upper slopes of the hills. Cultivation should be done in ascending tiers so there is minimum damage to the soil and the water gets drained. "This way the slopes will not get washed off," he said.
At present he has arranged awareness programmes for people living in landslide prone areas and lessons for school children to look out for signs of imminent landslides.