Future is dark for unfortunates on the Kelani banks
By Anushiya Sathisraja
View(s):
The banks of the Kelani River near Wellampitiya and Kolonnawa are a wasteland with broken houses, children playing in pools of stagnant water, livestock wandering through the muck and heaps of garbage and debris piled up on roadsides.
As the floodwaters recede, people gradually returning to their homes – those that remain intact – assessing the damage.
Mohammed Fazil, 28, from Wennawatte, Wellampitiya, an employee at the Janith grocery, was fighting hard to hold back tears as he looked around the house he had built with his meagre savings nearly two decades ago.
Much of the furniture is damaged beyond repair, as is his tiny television set and refrigerator. "It's all gone, all gone," he sobs as his parents tried to console him.
Sarojini Gunathileka, 40, who also lives in Wellampitiya with her husband and two children, was also distraught. "Everything my husband earned had been washed away, including the children's books, furniture and clothes.
"Everything we had on the ground floor is devastated. We didn't have enough space to put the ground floor things on the upper floor. The birth certificates of my family members, money, and furniture worth thousands of rupees have all disappeared," she said.
"I closed my shop and went to my house when the floodwater started to rise," said 55-year-old Nimal Ranjith, owner of a studio. The property flooded to such an extent that much of his stock, consisting of disc jockey equipment and speakers, was floating around the store when he returned later.
"I walked into the shop to see a lot of CDs, DVDs, lights, etc. floating around. Now there is a lot of mud and I have spent the day cleaning it up," he said.
Mr. Ranjith, who owned the studio for 10 years, says it is too early to estimate the damage but believes his loss will be substantial with all the wiring needing to be replaced as well as damaged stock.
People have dumped their ruined television sets, radios, fans and other electronic items on the road. Unusable pillows, mattresses and even discarded clothing also have been dumped.
A week after the floods there are many in the Wellampitiya, Sedawatta and Kolonnawa areas who cannot use their homes because of layers of mud inside.
S. Mumtaj, a mother of three living on Lake Road, Ambatale, said her family was grateful to the chief incumbent of the Galwana Temple in Ambatale for offering them and others displaced by the floods food and shelter.
"We have to start again completely – nothing is left," she said. "Half the items in my house was bought on instalment payments. I need to buy new items as well pay for the destroyed ones."
Forty-year-old Fathima Nazira of Sedawatte said as a single parent she barely earned enough to be able to buy new furniture. "All our belongings, especially my daughter's schoolbooks, were washed away," she said adding that since her house was on low-lying ground it was easily flooded.
Adding to her woes, the toilets were flooded and garbage washed into the house. Her family was forced to appeal to a neighbour for refuge.
"All I remember is that water reached the roof," recalled Sharun Haniff, a resident of Kolonnawa.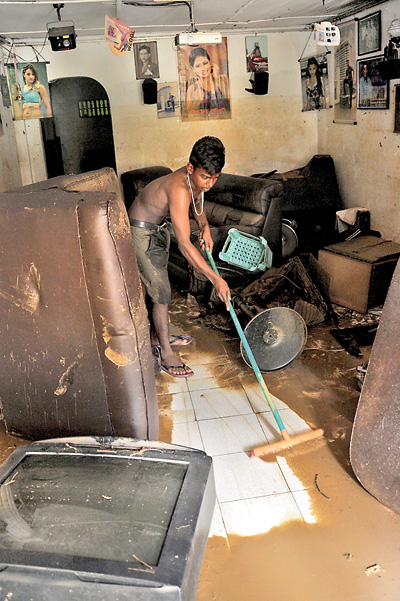 She said local residents had not received relief materials as officials had not visited their dwellings. "All our houses were flooded and none of us have been able to cook in the past week. Except for one voluntary organisation that gave us bread packets, no-one else has ventured into the area: we have been ignored," she said.
"I have a daughter sitting for her A Levels this year – all her books and uniforms have been destroyed by waters. My daughter's future is questionable now," she wept. Many of the school children who returned to their homes found their books destroyed beyond salvaging; others are trying to dry their wet books and bags.
For some families the losses are immense – their life-long savings have gone. Others who have suffered less are nevertheless not sure how long it would take them to recover, worried not only about their belongings but also all their documents that have been swept away.