Dancing gurus remembered with Sanni Yakuma
View(s):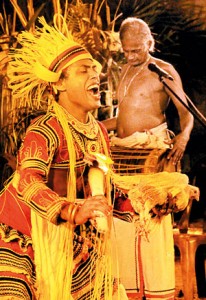 The name 'Sanni Yakuma' comes from the Sinhala word "sanniya" meaning disease or ailment, and "yakuma" meaning demon ritual. The 'Sanni Yakuma' is one of the four main rituals in the Low-Country dance tradition and it was performed at the Chitrasena Kalayatanaya on Park Road overnight on Friday, May 6.
"Sanni Yakuma"  also referred to as Dahaata Sanniya is held to exorcise 18 types of diseases from the human body. The origin of this ritual dates back over 2500 years to the time of the ancient kings and it is performed in the southern and western parts of the country.
Performing it in Colombo was a group of ritual dancers from Matara led by Kalasuri Parawahara Somathilake. Intently watched by the audience, the performance was hosted by the Chitrasena-Vajira Dance Foundation to commemorate the 95th birth anniversary of Guru Chitrasena and the 84th birthday of Guru Vajira Chitrasena.