Appreciations
View(s):

Dr. Indra Ariyawansa Perera nee Pathirage

In loving memory of our dearest friend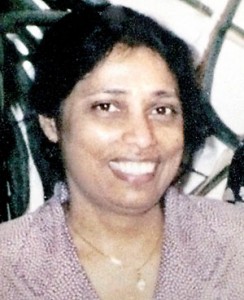 It's three months since Indra passed away.
An unforgettable person especially to the 'P Group' of the 1970 batch from the Colombo Medical Faculty, she was a great friend to all of us and many others. In fact lndra was the personification of the word 'friend'. She was the 'friend in need' to family, colleagues, close acquaintances and even chance acquaintances.
Indra's presence was always desired at whatever gathering. She was someone you were comfortable with. Almost always cheerful, always positive and helpful, never flustered and her advice sincere and solid. Indra never shirked her responsibilities. Sometimes one wondered how stressed she must be, but shouldering responsibility appeared to be second nature to Indra. She dealt with problems calmly and with a clear head.
One can imagine what a hugely popular person Indra was and this naturally included her junior colleagues. In those early days in England when Indra only had a small secondhand car, juniors (the boys) actually seemed to enjoy putting the car back on the road whenever it broke down. Indra who had a good sense of humour would say it must be in the House Officers' job description to repair the Registrar's car!
Later as a Consultant Neonatologist in Rochdale, Lancashire, she must have saved the lives of so many little babies and earned the respect of parents, colleagues and juniors. She was also a popular doctor at Kurunegala where she did her Internship, then Matara, Castle  Street and Sri Jayawardenepura Hospital.
Indra was also admired for her simplicity, honesty, cheerfulness and last but not least that typical Sri Lankan type of beauty and her beautiful smile. Her first love and marriage was to Ariyawansa, an equally good man whose sad demise when their child was only two years old was almost an unbearable sorrow to Indra. Everyone who knew the couple were sad, but Indra took up the challenge of being both father and mother to Kusal who is now married with kids and doing well in life. The kids were a great source of joy to Indra who was a devoted grandparent. She preferred to stay single after Ariyawansa's death (not for lack of admirers), but long years later she met Sarath who had also lost his first wife, a lovely lady doctor.
Indra must have seen something special in Sarath and vice versa, because they decided to get married and they enjoyed a very happy life together for about 20 years till the unexpected happened.
Indra who had gone through many great stresses in her life, took up this stress too in the accustomed way and remained positive till even after her six- hour operation. She realised her days were numbered only when she heard about the outcome of the operation. This was such a shock and source of profound sadness to all of us, her family, and all those close to her, who wondered why such a thing should happen to a person like Indra.
However, Indra was not fearful of death. Being a true Buddhist she would have had the comfort of knowing that the great merit that she had acquired in this life would stand her in good stead in any future lives. The only thing Indra didn't want was to suffer.
Thankfully her demise came fast. Though we wished for her to live longer, the limitations imposed by that six hour surgery would have been no life for Indra. Before she was heavily sedated to help her through the last, she even took the opportunity to say her goodbyes to all those closest to her. She thought of others even in her last stage like she always did, concerned about the comfort of her friends and family who were there to help her. Such a great person was she.
Indra loved life, but always knew her limits. She was generous but not extravagant. She  enjoyed travelling and both Sarath and Indra travelled a lot together.  Indra loved to get forty winks whenever possible much to our amusement, but what amused us most were her scatterbrained doings. How much we have laughed at those and being the good humored person she was, she would laugh at herself too.
To recall one such incident;  a section of the 'P Group' went to see an unusually sandy beach on the west coast of England. Returning to the car to go home, we stopped to remove the sand from our shoes. Then we were back in the car and on our way when a pedestrian pointed at us. We ignored and drove on. Next a passerby on a bicycle kept pointing at our car. We then decided to stop and have a look to see what was wrong. Lo and behold! Indra's handbag was sitting pretty on top of the car where she had left it before cleaning her shoes. There are many such incidents, some even funnier.
Indra dearest, you have left us with such lovely memories – not just about your scatterbrained ways, but of all the good that you did and the wonderful person you were. We hope we meet you again somewhere, someday and may you continue to do your good work wherever you are reborn. This world needs more people like you.
- Your loving friends of the 'P Group' and Marlene
'P Group'
The late Dr. Indra Ariyawansa Perera nee Pathirage
Dr. S. Pathmanathan
Dr. Sandra Charles-Holmes nee Peiris
Dr. Vinitha Perera
Dr. B.J.C Perera
The late Dr. Ranjith Perera
Prof Rohini Fernandopulle nee Perumal
Dr. Pat Petersons
Dr.Mohan Pillai
Dr. Benodini Perera
Dr. Marlene Abeyewardene nee Wirasinghe (much loved friend of P Group)
---
Chandra Senanayake
You still carry me on your shoulders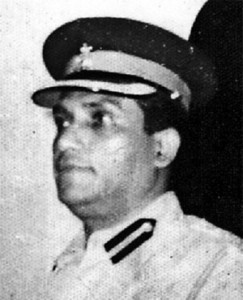 One of my earliest recollections is of being carried on your shoulders, as you walked into the sea at Melbourne Avenue where we stayed the first ten years of my life.  You were born on May 13, 1916, in Induruwa, a hamlet down south,  the eldest son of Gate Muhandiram Arnold Senanayake and Susan Senanayake. You had two siblings, an older sister and a younger brother.
You were educated at St John's Panadura and thereafter at St Joseph's College Colombo. You excelled in sports as a schoolboy and showed your prowess at the Discus and Putt shot events. As a student, you entered the A.A.A. Nationals in 1935 to compete with the then mighty "Jungle" Dissanayake. You beat "Jungle" at the A.A.A championships in 1936 establishing a new Ceylon record. You continued to improve by breaking your own record in the Discus Throw and Putt Shot events regularly. In 1941, you broke the Discus record again and won the National Title in 1942.
In 1948, you crowned yourself with a throw of 129'11 ¾". You realised your dream that day and retired as an unbeaten champion and held your Discus record for 20 years and the Putt Shot record for 12 years. You represented the Ceylon Police in the major part of your athletic career. After your retirement from active athletics, you officiated on the panel of A.A.A. Officials. Your record of achievements as a Discus thrower in Ceylon will be hard to beat.
You joined the Police Force when Sir S.L. Dowbiggen was the IGP and were stationed at Kottawa, Kadawatha, Gampaha, Ragama and Mirihana. You excelled in solving crimes and keeping peace and were soon absorbed into the CID.   You received the very prestigious King George VI  Defence Medal for active service in defence of your country during 1939 to 1945. You were recognised as an honest, brave officer and gentleman during your short career in the Police. Many were the acts of bravery recorded in the newspapers where you risked your life in the name of justice.
Even a multiple murderer Dabilin trusted you when he escaped from jail and eventually gave himself up to you on a weekend because he knew you would not torture him but present him at the Magistrate's Court on the Monday. You let him hide under the stairs in our house at Melbourne Avenue and gave my mother your revolver when you were out of home so that we would all be safe.  Dabilin hid through fear of his life that whole weekend, and was given a fair trial.
Baron, another criminal shot at you when you hid in a bag of coal and waited for him to return to a lonely house he was hiding in, on Melbourne Avenue. You heard that a man was stalking and snatching  chains off  women. You had one of your Constables dress as a woman in saree, and sat with him on the rocks till you caught the thief when he threatened you with a knife.
In 1943, you married Padmini Dilkusha Aserappa, daughter of Dr C. V. Aserappa (Chief Medical Officer of Health, Colombo Municipality) and Leelavati Shrinivasa Aserappa. You married in Kandy as my grandparents moved from Colombo temporarily due to World War II.  Sarath was born and then I.
D.S. Senanayake was appointed the first Prime Minister of Ceylon and you were handpicked from the CID to be his bodyguard and ADC. You remained like a shadow leaving his side only at night. Every morning, you went to Temple Trees and took us with you, to discuss the day's programme with the Prime Minister. I remember the Prime Minister coming into the front room at Temple Trees in his smoking jacket to discuss the itinerary for the day. He always greeted us first and enjoyed asking us to stand on either side of him and try to hang on his walrus mustache making quite sure we could never reach it.  When we failed, he called Carolis his Batman and had him bring us Cadbury's Milk Tray chocolates at six o'clock in the morning. We were then sent to play in his Rolls Royce till you finished your work with him. He and Mrs D.S. Senanayake loved you like a son and used you to convey messages to each other.
The only time you let him be alone was in Cargills where he bought you his Christmas present every year.
Your life was so eventful looking after the Prime Minister, that we heard many tales of interest every evening when you returned home to us. He used to send us all the garlands he received for the day. A particular one I remember was a garland made of spices which was so aromatic. You travelled every corner of the island with him and met Royalty and dignitaries in every country, on his trips abroad. Some of the gifts he received were given to you. One of them was a gold cigarette case from the Maharajah of Baroda,
One day you woke up and found yourself paralysed from  knees down. The Prime Minister came immediately to see you. The crisis passed within a few days it was realised that you were temporarily paralysed due to a bad tooth. Princess Elizabeth and the Duke of Edinburgh arrived as state guests  and Jungle Dissanayake, the then IGP was assigned to be with the Princess and you with the Duke of Edinburgh. You took us everywhere with you and we were very fortunate to meet most of the dignitaries that visited Ceylon.
Then came the blow. Your beloved Prime Minister went riding that morning with the then IGP Sir Richard Aluvihare.  He was thrown off his horse. Sadly all the Doctors were on strike claiming their rights to do private practice, and none of the Neuro Surgeons could be located. An eminent Neuro Surgeon was rushed from Pakistan and you personally met him at the airport and rushed him to the Prime Minister who was critical, but it was too late! This was the only time we saw you break down and cry. You stood by him in death as he lay in state at the Parliament, as you stood by him in life. You carried his coffin on your shoulders from the hospital together with Dudley Senanayake.
Later, you continued to serve his son Dudley. Many were the tales of the second Prime Minister of Ceylon and his escapades. You found it difficult to keep track of him as he drove out of Woodlands without anyone's knowledge. He suddenly retired from politics and you decided to retire from the Police at the age of 34.Sir John Kotelawala became the new Prime Minister.
You retired without having an alternate mode of livelihood. Major T.F. Jayewardene (Freddie) who was family, came to your rescue and helped you to set up the Lotus Insurance Company. The then government of Mrs. Sirimavo Bandaranaike decided to nationalise insurance companies without adequate notice. Many were the sleepless nights you spent on your armchair thinking of ways and means to survive. You came up with the idea of starting a finance company and incorporated Exchange & Finance Investments Limited (EFI) in 1959.
You had a passion for cars, and initially  took in investments and loaned monies for purchase of secondhand cars. By 1963, Sarath had joined you and persuaded you to pitch for the GSA of Cathay Pacific Airways which was a very small regional airline advertising in the Readers Digest. Initially the GSA was personally given to you and not to the company.
Your days in Fort were memorable. Every day from 1- 4 p.m. you took your lunch hour (s) at Pagoda. Daily a table was laid out for about 12 persons.  At Pagoda, you helped many people and they helped you in time of need.
Every morning you dropped us in school till you could afford a second car and driver to take us back and forth. Jaguars were your passion and you had them most of your life. You had two Jaguars and sold one to your friend Don Liyanage just before you passed away.In the early 1960's, you had moved your aged parents to De Fonseka Road Colombo 5, from their village in Induruwa. Your father was nearly  100 years and your mother in her eighties. You were never a morning person and you left home for office around 10 a.m. and your first stop daily was at De Fonseka Road, to worship your parents and proceed to office. You honoured your parents so much  that on our visits to Induruwa, you carried your aged father down some treacherous steps to the well, so you could bathe him.  On your return home from work you made the same stop  at De Fonseka Road to get their blessings.
You had a passion for  movies and at least three times a week, would take us for a 9.30 show. Next stop was the Green Cabin where we were all treated to hoppers and ice cream. Most times Mr Rodrigo was there for a chat. We somehow managed to get up the next morning and make it to school.
Our childhood was so happy because both of you stood together always. Since your birthdays were on two consecutive days, you celebrated on the 13th night going on to the 14th. Guests were family and friends that included Dudley Senanayake and J.R.  Jayewardene. Our home was always open to any one who sought your help.
By the 1960's you were well established. In 1963, you decided to take us to Europe  and we benefited so much by this exposure that I developed an insatiable taste for travel. In 1965, you were appointed the GSA for Cathay Pacific Airways. You were appointed to many Boards and your favourite was the Grand Hotel Nuwara Eliya. You were appointed the Commandant of the Special Police Reserve, a post you held till you suddenly passed away. You succeeded in developing the Police Reserve to a force to be reckoned with. You were also the President Elect of the Rotary Club of Mt Lavinia.
Then came disaster at the beginning of 1969.  You were invited to the Ceylinco Insurance dinner dance  on December 31 1968, by Mr. Sam P.C. Fernando. You were complaining of a severe headache and Mummy found you driving the Jaguar erratically on the wrong side of the road that night. We were all alarmed on the 1st when you could not coordinate your movements. On the 4th you finally agreed to see a Neuro Surgeon but it was not to be. On the 4th night you started having fits and were rushed to the General Hospital where Dr. Shelton Cabraal was waiting for you. But he could not operate and you passed away in the early hours of the 5th. It was incredible as the saying goes, a man who could not be felled by an axe was laid low by the hand of death before the fullness of his time. You were 52 years old.
Though you left us rudderless, we were able to face the challenges because you raised us up with the right values and  made us strong to face the world with courage and fortitude. You still carry me on your shoulders though you are not physically here with me and make me see the world through your eyes. May you now find the peace and tranquility you so richly deserve. I shall always miss you.
- Indira Kulatilake
---
Dr. D.B. Nihalsinghe
Till we meet again
Dusk had made the sky scarlet over the University
Making the Bloomfield ground sombrely empty
Cricketers are homebound like saddled mules
In clans, cliques or single, with their gear to lug-on
Elderly coaches are pavilion-bound in a hurry
For water of course, followed at times by a beer in a flurry
Thus the ground is deserted and the shadows are lengthened agreeably
Setting the pitch to let drooping DBN and his wife tread on it lightly
The Doc wife falls way behind habitually
Leaving DBN leading by half a mile to join me
To talk of good-old-days at Ananda and Sri Lanka in general
When both were worthy of mention
On the art, cinema and music we often touched
DBN's humour that often drew cacophonies out
It was the 8th of April evening we met last
But I was handicapped to join that made DBN sad
Since I was going to be away for a while
DBN didn't forget to wish me for the New Year in advance
So goodbye, my gentleman senior friend
Till we meet again somewhere to tread on grass together again
When all of us leave like you one day
I am sure the grass of Bloomfield will remember, how lightly we stepped on it then.
- Sasanka Nanayakkara
---
Sevaka Yohan Devananda
He did pioneering work
The certainty of death has removed from our earthly scene the life of our dear friend, Yohan.
His life in a sense began at Royal College, where he excelled both in studies and in sports, particularly in cricket. His style of batting as an opening batsman was such that he earned for himself the nickname of "Thattu Cooray". He belonged to the age and generation when it was believed that the task of the opening batsman was to remove the shine from the ball! At Royal, his peers were the greats, Channa Gunasekera and Mahesh Rodrigo.
From Royal, Yohan moved to Cambridge, where he read History at Selwyn College. Thereafter, he moved to Cuddeston Theological College for his formation as a clergyperson.  After he returned to Ceylon, like all of us he began as a parish priest. Although from the Diocese of Colombo, he opted to move to the new Diocese of Kurunegala, where his Uncle, the beloved Lakdasa de Mel, was the founder Bishop.
It was at this point in his life that he began his pioneering work. Yohan in the South of Ceylon, like Periannan Sinnannan, Sam Annan and Harold Annan in the North and the East of Ceylon began the Monastic Movement known as the Aramayas. In the South, it was known as the Ashram. For this purpose, Bishop Lakdasa sent him to India to study the Monastic Movement in the subcontinent. Thus began Devasara at Ibbagamuwa on a plot of land gifted to the Aramaya by its owner, Bishop Lakdasa.
I had the great privilege of having both my Retreats at Ibbagamuwa, conducted by Yohan himself. As for my deacon's Retreat, I had a few months before returned from Bishop's College, Calcutta. Yohan not only did the Retreat, but also preached at the Chapel of my old school in Kandy, Trinity.
The evening before my deacon's ordination, Yohan's sister and family, the Wijeyekoons had met with an accident. So Yohan prepared his sermon in the car between Kurunegala and Kandy. In that sermon, he referred to my links with Devasarana and the Student Christian Movement, the SCM. This was in June 1968. Yohan did my Priest's Retreat too at Devasarana. This time I was with my colleague, Udeni de Silva. The sermon at the Cathedral in Kurunegala was preached by the then Archdeacon Cyril Abeynaike in May 1969.
The other pioneering work that Yohan did was as the Director of our Ecumenical Theological College in Pilimatawa's Department. By then, Yohan had just married Malini Weerasinghe. Before Yohan took over the Department as its Head, there were Clergypersons with a deep sense of bias towards the Church. Yohan brought to his new work not only his insights as a Clergyperson but also that of the youth in Kurunegala, the Kandyan peasantry, particularly after the 1971 insurrection. He provided refuge to Susil Siriwardana and Viraj Fernando.
I was one of those junior clergypersons to have been drawn by the magnet that Yohan was. Therefore, in memory of my younger brother who died in London in October 2014, I have started a Trust Fund, which would benefit Devasarana every year.
Due to my links with Deasarana, I was invited to preach on November 1, 2000, All Saints' Day, on the 40th anniversary of the Devasarana.
Malini was a part of Yohan's life. She was one of the four deacons in Colombo. At that time only Colombo had resolved to admit women. Later, she was made a Canon.
It was through Yohan's younger brother Mark who was my senior at Peradeniya that I met Yohan. Mark was nicknamed "Hooray Cooray" for his birth was a surprise, long after his other siblings!
I am glad that I kept in touch with Yohan and Malini.
May the souls of Yohan and Malini together with the souls of all the faithful departed rest in peace and rise in glory. Amen.
- Sydney Knight