Power mafia 'draining reservoirs' to coerce sales
By Damith Wickramasekara
Minister slams independent producers and says CEB overpaid
View(s):
Minister of Megapolis and Western Development Patali Champika Ranawaka has levelled allegations that the power crisis plaguing the country was precipitated by an "electricity mafia" comprising elements within the Ceylon Electricity Board (CEB) and independent power producers (IPPs).
Minister Ranawaka, formerly minister of power and energy and now a member of the special committee appointed by President Maithripala Sirisena to probe the recent nationwide power failures, produced a chart showing an alarming drop in storage levels in hydropower reservoirs.
"At the start of this year, hydropower electricity generation was at 1100 GWh but by mid-March it had dropped to about 500 GWh," he said.
He claimed the "electricity mafia" could have played a hand in the "unusually rapid decrease" of water from the reservoirs in an attempt to compel the CEB to once again purchase power from IPPs.
Mr. Ranawaka told The Sunday Times he had shown the chart to Prime Minister Ranil Wickremesinghe and his cabinet colleagues and asked them to probe the matter.
Under Minister Ranawaka the CEB had decided not to renew power purchase agreements with several IPPs. He revealed that "an initial agreement, signed with one power producer to purchase electricity for two months had actually been extended for 20 years before we terminated it.
"By that time," Mr. Ranawaka said, "the CEB and the Ceylon Petroleum Corporation were Rs. 400 billion in debt after supplying fuel to it. We could have built four power plants with that."
He cautioned that the decision now taken by the CEB to purchase more electricity from privately-owned power plants for at least three months was a step in the same, wrong direction.
He also insisted no one could say that the recent islandwide power failures occurred due to "unavoidable circumstances".
Power outages in the country could be classified into two categories, he noted: firstly, location-specific outages, which can occur during an event such as a storm, knocking out power to certain areas; secondly, scheduled power cuts imposed in areas for maintenance purposes.
Pointing out that there had been no islandwide blackouts during the four years he had been minister of power and energy, Minister Ranawaka questioned how three islandwide blackouts could occur within such a short time.
He said it was only through good fortune that yet another islandwide blackout had not followed the transformer explosion at Kotugoda on March 18. If that had resulted in an islandwide blackout, it would have been the country's fourth in six months after power outages experienced on September 24 last year and on February 25 and March 13 this year.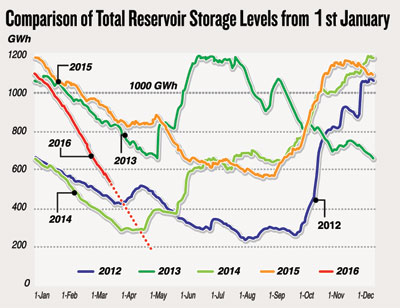 "We experienced a total system failure on each of the occasions where there was an islandwide power outage. I challenge CEB engineers to name one peaceful country that has had so many outages in such a short period," he said.
He also charged that senior electricity board and engineers were being paid exorbitant salaries for being entrusted with the task of ensuring that no system failures occur.
"The government spends about Rs. 20 billion on CEB salaries alone. The engineers recently obtained a pay rise claiming they were engaged in specialised duties," Minister Ranawaka said, querying why they are still incapable of preventing blackouts.
He said CEB engineers could not properly explain the reasons for each of the island-wide power failures when called upon to do so before the committee appointed by the President.
"They first told the country that the blackout on February 25 occurred due to a lightning strike on the Polpitiya transmission line but when they came before us they said they could not be sure. Then they said the outage on March 13 occurred because the tap-changer in the transformer became overheated and exploded. Those tap changers can withstand temperatures as high as 47C. If what they say is to be believed, we should be seeing tap-changer explosions all over India," Mr. Ranawaka said.
Investigations by the Committee had revealed that the transformer at Biyagama which exploded, triggering the March 13 blackout, had not undergone any maintenance since December 31, 2014, the Minister said.
He noted peak electricity demand at present stood at 2,300 megawatts (MW) but that the national grid had 3,900 MW at its disposal. "Let's say we lost 1,000 MW from the grid. The engineers should still be in a position to maintain the system with 2400 MW," he said.