Let's do our duty by our country
View(s):

The British rule in Sri Lanka had its good and bad. The colonialists had a system of governance to suit their agenda and in the process, the people benefited and also suffered. However, we have learnt many a lesson from our past. Later, the country developed and the economy improved, because of actions of competent leaders, one of them being the then Trade Minister Lalith Athulathmudali.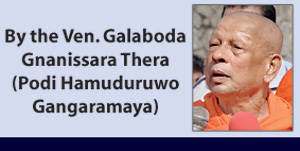 Once I went to the Registrar of Companies to register a company. This is because the law requires that a place of worship should be registered as a company. Though I followed the procedure, I could not register the place of worship. It took me more than a year to do so, after going through a lot of problems and formalities. We changed the temple's constitution several times. At long last I filled up the forms as required by the Companies Registrar and registered our place of worship as a charitable institution. One day when Mr. Athulathmudali visited our temple, I told him about this. He immediately took steps to rectify the situation and enabled an institution to be registered as a company within one day.
The British set up the Public Trustee's Department probably with the intention of destroying the temples and the economy of the Buddhists. The action was certainly not to protect them. But still this department with all its archaic regulations is active. Even though philanthropists vest their wealth and properties in the department, what benefits do the people derive? Though many temples, kovils and other places of worship have been placed under the department what good or development has resulted?
The late Mr. Athulathmudali took steps to develop the country and improve the economy. To strengthen the state-owned Insurance Corporation, he set up the 'Ramada' Hotel. He also started 'Club Bentara Hotel' in Bentara. I officiated at the foundation stone laying ceremonies of both these projects. His Mahapola Scholarship scheme is now a burden to the state. But during his time, this was an asset and he found the money for it.
When the country was cash-strapped, the then President R. Premadasa started the programme to give free uniform material and lunch to schoolchildren. These programmes were started with the support of the Gangaramaya. But today these programmes are not being carried out the way it was first envisaged. The programmes apparently suffer due to lack of funds. I am not finding fault with anyone, but feel this must be told.
We must recall with gratitude the role played by Ranil Wickremesinghe for the development of Pirivena education. The Pirivenas are not permitted to conduct classes from Grade One to Five. When a child is born, we recite Angulimala Piritha. We recite Pirith at the child's first meal, the first haircut and at the first reading by a child. Piriven can teach children from Grade five to University level, but they are not allowed to teach from Grade One to Five.
When Bandula Gunawardene was the minister of education, I requested him to start this. But this was not done. Why are there so many obstacles to temples and Bhikkus? Is an unseen hand controlling the affairs of this country?
All religions must come together. The temple, the church, the kovil and the mosque must unite. Today the greatest threat to the world is from ISIS terrorism. It can reach even Sri Lanka. All must be on guard. We must cast away all our differences to protect this country.
The Rajapaksa Show must come to a halt. If they have done wrong, it must be looked into. If ministers have done wrong, they should be probed. It is good to have a special High Court to look into cases of this nature. Today there are many opportunists. Wrongs done by anyone must be punished. It is advisable to constitute a separate court and set up a separate police unit.
There are rumours to say that police are resorting to unethical questioning methods when dealing with women suspects. We must put an end to any action that degrades women. We must end bribery, corruption and all forms of harassment.
If we try to trace the owners of the mansions that are coming up in Colombo, we will be able to have an idea about the scale of corruption. There are mansions built for the pleasure and play of the powerful. They are complete with lifts and security systems. Whose money are they spending for their pleasure? Where is the CID? Where are the detectives? Why are they not effective? There should be freedom to enjoy life. But this enjoyment is from ill-gotten money.
There are opportunists who are bent destroying the country. Information on them and their acts is readily available. The media are silent about these. They have to be woken up to face the reality. For the good of everybody we must put an end to all forms of robbery, lustful behaviour, and all forms of evil. Those who are old and those who are getting old must think of the next generation. There are more divorces than marriages. Sudden deaths and illnesses are increasing. We must take notice of these. Let us all protect this country. If there are any suspicious things happening around your area, please write to us. We will bring them to the notice of those in authority.
We bless you. This is our address: Gangaramaya, 61, Sri Jinarathana Road, Colombo 02.