India's Rs 100m gift welcome but not its fishing boats
By S. Rubatheesan
View(s):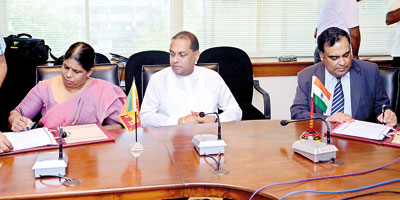 Despite the Indian government's grant of Rs. 100 million worth of boats and equipment to Mullaitivu this week, local fishermen called for a total ban on Indian poaching in Lankan seas.
The President of the Mullaitivu Fisheries Federation, Anthonypillai Mariyathas, told The Sunday Times that while fishermen were grateful for the grant, which will help to improve the livelihood of war-affected fisherfolk, they will continue to demand a complete stop to bottom-trawling in the Palk Strait.
"Previously, this grant was to consist of 150 boats for the families of war-affected people in the district but now it has been reduced to 100. With the grant, almost all of our fishermen have got boats for fishing but we cannot go to sea due to the Indian fishermen's poaching and illegal fishing by southern fishermen in our seas," he said.
Mr. Mariyathas said at least 200 fishermen from the south trespass into the northern sea and engage in illegal fishing activities including cucumber harvesting and dynamite fishing.
The Federation would continue to pressure the government to take up the poaching issue with the Indian government.
On Thursday, the Indian government signed an agreement with Sri Lanka for the Rs. 100 million grant of boats and equipment to Mullaitivu.
A Memorandum of Understanding (MoU) was signed by Indian High Commissioner Y.K. Sinha and Fisheries Ministry Secretary W.M.M.R. Adikari with Minister Mahinda Amaraweera in attendance.
At least 300 beneficiaries have been identified as eligible for boats and other fishing equipment.
This is not the first time the Indian government has helped Sri Lankan fishermen in the north: it has also given 175 boats and fishing equipment to families of Internally Displaced Persons (IDPs) in Mannar.
According to the MoU, the grant to Mullaitivu followed a specific request from the Sri Lankan government for fishing boats and equipment such as outboard motors and fishing gear.
A Project Steering Committee comprising representatives from the Indian High Commission and consular general office in Jaffna, the Director-General of the Fisheries Department, the Mullaitivu District Secretariat and the External Resources department of the Finance Ministry will oversee the implementation of the project.
The agreement will remain in force for three years and would be renewed by the mutual consent.
The government will hold the ownership of the boats and outboard motors for two years and thereafter it will be transferred to the respective beneficiaries. The High Commission will soon float a tender to procure the items through a competitive bidding process.
The Sunday Times learns that agreement to this proposal came from India in time to be finalised during the Indo-Lanka Joint Commission meeting in February but that for unknown reasons and procedural delay within the ministry the deal was only signed this week.