Hambantota Ridiyagama Safari Park opens to the public
By Samantha Rahul Hettiarachchi
View(s):
The Hambantota Ridiyagama Safari Park was declared open this week attracting hundreds of visitors to Hambantota.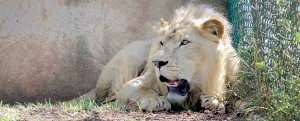 The Safari Park is 500 acres in extent and divided into several sections holding different animals found worlwide.
The Zoo Dept said the first section of the park opened to the public, has a 16-acre service station, a 35-acre lion enclosure, a 54-acre Sri Lankan elephant enclosure and 80 acres for herbivorous animal species of the world.
Around 22 species of animals including African lions, zebras, giraffes, Bactrian camels, Arabian orix, Lechwe, Indian blue bulls, African cape buffaloes and large birds such as ostriches are found in the park.
They said the construction of the Park started in 2008 December and built at a cost of Rs 2,600 million.
The officials explained they have further plans to expand the Park to include areas for Bengal tigers, Sri Lankan leopards, bears, Australian beasts and reptiles.
At the Park's opening ceremony Wildlife Minister Gamini Jayawickrama Perera said that, if one government starts a project, it should be improved by the next.
He explained that, earlier Rs 1,600 million in excess of the estimate had been spent on construction, and investigations will be launched against them, but for now the Park would continue to expand.
He also called on private investors to join hands with the Wildlife Ministry and help develop the Park to attract more visitors
Several other MPs including Sajith Premadasa and former Speaker Chamal Rajapaksa too attended the opening.